Software:
Proprietary



Year founded: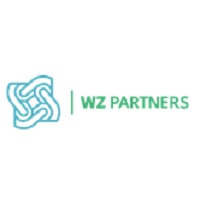 Revenue Share
25% - 45%


CPA
€10 - €100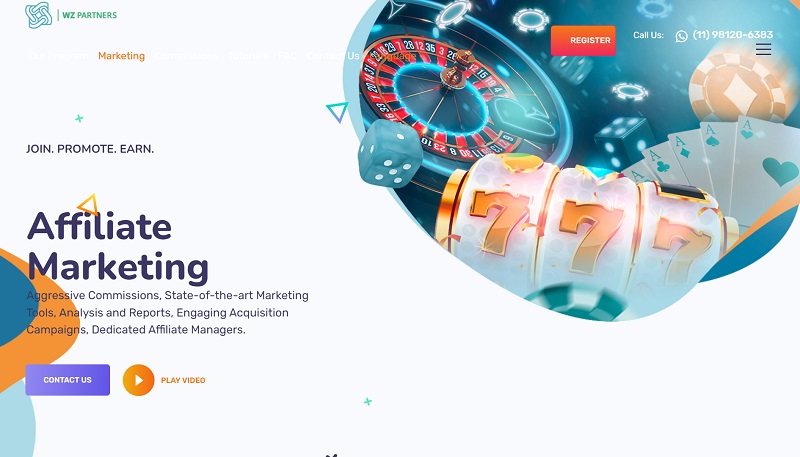 Website preview
WZ Partners Review
Data Points
Payment frequency:

Monthly

Minimum activity quota:

No
Pros & Cons

Fast payments

Admin fees may apply

Competitive commissions

Few banking options

CPA plans

The brands are not popular

Bitcoin payments

Sub-affiliate commissions

No negative carryover
Editor Review
WZ Partners is an affiliate program that you need to check out because it offers many features and incentives for affiliate marketers to join them such as CPA plans, competitive commissions, sub-affiliate commissions, no negative carryover, and more features.
This affiliate program offers competitive commissions of up to 45% and even hybrid plans that you can use to make the most of this program. However, you will have to negotiate with your account manager because some terms and requirements may apply.
WZ Partners offers you state-of-the-art marketing tools, live analysis, and reports, dedicated account managers, and many more promotional materials for your marketing campaigns that will help you convert all your traffic into revenues in no time.
You will be able to create your own promotional content and you can even negotiate exclusive content for your websites but do not forget to tell your account manager so he can approve it first.
WZ Partners offers all the products that every kind of player will need such as sports bets, and casino games including slot games, poker, blackjack, baccarat, and many more games on top of that they offer their affiliates many banking options including Bitcoin payments.
Commission details
WZ Partners will not let you down with their commission structure based on the net gaming revenue of the players that you send to the brands each month and will be as follows:
First-Time Depositors Revenue Share
0 - 20 25%
21 - 50 30%
51 - 100 35%
201 - 300 40%
301 or more 45%
New members of this program can enjoy up to 50% on revenue shares for the first month after that they will have to stick to the previous commission plan. If you feel like you can do super well and send a lot of new players then do not hesitate to request a higher percentage.
Carryover policy
WZ Partners has your back with a no-negative carryover policy, so if you have a bad month with a negative balance do not worry because this balance will be reset to zero in the following month.
CPA
This affiliate program offers you great CPA plans and hybrid plans as well, we like very much that they explain in detail their CPA plans, not like other affiliate programs that practically make you beg for more information.
Their CPA plans will be as follows:
CPA plans
From 0 to 20 FTDs you earn 10
From 21 to 50 FTDs you earn 20
From 51 to 200 FTDs you earn 40
From 201 to 300 FTDs you earn 60
From 301 and more FTDs you earn 100
Hybrid plans
From 51 to 200 FTDs you earn 25% + 30 Euros
From 201 to 300 FTDs you earn 30% + 40 Euros
From 301 and more FTDs you earn 35% + 60 Euros
As you can see they offer detail information about their CPA plans and hybrid plans but for any inquiries and questions do not hesitate to let them know.
Sub-affiliates
WZ Partners offers up to 7% on sub-affiliate commissions which is a high percentage compared to other similar affiliate programs, so remember to tell your affiliate colleagues if you are joining this program.
Game Types
The brand offers many gambling opportunities including sports bets and classic casino games such as table games, slot games, card games, live dealer games, and many more.
You will have 5 brands to advertise at your disposal that combined offer more than 4,500 casino games and more than 70,000 live betting opportunities per month, so there is something for every kind of player.
Your players will have a blast when placing their bets in their favorite sports such as football, soccer, baseball, basketball, volleyball, rugby, handball, tennis, and other popular sports.
The players that you send to the brands will enjoy many classic casino games such as roulette, blackjack, bingo games, poker, baccarat, and many more games that will make them have a blast when playing them.
The brands are all developed with the latest HTML5 technology which means that they are available via laptops, computers, tablets, iPhones, other smartphones, and other mobile devices.
Jurisdiction
All their brands are operated by HighWeb Ventures N.V. and they hold a gambling license granted by the government of Curacao.
Excluded Countries
Their affiliate program does not define any restricted country but you should not get traffic from countries in which is illegal to participate in online gambling activities.
Target Market
The brands focus on players from Europe, Brazil, Portugal, and other countries.
Languages
The brand can be displayed in English, Spanish and Portuguese.
Payment Details
WZ partners offer Bitcoin, Skrill, Neteller and bank wire transfers as their banking options. The minimum threshold is 100 Euros for electronic wallets and cryptocurrency and 1,000 Euros for bank wire transfers so we recommend you to avoid this banking option.
Payments will be sent before the first two weeks of each month and some banking fees may apply, also keep in mind that negative balances are not carried over to the following months.