Software:
Affise



Year founded:
2010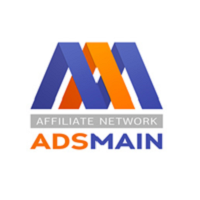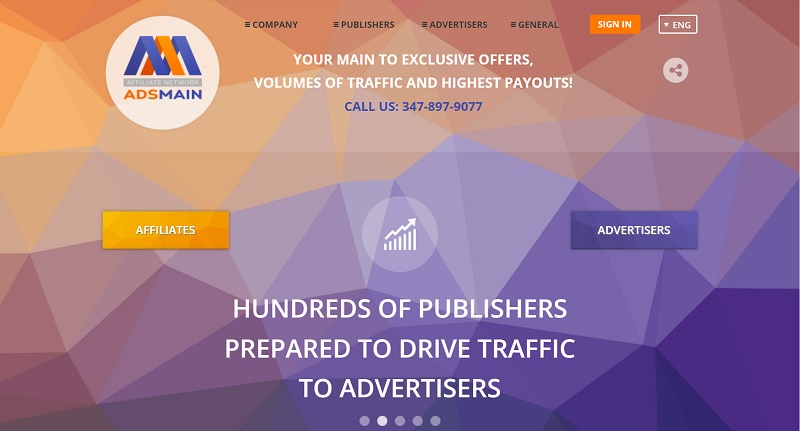 Website preview
AdsMain Review
Data Points
Payment frequency:

Monthly

Minimum activity quota:

No
Pros & Cons

Sub-affiliate plan available

Admin fees are charged

CPA deals available

Low minimum threshold
Editor Review
AdsMain is a complete affiliate network with 12 years of experience providing its partners/affiliates with the highest-performing advertising offers on the Internet. It provides quality traffic sources to several worldwide verticals, including Web, Mobile, Apps, Games, and Dating.
The company is a legal media network headquartered in New York, USA, but operating worldwide. It accepts advertisers and publishers from all countries. Affiliates can promote any of AdsMain's offers, no matter what country they target.
Join this affiliate network and take advantage of their high-performing offers, volumes of traffic, and highest payouts. This affiliate network has an industry-leading payout structure to reward affiliates for their valuable work through a cost-per-acquisition for each new customer they refer.
The network has a professional team of Affiliate Managers to help you choose the programs. Top reputation, broad experience, and top brands are the elements that guarantee their excellent service and efficiency.
In addition, AdsMain specializes in the dating vertical and represents the leading brands in the sector. It not only offers a wide range of dating sites and services but also provides affiliates with promotional tools and the best affiliate support to help them profit in the multi-billion dollar dating industry.
Key features of AdsMain include individual referral programs, many international offers, an outstanding affiliate dating program, quick and easy reports, exclusive offers with the highest payouts, fast and scheduled payments, and experienced affiliate management. All in one place.
In addition, the program's marketing tools make it easy for affiliates to geolocate traffic, so they can make sure the right users access the links to the offers. Affiliates don't have to worry about crunching numbers as the affiliate software makes checking statistics fast, so affiliates know where they are all the time.
Another perk of AdsMain is that they do not stick to a specific media; therefore, they support campaigns by email, banner, search engine, pop-up, social, contextual, incentive and host, and post-marketing. Most AdsMain offers can be promoted only on your profile or content page, or through media buys approved by those sites. But some offers are allowed to be promoted using any legal methods.
Brands Summary
AdsMain works with the highest-performing advertising offerings on the Internet, including Web, Mobile, Apps, Games, and Dating. In the latter vertical, AdsMain has a wide range of dating solutions and services not only for affiliates but also for end users looking to find the perfect partner.
Commission Details
AdsMain offers its partners a cost-per-acquisition fee for each new customer they refer. Also, affiliates can earn more money by recommending other partners. The commission percentage is 5% on all commissions generated by all referred affiliates.
Applicants should discuss the fee with an affiliate manager.
Payment Details
AdsMain's standard is NET15 and NET30 payments for all affiliates. This means you should expect to receive your commission within 15 or 30 days from the end of each calendar month. But it depends on whether AdsMain has received such funds from the Clients.
There is a minimum payment threshold of $50 (PayPal), $500 (Bank Wire), and $100 (Paxum, Payoneer, WebMoney, Qiwi, and Yandex.Money). The payout includes a combination of both marketing commission and referral bonus money earned. Please note that each payment service may have its internal fees.
Any commission below $50 will carry over to the next month and continue to carry over monthly until $50 is reached.
All US affiliates are required to fill out and sign a W-9 Form to get paid, as per US Government regulations. Foreign affiliates must fill out a W8 BEN Form to get paid.
Contact
For more information, you may contact an Affiliate Manager at [email protected]