StatsDrone Vs Nifty Stats in 2023 - Features, Prices and Differences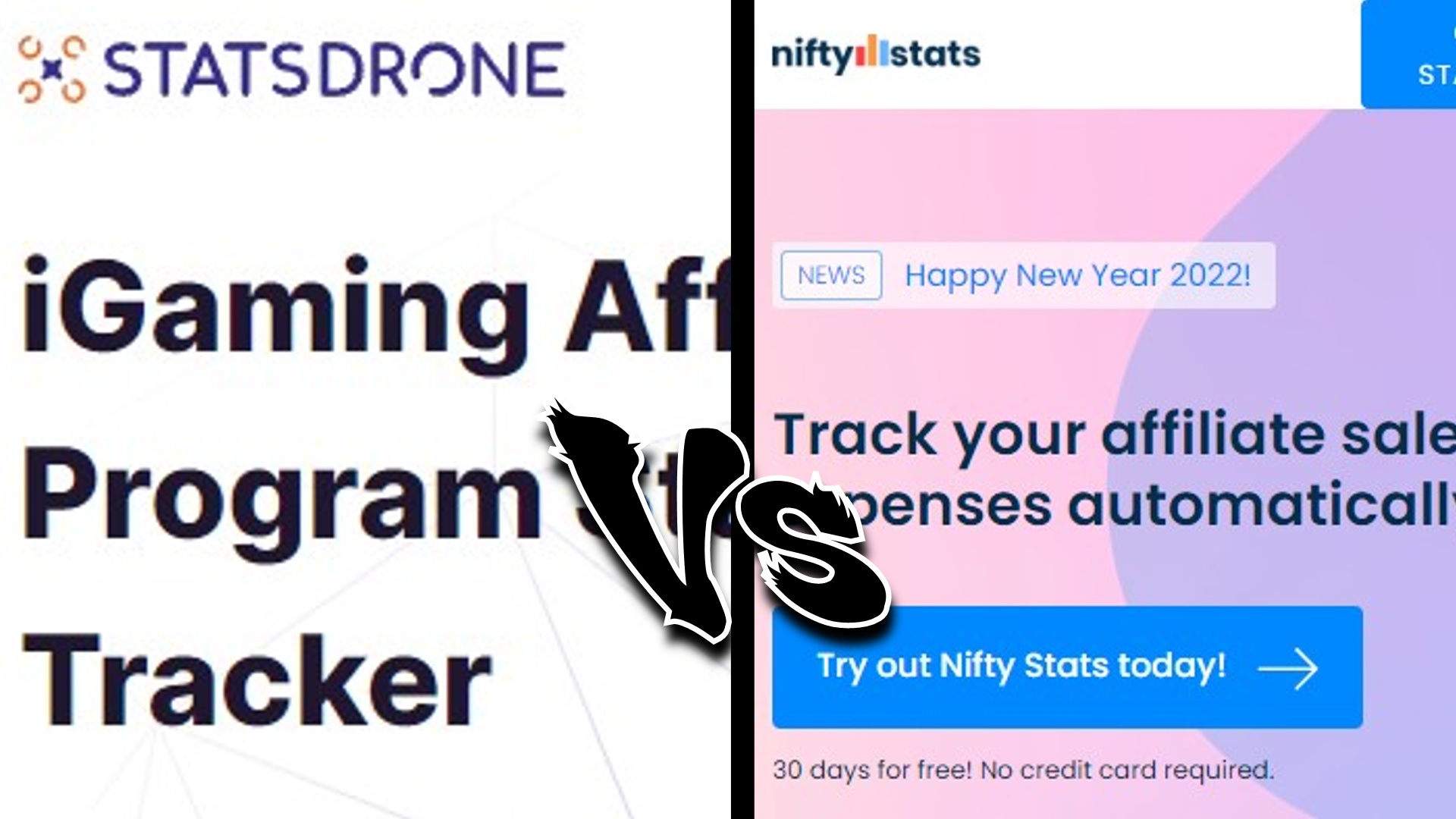 StatsDrone and Nifty Stats are iGaming affiliate software that have been implemented by many affiliate programs and webmasters with the intention of improving their performance or increasing their overall efficiency.
iGaming affiliate software programs have been developed as the main tools that add value and importance to all the functions executed within any type of iGaming affiliate program that operates nowadays.
Without them, it is fair to say that the iGaming industry would not be the successful and ever-growing sector that it has been for the last few years.
Thanks to the development and usage of these tools, affiliate programs have turned into the most productive marketing alternative for the online betting brands across the whole world.
There are software products that have been made with the purpose of speeding up the transactions between the affiliate programs and the webmasters, as well as other tools that have been built with the sole intention of providing the webmasters with statistics and data that could boost their knowledge about the market and the methods that they could utilize to improve their results.
With that being said, here are some information and details about StatsDrone and Nifty Stats, two of the many pieces of software available to the iGaming affiliate marketing community:
StatsDrone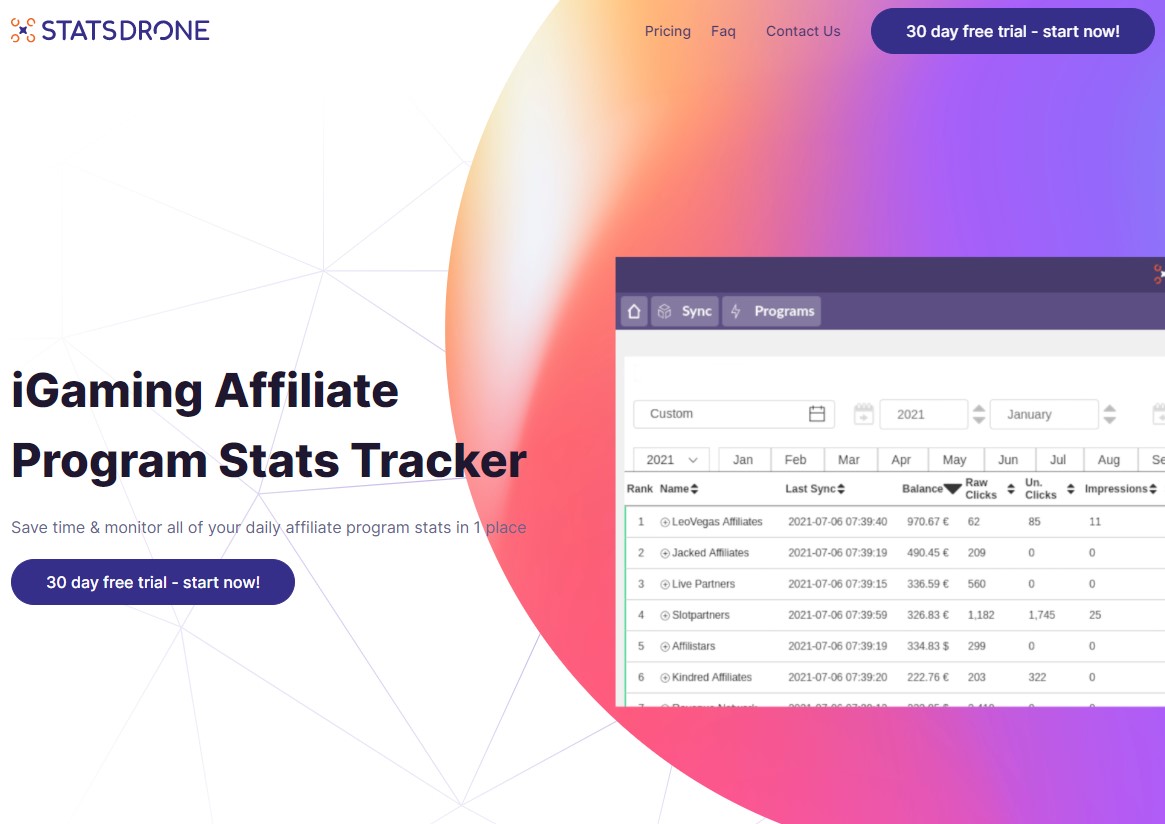 StatsDrone is a business-to-business (B2B) data analytics and Artificial Intelligence company that operates within the iGaming affiliate marketing industry.
It was founded by a talented team of developers and iGaming enthusiasts located in Montreal, Canada.
The purpose of its existence is helping the affiliate programs as well as the webmasters registered on them with precise and up-to-date analytics on their statistics and overall results with no delays or rests.
The software operates the 24 hours of the day, the 30 days of every week without any excuses thanks to cloud data storage, so that the webmasters and the affiliate program can make use of it at all times and improve their results with ease and no major effort.
With StatsDrone, the webmasters are able to save up an incredible amount of time and monitor their activities and those of their referrals in real time without having to consult a completely different platform.
Everything is done on StatsDrone. There is absolutely no need to visit any other website that could cost you some extra money or make you lose some of your valuable time.
What StatsDrone offers to all the webmasters and affiliate programs in 2022:
Various stats and analytics tools with easy access and no limitations.
Ad serving software so that the webmasters and the affiliate programs are able to design and utilize the best marketing tools that may draw the attention of many players across the whole globe.
E-commerce solutions: many users are interested in being part of an affiliate program, but they do not know how to enter the industry and be successful on it. StatsDrone makes that job easier for anyone thanks to its great, top-notch solutions accessible at any moment.
All the stats are stored on the StatsDrone Servers, accessible through cloud storage.
Counts with a mobile app for Android and IOS.
StatsDrone Pricing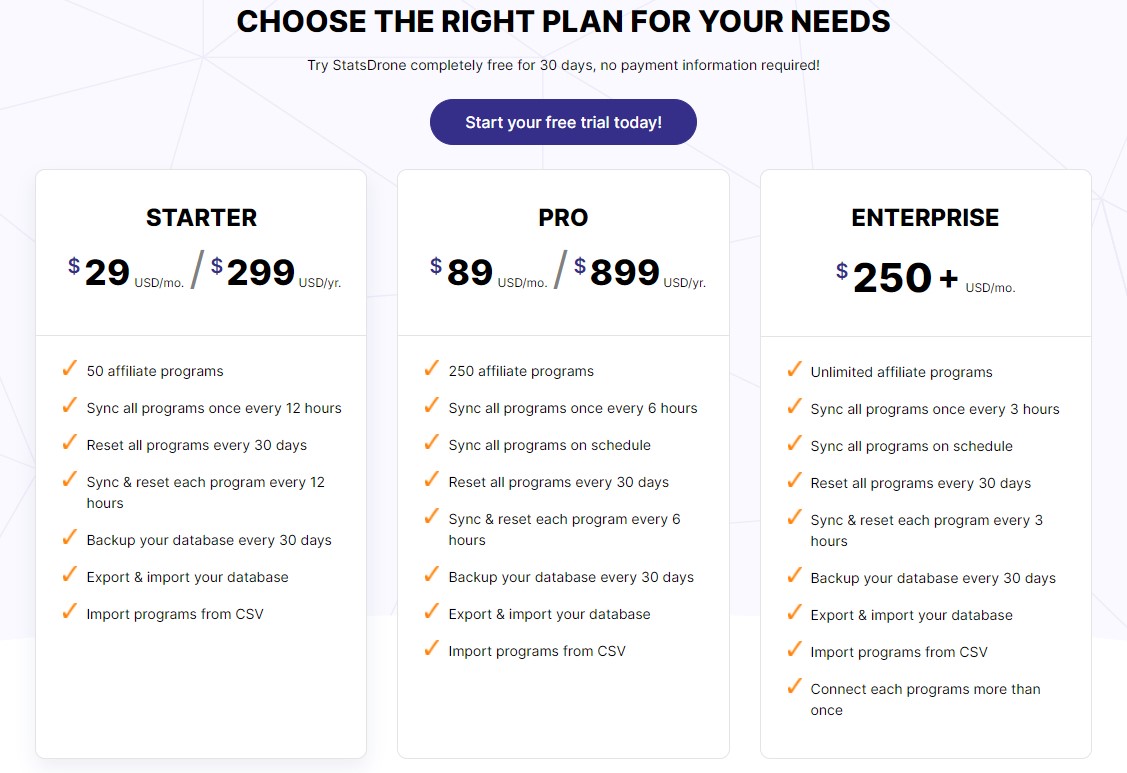 This high-quality affiliate software is available to all webmasters and the affiliate programs with a price of $29 per month.
Once paid, the users and companies will be able to access and make use of every solution and tool available.
StatsDrone also has a 30-day free trial open to anyone interested in testing out all the tools and solutions offered by this software.
Commonly, free trials are full of limitations and restrictions that do not let the users make the most of the tools.
Thankfully, StatsDrone does not offer one of those sloppy free trials. The software grants a free trial with absolutely no limitations to restrain the companies and the users.
Additionally, StatsDrone is working on the creation of multi-tiered models so that more companies and webmasters have access to this state-of-the-art software.
Nifty Stats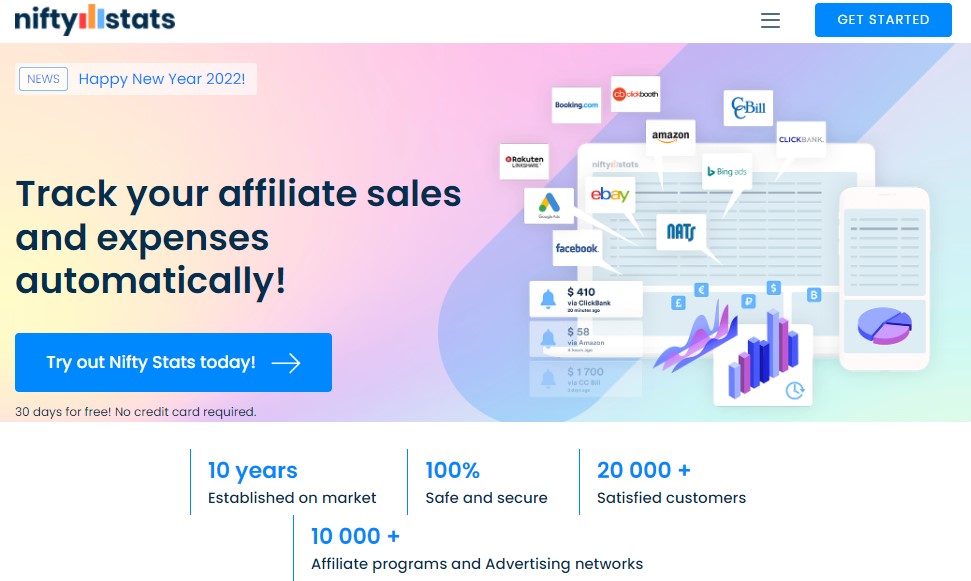 Just like StatsDrone, Nifty Stats is a data analytics company that offers its services to the webmasters and the affiliate programs across the globe so that they can have an easier and more comfortable access to their stats and calculated results.
The platform was initially launched in 2007 and despite its time on the market, it has not been chosen by a high number of affiliate programs and webmasters for gambling specifically.
Surely, the software offers interesting solutions and tools, but it seems not to be the preferred alternative for the iGaming affiliate marketing industry nowadays.
Nifty Stats has separate sections based on the type of user that wishes to acquire the software. There is an exclusive section for webmasters and one that is exclusive for affiliate programs.
This particular separation has not made the users happy since they consider it unnecessary and bothersome since a lot of them have to be switching from one section to another on a regular basis, an issue that prevents plenty of those users to work calmly and efficiently.
Nifty Stats does boast over 20,000 customers, whereas StatsDrone doesn't list any of that information.
What Nifty Stats offers to the users:
Automated Data analytics
Programmed tracking of the affiliate programs, online campaigns and advertising networks that interest the webmasters.
Regular analysis of stats, impressions, rebills and clicks.
Nifty Stats Pricing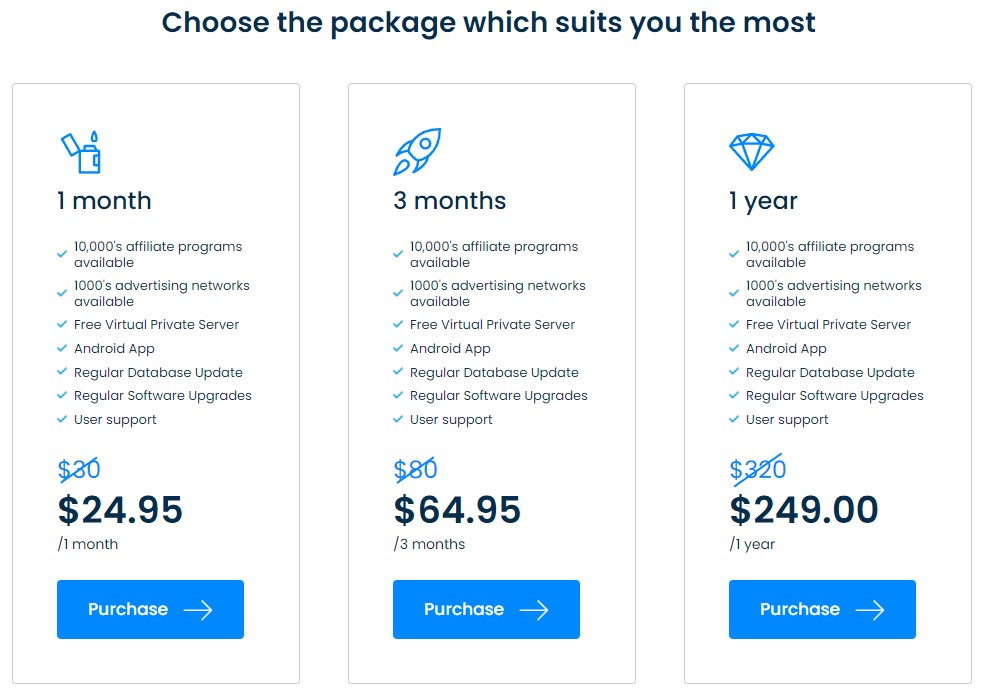 Nifty Stats has recently lowered their prices. It currently offers three different plans for the webmasters and the affiliate programs.
Those plans are:
Monthly plan = $24.95 per month.
3 months plan = $65.95 for 3 months of use of the tools.
Yearly plan = one yearly fee of $249.00.
Free trial = Nifty Stats has a 30-day free trial available to the interested users.
What differences Nifty Stats from StatsDrone?
The software has to be installed on the laptop or desktop: Nifty Stats is not cloud-based, meaning that all the stats and results provided by the software cannot be stored on a particular server operated by it.
What that means is that in order for the webmasters and the affiliate programs to make use of the tools and solutions available on Nifty Stats, they have to go through the process of downloading the software manually on a desktop or laptop of their preference.
If the user does not download the software, it is impossible to receive the stats or calculations made by Nifty Stats.
It only has an Android app available: unfortunately, Nifty Stats does not support IOS devices, preventing the many users of this operating system to utilize the software comfortably on their mobile devices.
There are limitations for the Mac users: sadly, if you are a Mac user, there is a high number of tools and solutions that you will not be able to use, forcing you to switch to a different operating system if you wish to make the most out of Nifty Stats.
Final Thoughts
At the end of the day, of course, it's gonna be up to you to decide which tool suits you best when it comes to how the software works and what it offers to you.
You might also want to take into consideration what is the best bang for your buck in the price/features ratio department, and we're with you on this one.
For these reasons, make sure to deep search how these platforms work. Don't be shy to contact us, even if it's for this purpose alone.
Who knows? You might actually get a custom plan for yourself and yourself alone that beats every competition.
You can also visit our StatsDrone FAQ section in case you have any doubts.