Software:
Proprietary



Year founded: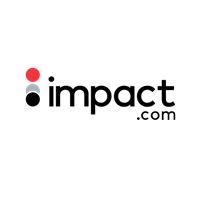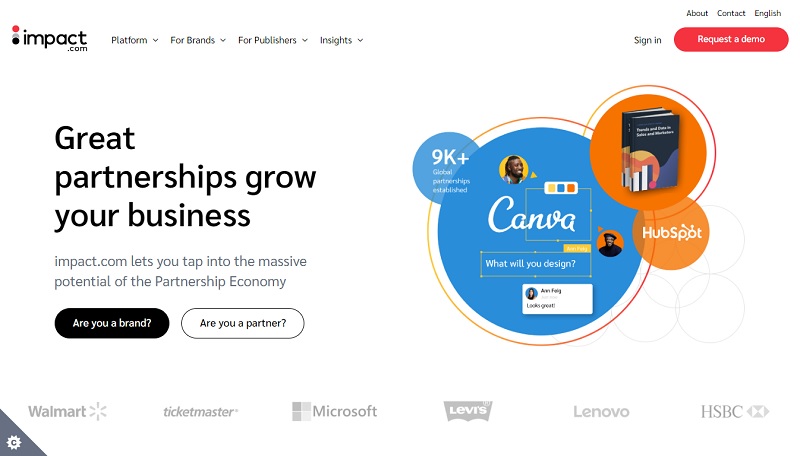 Website preview
impact.com Review
Data Points
Payment frequency:

Monthly

Minimum activity quota:

No
Pros & Cons

Tracking tools.

The brand is not famous.

Protect and monitor data.

Slow payments.

High-end software.
Editor Review
Impact.com is a marketing website for affiliate marketers, publishers, advertisers, brand-to-brand companies, ambassadors, travel, e-commerce, and many more users and businesses.
This website will provide you with your traffic to the point that you will be able to increase your income by improving your traffic conversion in no time. Plus, the website offers you lots of resources and tools to be on top of your peers.
Feel free to request more information from their support team, and even better, you can download a free demo for a period of time. We strongly recommend you do this so you can check out all the goodies that they have to offer you as an affiliate marketer.
Impact.com has an excellent reputation, and they work with lots of famous companies, such as Samsung, Ticketmaster, fubo, Fanatics, and other users. So, as you can see, this website is worth your time to check out, or at least keep reading this review for more helpful information about it.
This brand offers lots of essential tools that will help you, such as automation, tracking, monitoring, alerts, and more management tools that will help you a lot in your promotional campaigns.
The brand also offers a great blog with news of current events in the iGaming market and other news that you should find exciting plus, they have guides and other resourceful data that you can take advantage of.
Commission Details
Do not forget that Impact.com is not an affiliate program. It is affiliate software that will help webmasters, publishers, ambassadors, and other entrepreneurs that want to make money only.
However, they are willing to pay you for bringing new affiliates or new users to their brand, but they do not define how or when are going to pay you.
Carryover Policy
They do not deal with casinos or sportsbooks, which means they do not have a hostile carryover policy, so relax.
CPA
CPA plans and Hibryd plans are not defined on their website or their terms and conditions but feel free to request them from their support team.
Sub-affiliates
They offer commissions for bringing new users to the brand, but we think they do not provide sub-affiliate commissions, but who knows? Feel free to ask them about this topic.
Game Types
Remember that this is not an affiliate program, so they do not advertise casinos or sportsbooks, or other gambling sites. Instead, they promote their own website for affiliate marketers, advertisers, ambassadors, etc.
Excluded Countries
They do not define any restricted countries on their terms and conditions.
Target Market
Impact.com should focus on users from any part of the world.
Languages
The brand is displayed in English.
Jurisdiction
This website does not need a gaming license but do not worry they have an excellent reputation among affiliate marketers.
Payment Details
They do not define a minimum threshold or in what currency they will pay your commissions. However, they do say that they will pay their affiliates every 45 days, and all payments are sent through the impact.com platform via Automated Clearing House (ACH) in the Referral Partner's currency of choice.
For more information about their affiliate program, feel free to contact them via email at [email protected].