ClickMagick Review (2023): Overview, Ease of Use, Features, Pricing - StatsDrone
Overview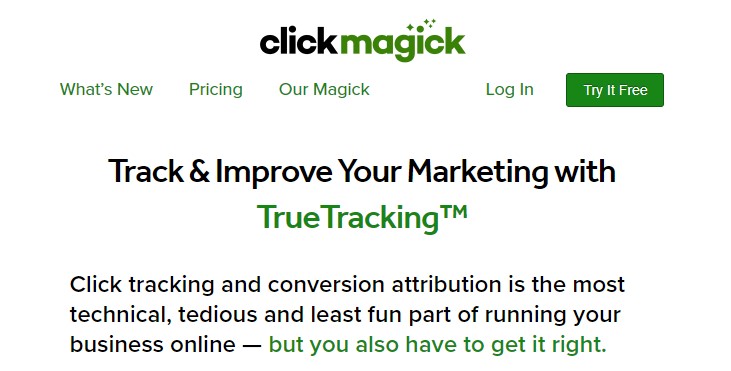 After using the 14-day free trial, you will see that ClickMagick is a top-notch affiliate market software for beginners and professionals.
Since it is amicable and straightforward to use, the tool has lots of video tutorials that show you how to use it, plus you can watch them at any time to refresh your memory.
This software will allow you to track and improve your traffic thanks to all the features that this software offers you.
You will be able to track, optimize, integrate, redirect and analyze all the traffic of your websites, which will allow you to be one step ahead of your competition.
Also, you can use this software to check your competition and have daily, weekly and monthly reports of your traffic with lots of variables.
Such as device, browser, IPs, user time, and many more variables will help you understand how the user interacts with your websites.
Ease of Use and Interface
ClickMagick is so easy to use that you feel like you are playing a game instead of working and analyzing your traffic. In addition, this software is user-friendly and mobile-friendly, which means that you can use it on your computer, laptop, smartphone, tablet, or any other mobile device.
After you log in to your account, you will see that the dashboard is very smooth and neat, and you will realize that all the tabs, graphics, and other data are in an excellent place to the point that you can say that the creators of ClickMagick did a great job on both the frontend and the backend.
The support team is ready to help you make the best of this tool via email and via phone 24/7, and don't forget there are lots of video tutorials that you can check for better magic and better revenues.
Features Explained in More Details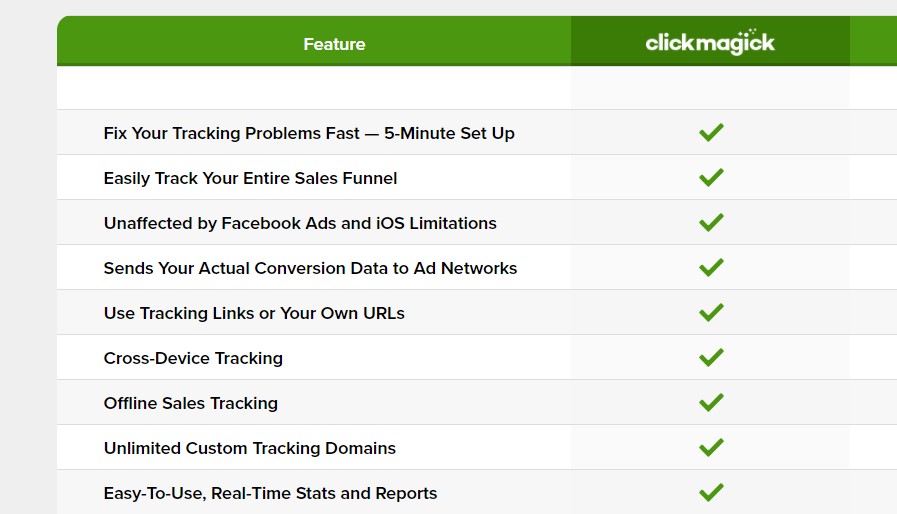 ClickMagick has tons of features that will help you with your affiliate market necessities, so don't worry about that. Some of the most essential features of ClickMagick are:
Track and optimize: you can count on ClickMagick to perfectly track all your traffic and optimize your revenues by redirecting your traffic depending on country, performance, and setup.
Advanced Tracking: you will be able to track all the most critical variables such as IPs, user time, clicks, country, region, devices, browser, and many more metrics.
Real-Time Stats and Reports: you will always have real-time data of all the users on your websites, including time, number of clicks, and any other interactions, so you will learn what your visitors like about your website.
Automatic Bot Filter: you can rest assured that ClickMagick will not allow bots to do no funny business with your websites, such as fake clicks or other shady things.
Pros & Cons
ClickMagick has some good things and others that are not so great:
Pros
Lots of tutorial videos
24/7 custom support
Compatible with existing Google analytics
You can export reports and other data to Excel
Tons of features
Import affiliate commissions from third-party networks
Nothing to install
Mobile friendly
14 free trial version
Cons
Few banking options
English only
ClickMagick does not track traffic from "bulk" traffic or adult traffic.
Pricing Plans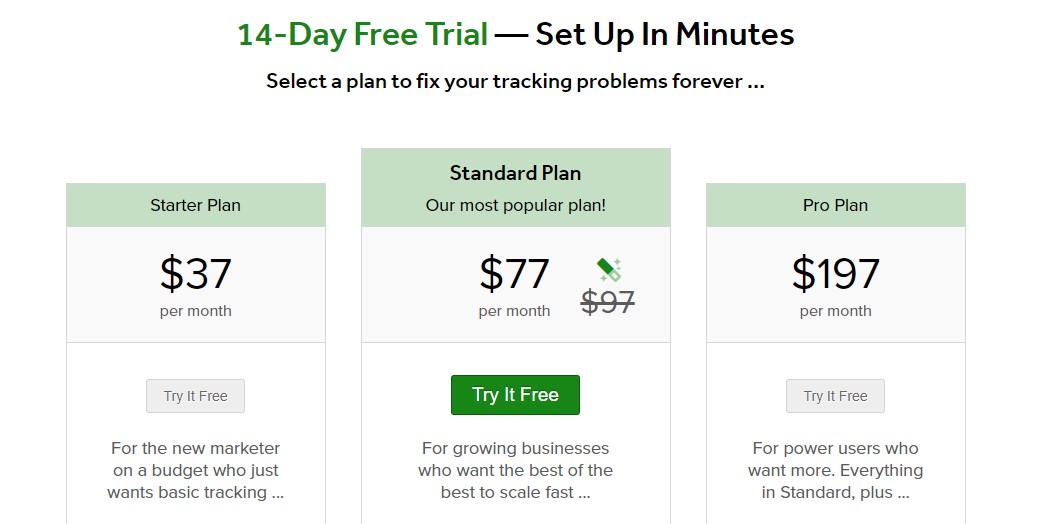 ClickMagick offers you 3 plans just as follows:
Starter Plan
For only $37, you can enjoy the following features:
Up to 10,000 Clicks a Month
1 Team Member
Unlimited Conversions
Core TrueTracking™ Features
Funnel Tracking - 1 Project
2 Custom Tracking Domains
6-Month Data Retention
Basic Online Support
Standard Plan
This is the most popular plan, and it is for $77 per month, and it comes with:
Up to 100,000 Clicks a Month
3 Team Members
Unlimited Conversions
Core TrueTracking™ Features
Cross-Device Tracking
Phone/Offline Sales Tracking
Audience Optimization™
Facebook Conversions API
PPC Click Shield™
Funnel Tracking - 5 Projects
10 Custom Tracking Domains
1-Year Data Retention
2-Hour Helpdesk support
Fanatical Live Chat support
1-On-1 Onboarding Call
"I'm Stuck!" Phone Support
Paid Traffic Courses
Pro Plan
For $197 per month, the Pro Plan is the most extensive, and it comes with everything and with:
Up to 1M Clicks a Month
Unlimited Team Members
Unlimited Funnel Tracking
Unlimited Custom Domains
"Done For You" Support
2-Year Data Retention
What Is the Best Plan Available?
After you read what the 3 plans offer, you will realize that the standard plan has the best value, however, if you are going big, you should try the Pro plan, but we recommend starting with the common method.
User Reviews and Ratings
Ratings and reviews are always important; it does not matter if it is about a service, a product, a movie, a series, or in this case, software; you should always read what other people that have tried the software have to say. So we have collected some reviews online about ClickMagick that you should find helpful:
From khrisdigital.com:
"ClickMagick is a powerful tool used by online business owners and marketers to measure, optimize and improve their marketing efforts through the monitoring and tracking of their link clicks so they could get helpful insights on how to increase conversions and make more money.
ClickMagick goes beyond tracking your links and giving you a report you need for improvement. Instead, it comes with many sophisticated features that enable you to take your online business to another level.
Without further ado, let's take a deep dive into this complete review and features inside of ClickMagick."
From the digitalmerchant.com:
"ClickMagick helps online businesses, particularly affiliate marketers and affiliate marketing companies engaging in traffic exchange and the monitoring of sales funnels, to gather actionable data.
In truth, however, it's a helpful tracking tool whether you're looking for a landing page, email marketing, or link management solution. So anyway, regardless of why you need to set up tracking links. Which is easy to do with ClickMagick. You just have to click on the "Links" tab and create your tracking link.
As we'll talk about later in this review, bot traffic can be segmented from organic traffic. This segmentation occurs through setting up a "Blocked URL."
This blocked URL is where all traffic resulting from bot clicks will be sent, which helps ensure you only receive report data from quality traffic sources. In turn, giving you a better idea of how your affiliate links are performing within your sales funnel or landing page by preventing fake clicks skewing reports on tracking links."
From bloggersideas.com:
"ClickMagick is the best affiliate tracking software in the industry with its robust and variable features. This click tracking tool allows free analytics for your campaigns and keeps check on the performance of your ads.
Also, it takes care of various factors such as testing the price points, payment methods, sales, page design, and many factors."
Is ClickMagick a Good Purchase?
ClickMagick is indeed a great purchase if you are looking for affordable and advanced software to optimize, integrate, control, analyze your traffic. And, of course, the software comes with tons of more features that will help you increase your commissions as an affiliate marketer. First, however, we will like to show you other similar tools:
ClickMeter: is a great tool used by many top companies, affiliate marketers, entrepreneurs, eCommerce business owners, and other professionals in SEO, so we recommend you to check this one out too.
LinkTrackr: this tool allows you to solve all your problems as an affiliate marketer, and it has more than 10 years in the business, so they know what you need and offer exactly that.
Bitly: this software has tons of features that allow you to track your traffic in real-time, short your links and URLs, create branded links, have detailed reports of all your metrics, and many more important metrics.
ClickMagick FAQ
What is ClickMagick?
ClickMagick is a solution for all your affiliate market necessities since with all the features that this program has, you should have no problems increasing your traffic and revenues.
What features does ClickMagick offer?
ClickMagick offers tons of features, but the most important are: tracking and optimizing, bot detector, real-time data analytics, pixel tracking, automatization, and many more.
What other apps does ClickMagick integrate with?
This software works with several APIs so, don't worry about that.
What would I use ClickMagick for?
You can use ClickMagick for many things, including tracking, optimizing, redirecting traffic, automating many things, detecting fake clicks, having detailed reports, and many more.
Can I use ClickMagick on my smartphone?
Yes, of course, and you do not have to download anything since you can use it on any device, including your smartphone, tablet, or other mobile devices.
Do I get access to detailed statistics?
Yes, ClickMagick provides you with daily, weekly, and monthly analytics about your new leads, locations, clicks, devices, and many other variables.
Is ClickMagick secure?
Your information is perfectly protected with ClickMagick, and also your link information is protected with HTTPS encryption, so don't sweat there is no problem with the safety.