ClickMeter Review (2023): Overview, Features, User Reviews, Pricing - StatsDrone
Overview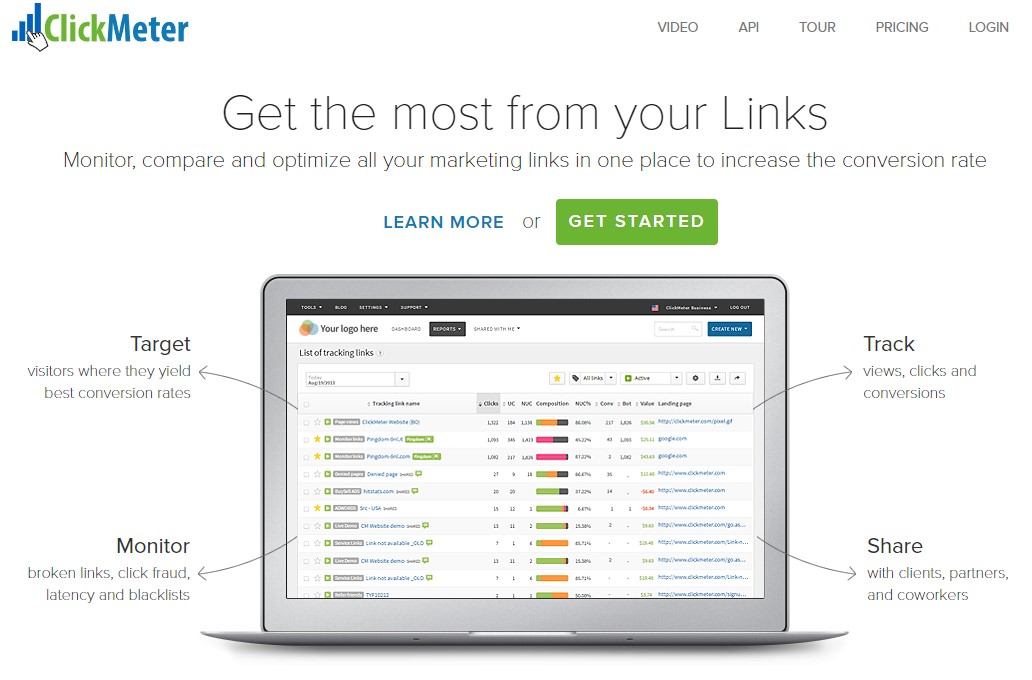 ClickMeter will help you get the most from your links by monitoring, comparing, and optimizing all your marketing links in one place to increase your conversion rate, meaning that you can be sure that by using this software, you will increase your ROI.
Over 100,000 users use ClickMeter by big and small businesses and even affiliates and entrepreneurs or by any person looking to earn money from their websites or eCommerce, so you know for sure that this software is indeed powerful and popular due to the results that it can give you.
With ClickMeter, you can check for broken links, click frauds, latency, blacklists, and as well as the best conversion rates, track views, clicks, ads, campaigns, check the competition, and share with your client's partners and coworkers any critical data or metrics.
ClickMeter counts with lots of features that will help you increase your traffic, check your competition, get access to real-time data of the visitors of your websites, and many more critical metrics. And if you have any questions or inquiries, feel free to contact the support team via live chat.
Ease of Use and Interface
ClickMeter will not let you down, thanks to all the features that offer, including an easy-to-use interface. From the moment you access the software, you feel like everything is supposed to be, to the point that you can say that the software is well designed and is entirely user-friendly in all aspects.
The software is straightforward to use. No matter which features you are using, it feels like a piece of cake, so you should have no problems when using it regardless if you are a beginner or a professional with experience. However, feel free to contact one of the support agents with any questions or issues that you may find.
The dashboard of ClickMeters shows you all the important metrics such as ads, visitors, clicks, and other data in real-time that you can need, which allows you to make the most of your marketing campaigns. In addition, if you are not doing well, it gives you the information that you need to make the necessary changes to solve it.
You can test the program by purchasing the cheapest plan, and if you don't like it, you can get a full refund and be sure to press the Tour tab on their website to have a look at how things work and also, don't forget to check out the videos that they have available for beginners.
Features Explained in More Details

ClickMeter has more than 100 features that can help you solve all your affiliate needs. There are so many features that we will list and explain only the most important ones just as follows:
Analyze: ClickMeter allows you to monitor many vital metrics such as broken links, fake clicks, latency, blacklists, list of clicks, and other essential data with daily, weekly, and monthly detailed data point reports.
Tracking: you can track every variable of your traffic, including timestamp, IP, region, city, language, mobile detection, browser type, platform type, product ID, tags, conversion value, custom parameters, and many more variables.
Integrate: say goodbye to all those affiliate marketing tools because you can integrate all those platforms and devices in just one place. By using ClickMeter, you can incorporate AdWords, Chrome, Firefox, Analytics UTM, Megaphone, WordPress, Shopify, and many more platforms, which will make your life easier.
Multiple Accounts: with this feature, you will be able to share your workload with your friends, coworkers, or employees. You can share private or public data metrics and make sub-accounts and give them the proper access.
Pros & Cons
ClickMeter has many good features and some that are not so good, make sure you balance the pros and cons before making a decision.
Pros:
Popular in the iGaming market
More than 100,000 users
Compatible with existing Google analytics
You can export reports and other data to Excel
Sub-accounts are available
More than 100 features
Live chat support
Import affiliate commissions from third-party networks
Nothing to install
Cons:
Few banking options
No free trial version (but you can get a full refund on your first month)
English only
Pricing Plans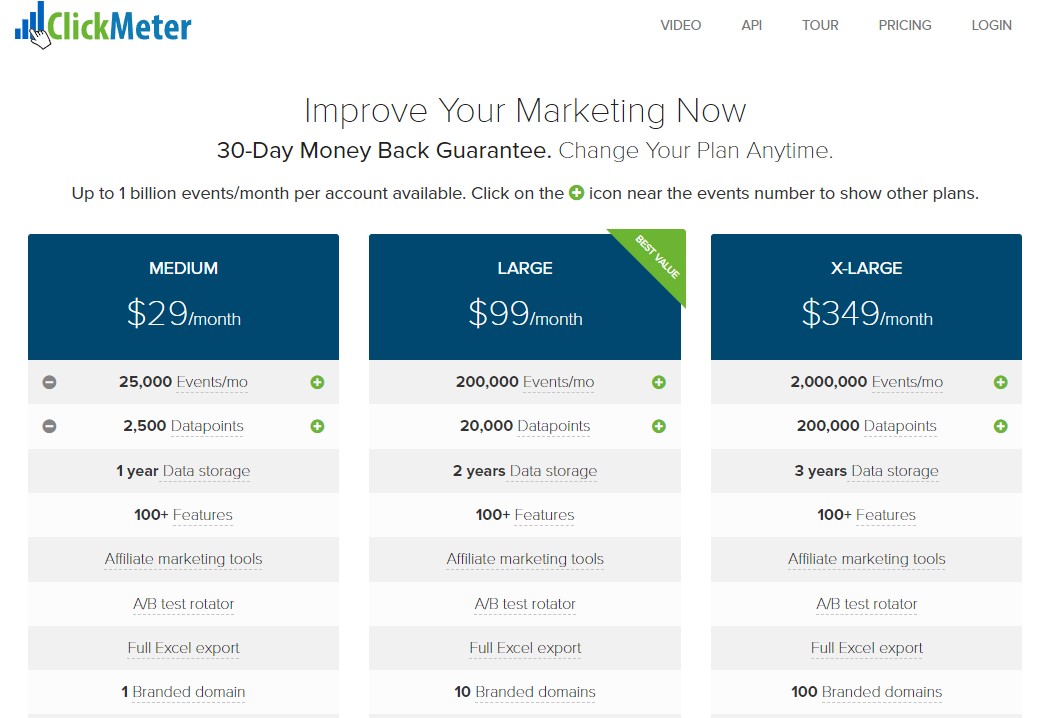 ClickMeter offers you three plans that you can choose depending on what you need:
Medium Plan
For only $29 per month, you can enjoy the following features:
25,000 events per month
2,500 data points
100+ features
Affiliate marketing tools
AVB test rotator
Full Excel report
1 Branded Domain
Track conversions & revenue
Retargeting & remarketing
Large Plan
This plan has the best value for $99 per month, and it gives you:
200,000 events per month
2,000 data points
Two years of data storage
100+ features
Affiliate marketing tools
AVB test rotator
Full Excel report
10 Branded Domains
Ten sub-accounts
Click fraud protection
Your logo in reports
X-Large Plan
This plan is for big companies since it is $349 per month and it offers you:
2,000,000 events per month
200,000 data points
Three years of data storage
100+ features
Affiliate marketing tools
AVB test rotator
Full Excel report
100 Branded Domains
100 sub-accounts
Click fraud protection
Your logo in reports
Dedicated engineer support
What Is the Best Plan Available?
After you read and compare all the three available plans, you will realize that the best plan is the large plan unless you manage a considerable amount of traffic. However, the Large project comes with everything you need, and the price is not that high, so we recommend that one.
User Reviews and Ratings
We have searched and gathered here some reviews for ClickMeter from other websites. Please read them to know what other people think since it would give you an idea of why people use this tool.
From Larryludwing.com:
"ClickMeter is a hosted service that allows you to manage your marketing (affiliate) links and social media links in one place. If you're looking for a link-shortening service, you should use ClickMeter's sister service Rebrandly.
Unfortunately for bloggers, ClickMeter doesn't currently have a WordPress plugin that quickly adds affiliate links to your site. But that's not the primary reason to get ClickMeter. Instead, you get ClickMeter because you want to track affiliate link conversions.
ClickMeter allows you to measure both clicks and — more importantly — conversions. In addition, you have the option to either embed a pixel on the merchant's site or use the more common postback option.The service gives you many options to integrate and extend ClickMeter to suit your specific needs."
From InternetWD.com:
"Clickmeter is one of the URL event management tools/conversion tracking tools that are not well known among many online marketers despite its handy features (most of the features are well-detailed in this Clickmeter review).
ClickMeter is currently poorly ranked when you search for the term "conversion tracking tools." This implies that the company has a lot of work to create more awareness of this product.As a big believer in conversion tracking tools, I believe it's highly essential for any serious-minded online Marketer to track and optimize their campaigns if you really want a sustainable result that can give you actual value for money!"
From the digital merchant:
"ClickMeter isn't just for business owners. It's also essential for agencies, affiliate marketers, advertisers, and publishers. Whether you have a few clients or a few hundred, ClickMeter will keep you organized. The platform will provide your clients with real-time data that isn't skewed by bots, separates commissions, and confirms your marketing successes."
Is ClickMeter a Good Purchase?
ClickMeter is powerful software used by many top-notch companies, affiliate managers, eCommerce business owners, and many more professionals in SEO. Hence, we recommend you purchase and use this software since it will allow you to have multiple advantages over your competition.
However, we would like you to know about similar software like ClickMeter just as follows:
LinkTrackr: this is a powerful software that any SEO professional or affiliates should consider using. It has more than 10 years in the market and has more than 12,000 users, so the platform must be doing something right.
GeniusLink: this software allows you to increase your affiliate traffic and eCommerce business by offering all the features, tools, and other vital metrics such as tracking, customer management, localization, and other important analytics.
Bitly: This tool provides you many features, including the possibility of shortening your links and URLs to get better customer conversion and moreover, you can create custom-branded links, track all the interactions of your websites, and it gives you all the metrics of any website.
ClickMeter FAQ
What is ClickMeter?
ClickMeter is a great platform that allows you to track all your traffic, improve your conversion, detect fake clicks, have detailed reports of all your metrics, and you can have sub-accounts for your workers.
What features does ClickMeter offer?
ClickMeter offers more than 100 features, but the main features are tracking hundreds of variables, redirecting traffic depending on your parameters, detailed reports, sub-accounts, and many more.
What other apps does ClickMeter integrate with?
This platform works with several APIs so, don't worry about that.
What would I use ClickMeter for?
ClickMeter is a helpful tool to help you check your competition, shorten your links, have detailed reports about your affiliate marketing campaigns or e-commerce business, and many more valuable things.
Can I use ClickMeter on my smartphone?
Yes, you do not have to download anything since you can use it on any device, and that, of course, includes your smartphone, tablet, or any other mobile device.
Do I get access to detailed statistics?
Yes, ClickMeter gives you access to daily, weekly and monthly metrics about your new leads, locations, clicks, devices, and many other variables.
Is ClickMeter secure?
Your information is well protected with ClickMeter, and also your links information is protected with HTTPS encryption, so chill, there is no problem with the safety.