LinkTrackr Review (2023): Features, Pros & Cons, Pricing - StatsDrone
Overview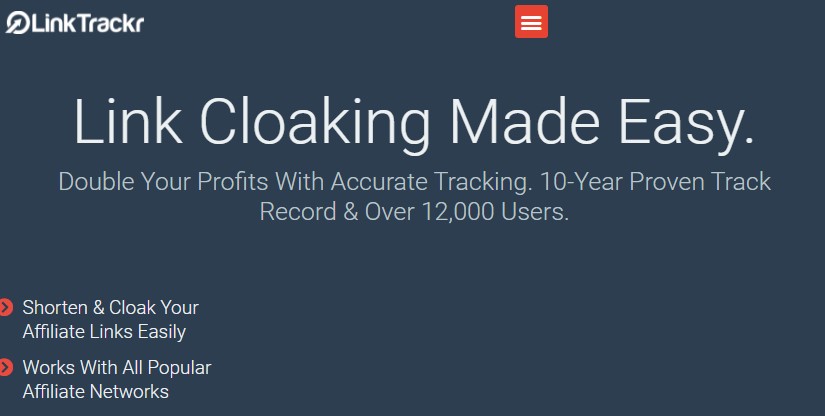 LinkTrackr is a powerful tool that any affiliate or SEO professional should consider using because this platform has more than 10 years in the market.
In addition, it has more than 12,000 users, so the guys behind this tool know what their users want, and that is what they offer.
With LinkTrackr, you can shorten and cloak your affiliate links, work with all popular affiliate networks, work seamlessly with Google Analytics, and redirect based on geo.
In addition, of course, it provides you with real-time data of your visitors, including all essential metrics that allow you to be on top of everything, and in case that you get wrong numbers, you can make the necessary changes to bounce.
With LinkTrackr, you can quickly identify the source of your conversion by creating campaigns to track banner ads, email ads, links on your website, and many more add sources to see how your traffic is going.
Ease of Use and Interface
LinkTrackr is simple to use, the layout is well designed, and it is fully mobile-friendly, and everything is where it is supposed to be, so you should have no problems when using it regardless if you are a pro or a beginner.
The interface is simple yet efficient with few tabs and customizable. However, you can ask the support team any questions or inquiries that you may have via email.
The dashboard displays all the essential metrics and other vital data that allows you to get the bigger picture and helps you to be on top of everything with minimum effort.
After a few minutes of using this tool, you will be ready to easily track all your sales and leads in your funnel, so don't worry about it.
Plus, you can always check YouTube videos for more tips and advice on using this platform properly.
Feel free to test this program by taking advantage of the free trial month, which you will actually have to pay.
Still, if you are not satisfied with the program, you can ask for a full refund, but the support team is willing to bet that you will love this tool since it can help you make a lot of money.
Features Explained in More Details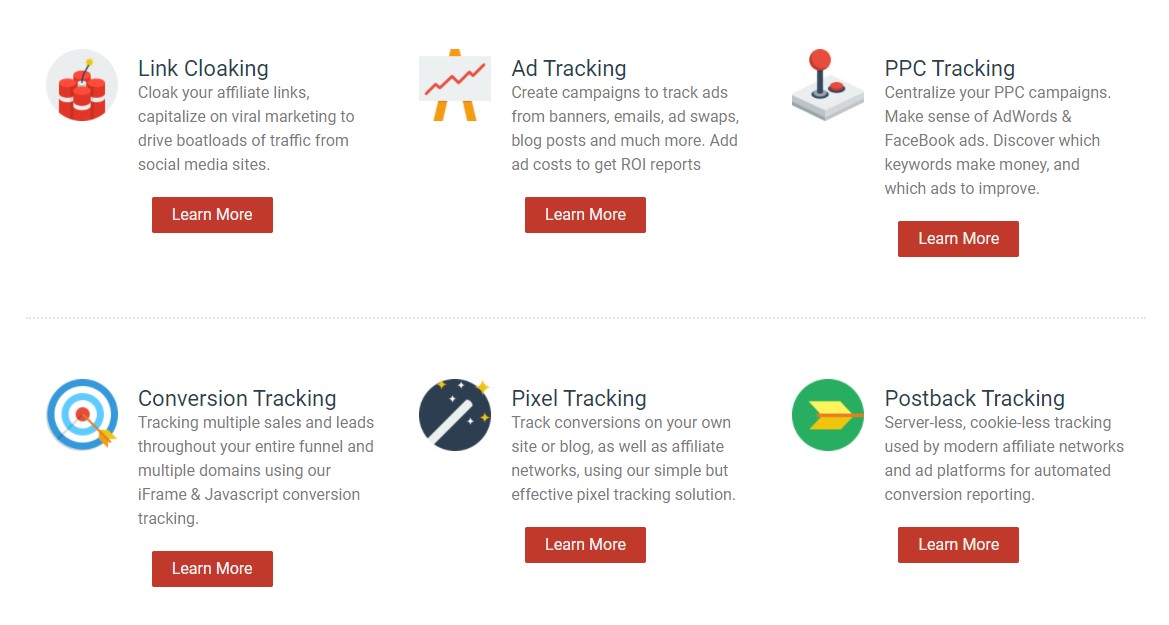 LinkTrackr is an excellent tool for anyone that is looking to make more money online because this tool allows you to be on top of everything thanks to all its features, such as the following ones:
Link Cloaking: This feature lets you cloak your affiliate links and capitalize on viral marketing to drive tons of traffic from social media sites. This is indeed very helpful plus gives you more privacy.
Conversion Tracking: With this feature, you can track all your sales and leads throughout your entire funnel and multiple domains using iFrame and Javascript conversion tracking. Nice, right?
Pixel Tracking: This feature allows you to track conversions on your own websites, blogs, and affiliate networks using the effective pixel tracking solution.
Postback Tracking: with this feature, you can track modern affiliate networks and ad platforms without servers and cookies with automatic conversion reports.
Ad Tracking: you can create campaigns to track ads from banners, ad swaps, blog posts, emails, and much more, and of course, you can add ads costs to get ROI reports which are always handy.
Pros & Cons
LinkTrackr as all tools available on the market has its pros and cons, we will show them just as follows.
Pros:
10 years in the market
More than 12,000 users
Compatible with existing Google analytics
You can export reports and other data to Excel
Great custom service
Import affiliate commissions from third-party networks
Nothing to install
Cons:
Few banking options (only PayPal)
It's not widely known in the iGaming industry
No live chat support
No free trial version (but you can get a full refund on your first month)
English only
Bulk traffic and PPV traffic is not allowed
Pricing Plans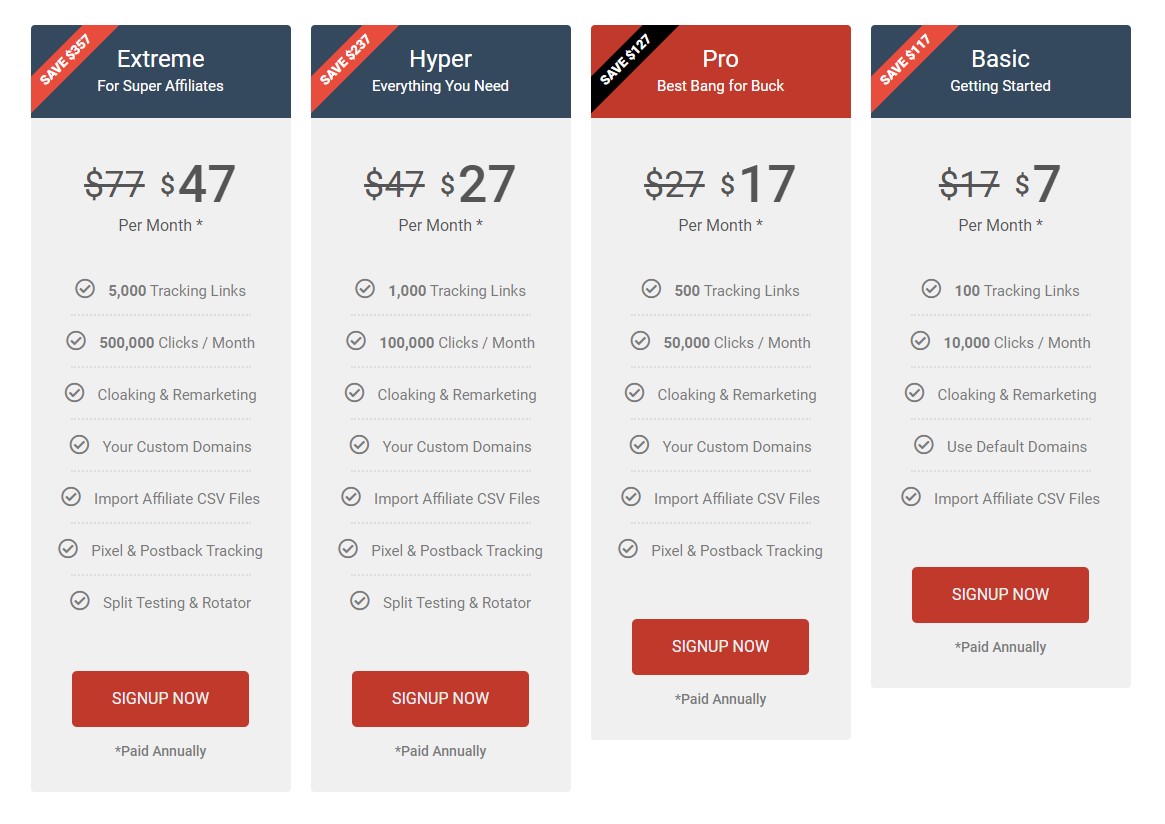 LinkTrackr offers you 4 plans that you can choose depending on your needs:
Extreme Plan
It offers you great features for affiliates for only $47 per month:
5,000 Tracking Links
500,000 Clicks / Month
Cloaking & Remarketing
Your Custom Domains
Import Affiliate CSV Files
Pixel & Postback Tracking
Split Testing & Rotator
Hyper Plan
This plan has everything that you possibly need for $27, and it features:
1,000 Tracking Links
100,000 Clicks / Month
Cloaking & Remarketing
Your Custom Domains
Import Affiliate CSV Files
Pixel & Postback Tracking
Split Testing & Rotator
Pro Plan
This plan is for professionals and entrepreneurs and for $17 per month, and it features:
500 Tracking Links
50,000 Clicks / Month
Cloaking & Remarketing
Your Custom Domains
Import Affiliate CSV Files
Pixel & Postback Tracking
Basic Plan
This plan is for beginners and persons who are just starting and just need the basic metrics and features. For only $7 per month, you can get the following features:
100 Tracking Links
10,000 Clicks / Month
Cloaking & Remarketing
Use Default Domains
Import Affiliate CSV Files
What Is the Best Plan Available?
You need to check each of these plans carefully, and depending on your needs, you have to decide which one is the best for you. However, we recommend you choose the Hyper plan that has everything you need for only $27 per month, which is not bad at all.
User Reviews and Ratings
Reviews from other persons are always critical, no matter if you are buying a product or a service, you have to know what other people think, so we show you here some reviews from other websites:
Darin Darin from burlingtonsocialmediaday.com wrote:
"LinkTrackr can be trusted to track the performance of your links, a very efficient product for affiliate marketing, not only easy in terms of usage but also a booster for ad campaigns."
Another review from Crozdesk:
"LINKTRACKR IS A WEB-BASED MARKETING TOOL TO HELP DISCOVER WHICH ADS AND LINKS ARE MAKING MONEY AND WHICH ARE NOT.
LinkTrackr helps you track your ad campaigns & affiliate links in real-time. Our unique reporting system helps you discover which ads and links are making money and weed out those not. 100% web-based and easy to use, LinkTrackr is the trusted marketing system for professional marketers & super-affiliates."
Another review from softwaresuggest.com:
"LinkTrackr's main objective is to help you track every sale, every lead in your funnel to the origin click. Its system helps you avoid duplicate conversions with intelligent conversion tracking. In addition, you can easily modify the conversion tracking rules to suit your promotions."
Is LinkTrackr a Good Purchase?
LinkTrackr is an excellent tool for any entrepreneurs, affiliates, and professionals in SEO and other persons. This tool features everything you possibly need to check your competition, check your metrics, cloak your affiliate links, and be on top of everything happening in real-time.
Nevertheless of LinkTrackr being a good tool, we will like to give you other choices just as the following ones:
SE Ranking: this is an advanced and unified SEO software that allows you to track rankings in all major search engines, languages, and paid and organic traffic in any location. An excellent tool for professionals.
GeniusLink: this tool offers you the chance to help you enhance your eCommerce business or increase the traffic of your site by giving you all the tools and essential data such as tracking, localization, customer management, and other vital metrics.
Bitly: This software allows you to shorten links and URLs to achieve better customer conversion, plus you can create custom-branded links, track all interactions of your websites, and it gives you analytical data of each link or website.
LinkTrackr FAQ
What is LinkTrackr?
LinkTrackr is a powerful software that will help you cloak your links conversion tracking, track your affiliate campaigns, and track all kinds of ads. It works seamlessly with Google Analytics and has competitive pricing plans.
What features does LinkTrackr offer?
LinkTrackr offers you many features, but the tool focuses on cloaking your links, ad tracking, conversion tracking, pixel tracking, postback tracking, and PPC tracking.
What other apps does LinkTrackr integrate with?
This software works with several APIs so, don't worry about that.
What would I use LinkTrackr for?
LinkTrackr is a great software that will help you check the metrics of your website or other websites, and it helps you cloak your links and track ads across all your platforms. LinkTrackr is an excellent tool for any affiliate.
Can I use LinkTracker on my smartphone?
Yes, you do not have to download anything since you can use LinkTrackr on any device, and that, of course, includes your smartphone, tablet, or any other mobile device.
Do I get access to detailed statistics?
Yes, LinkTrackr gives a tailored insight into all link-related statistics, including you can see the number of clicks, new leads, GEOs, locations, devices, and more meaningful metrics.
Is LinkTrackr secure?
Your information is well protected inside LinkTrackr, and also your links information is protected with HTTPS encryption, so chill everything is safe.