Bitly Review (2023): Features, Ease of Use, Pros & Cons, Pricing - StatsDrone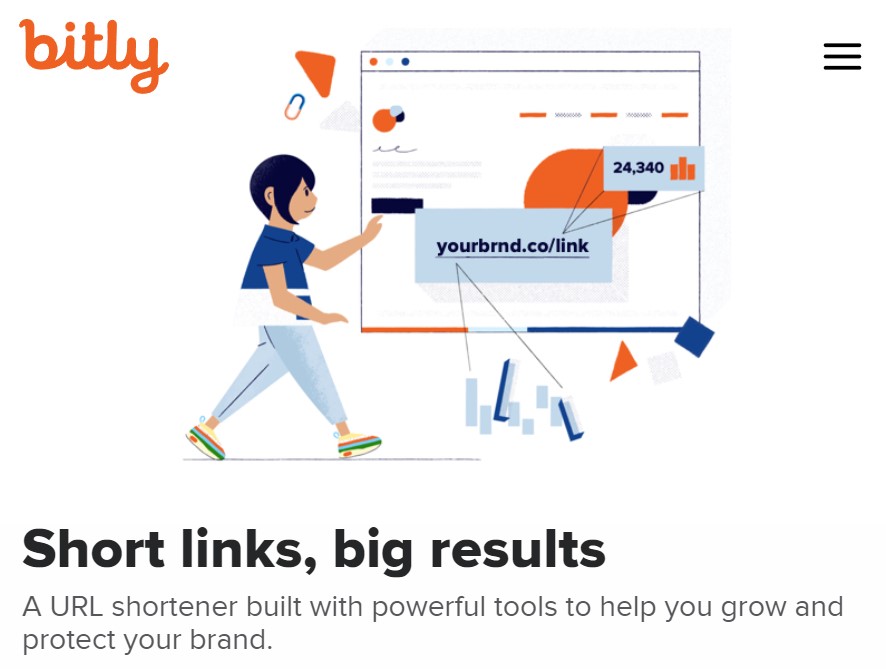 Overview
Bitly is a link management platform that individuals, businesses, brands, and companies can use securely and reliably.
In addition, Bitly allows them to share and track the content of their links while obtaining relevant data and information about each click that is generated.
In other words, this tool is ideal for monitoring the performance of any advertising campaign, landing page, or affiliate link.
In addition to the link management we have already mentioned, among its main features, you will find the creation of customized brand links, links for smartphones, campaign management and statistics, and the creation of QR codes.
The main objective of this tool is to serve as a solution to keep control of the links we use in social networks (Facebook, Instagram, Twitter, etc.), in digital marketing, improve customer service relations, and more quickly reduce the length of these links to optimize the programming process.
Ease of Use and Interface
Primarily, Bitly is a web tool that works for free. The only requirement to use it is to create an account on the website; however, this free registration will only allow you to access the tool to shorten your URLs.
As for the interface, we can mention that it is very comfortable to use and user-friendly. Of course, every tool has a learning curve; however, with Bitly, you will master all its functions quickly. If you are only going to use it to shorten your URLs, you won't need more than a couple of minutes to fully understand how to use it.
On the other hand, if you use the paid version of the tool (in case you need more information about the behavior of your links on the web), you will find a dashboard with the most relevant information about each of your links.
This information includes the number of clicks on the link, the number of unique visitors, and the range of clicks for each of them. But, of course, this is only the basis of the information presented on each link. In addition to this, you can also get information about the campaign's performance, geographical monitoring of each access, app installations, and much more.
Finally, Bitly has integrated support for various SMS platforms such as Salesforce, Twilio, Khoros, Sprinklr, Adobe, etc. But, again, all of this is via API.
Features Explained in More Details
Now that you know in a general way what solutions Bitly can offer you, it is time to present you with a list of all its features.
Remember that the service provided by this tool is quite specific since it focuses on shortening links and URLs to better connect with your customers.
Here is a list with all the details you need to know about the features of this powerful tool:
Link analytics: With this feature, you can analyze the performance of any link or shortened URL. Of course, this includes the number of clicks and social interactions.
URL shortening: This is Bitly's main feature; with it, users can convert any long URL or link to a short and concise link. With this, you can increase your audience engagement by over 30% (according to the developers of Bitly).
Link branding: Generic links don't usually work as well as a personalized brand link. If you want to increase your presence on social media, then this feature is for you. It allows you to create a customized shortened URL built around a brand or product name.
Link retargeting: With this feature, you know who clicked on your link but didn't complete the whole funnel process. This information allows affiliates, businesses, and marketers to retarget this audience and increase the results of each campaign.
SMS short links: If your target audience uses their phones rather than laptops or computers, sending them the links via phone might be a must for your product or service. With Bitly's integrated API, you can create thousands of unique SMS communications for customer support, order statuses, service delays or changes, appointment reminders, fundraising, or anything you need to deliver.
QR Codes: This feature is fantastic for businesses that need to keep offline content updated while decreasing manufacturing costs. For example, you could have a virtual menu for your store updated with a QR code, so you won't have to reprint the menus if you make a change.
Pros & Cons
Even if Bitly is an overall fantastic tool, it has its flaws as well. So make sure to balance this tool's pros and cons before making a purchase.
Pros:
Easy to use and setup
Free version available
Customizable URLs
Branded link shortening
Hosted links
Integrated analytics for clicks and referrals
Great integrations with APIs and third-party tools
Offers geographic and device-specific data
Cons:
Troubles to access billing information
Does not show campaign/link results further back than three months
No ability to organize link folders
Can't edit links once created
Some social media platforms don't accept Bitly Links
Pricing Plans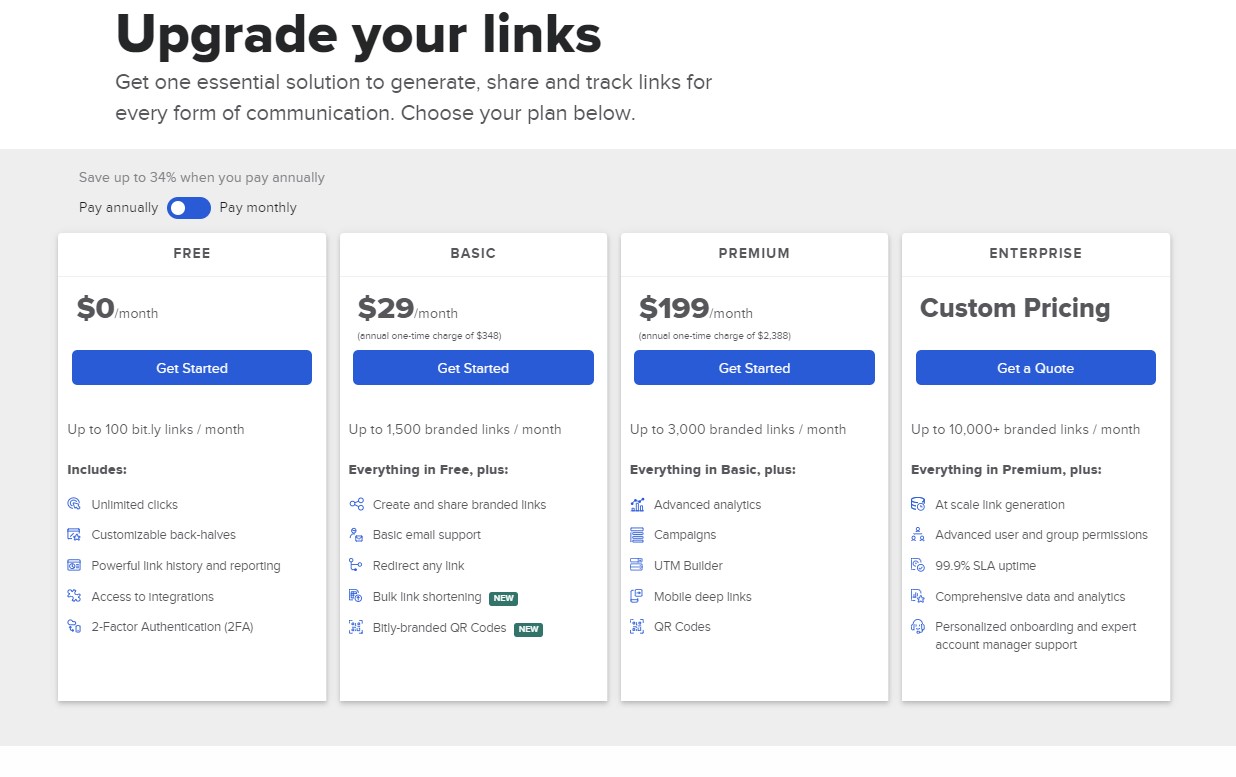 There are currently 4 types of plans available. Each offers different features from the previous plan, so be sure to choose the one that best suits your business needs. Below is a list with a description of each of them.
Free Plan
For no cost at all, members with an account will enjoy the following benefits:
Up to 50 custom Back-half per month.
Up to 1,000 link creations per month.
Unlimited link clicks
Link tags
Bulk link tags
Link filters
Social posting
30 days of link history
30 days of link reporting
Standard integrations for the API rate limit
Web browser extensions
Mobile app
Device-specific web access
2-factor authentication
Help center
Basic Plan
This plan includes the following benefits for $35 per month or $29 if billed annually:
Up to 1,500 branded links per month
10 branded link redirects
5 bit.ly link redirects
Up to 1,500 custom Back-half per month.
Free custom domain
Domain finder
Domain 1 setup
Domain guard
Domain root router
Domain 404 error fixer
Up to 1,500 link creations per month
All the features from the free plan
Up to 100 CVS/links bulk shortening
QR codes
30 days of link history
30 days of link reporting
Data export
Premium Plan
This plan includes the following benefits for $300 per month or $199 if billed annually:
Up to 3,000 branded links per month
50 branded link redirects
10 bit.ly link redirects
Up to 3,000 custom Back-half per month.
Up to 3,000 link creations per month
All the features from the basic plan
Up to 3,000 CVS/links bulk shortening
QR codes
Campaigns
UTM builder
Bulk import to campaigns
Export of campaign data
1 year of link history
60 days of link reporting
60 days of dashboard reporting
City-level data
Device-type tracking
Mobile deep link reporting
Enterprise Plan
This plan was created for those businesses that want to get the most out of this tool. The price varies according to the features you select, and the individual plan agreed directly with Bitly.
These are the features offered in the Enterprise plan:
Up to 10,000 branded links per month
10,000 branded link redirects
50 bit.ly link redirects
10+ auto-branded links
Up to 10,000 custom Back-half per month.
Up to 10,000 link creations per month
Custom SSL certificate
All the features from the premium plan
Up to 10,000 CVS/links bulk shortening
Color QR codes
Parameter Passing
Campaigns
UTM builder
Bulk import to campaigns
Export of campaign data
2 years of link history
90 days of link reporting
90 days of dashboard reporting
Higher API rate limits
Webhooks
Branded link hub
Group permissions
Priority support
Assigned account management
Personalized onboarding and setup
What Is the Best Plan Available?
According to the users, the best plan to get if you only need the basics of this tool is the free plan. It allows you to achieve so much by creating an account that you probably won't need the other features offered in the rest of the plans.
Of course, the link history and link tracking time limitations might seem hard, but remember that you are just getting that service for free.
The rest of the plans offer to increase this number of days up to a whole year in the best-case scenario, but the price of the app will go up as well, and it might not be what you are looking for as you could have more tools that you need for your business anyways.
Additionally, if your business is big enough, you could aim to get a good deal on the enterprise plan as it is the most complete of the four of them.
User Reviews and Ratings
Before investing in any tool, it is vital to know the opinions of other users who have already purchased Bitly's services. This way, you can have a guide or a reference on what advantages other people discovered and what problems they encountered while using it.
Notably, on major review sites such as trustradious.com, G2.com, GetApp.com, and saaswrothy.com, the Bitly tool (even its free version) received a near-perfect score.
Here are some examples of reviews left by Bitly users on these platforms.
On trustradious.com, Amanda Akey, a marketing coordinator for a 5,000+ employee healthcare institution, shared the following:
"Bitly is being used by our Marketing & Communications department to shorten long format links into a branded link. This builds trust in our social media posts and also in print materials. Also, the analytics that is provided through Bitly allows us to see more data beyond our social media platforms about how that content is doing."
On G2.com, a maintenance officer of a small business named Zain A. mentioned this about its experience on Bitly:
"It was always annoying for me to paste a long URL link on my social media account, so I started using Bitly, and It makes my work easy. It also provides an essential solution to produce, share and track branded links for every type of communication."
You will undoubtedly find a lot of comments and reviews of this kind in most review websites. However, some people complain about one aspect of Bitly, which is its customer service.
Unfortunately, the wrong part of having access to a free service comes with a price, and that is that most of the time, you will get underwhelming customer support with only a bot chat available. However, this is no problem if you have one of their paid plans.
Is Bitly a Good Purchase?
As we have already noted in this review, Bitly is a powerful tool for shortening links and achieving better conversion with your target audience.
Best of all, the free version gives you everything you need to start recording any critical data that will allow you to optimize your advertising campaigns, social networks, landing pages, web pages, and everything else. And of course, the rest of its available plans will allow you to get even more out of all Bitly's features.
However, even with all the above-mentioned, Bitly may not be the option you were looking for. Below you will find a list of alternative applications that serve the same purpose as Bitly:
SE Ranking: A powerful, advanced, and unified SEO Software that allows users to track rankings in all the major search engines for any location, language, and traffic (both paid and organic).
GeniusLink: This cloud-based software was mainly designed to help eCommerce businesses. With it, you can handle tracking, localization, and manage links to improve revenue and customer management.
SEMrush: The leading online visibility management SAAS (software as a service) platform. With over 50 products, SEMrush helps you get serious about your online presence. Of course, you can manage links, tracking, GEOs, data reports, and analytics to improve your business.
Missinglettr: This is a social media marketing software that helps bloggers and content creators to amplify content from an existing blog to creating a post for social media while also handling the websites or social media traffic and leads.
Bitly FAQ
What is Bitly?
Bitly is a powerful tool that helps you shorten links and URLs to achieve better customer conversion. In addition, it allows you to create custom branded links, keep track of all interactions with each link you have published. This gives you analytical details of the progress of each link according to many factors, such as the number of unique visitors and clicks.
What features does it offer?
Bitly offers its users 5 main features: link analytics, URL shortening, link branding, link retargeting, SMS short links, and QR code creation.
What other apps do Bitly integrate with?
This tool integrates several APIs, including Khoros Marketing, Clarabridge CX Social, Sprinklr, Twilio, and many others.
What would I use Bitly for?
Bitly is a tool with a wide variety of uses; for example, you can analyze links and link interaction, create custom links for your brand, create retargeting links, and shorten URLs.
Can I use it on my smartphone?
Yes! You can use Bitly on any device, and that, of course, includes your phone. In addition, there is an app version available on the app store.
Is Bitly Self-hosted or Cloud-hosted?
This tool is cloud-hosted, making it even better for rookies that are just starting to build an affiliate business. You won't need to invest in separate servers to install a self-hosted tool since Bitly is already a cloud solution.
Do I get access to detailed statistics?
Of course! Bitly gives a precise and detailed insight into all link-related statistics. For example, you can see the number of clicks, new leads, GEOs, locations, and devices.
Is Bitly Secure?
Your information is well protected inside Bitly, and also your links information is also protected with HTTPS encryption.