Rebrandly Review (2023): Overview, Features, Pros & Cons, Pricing - StatsDrone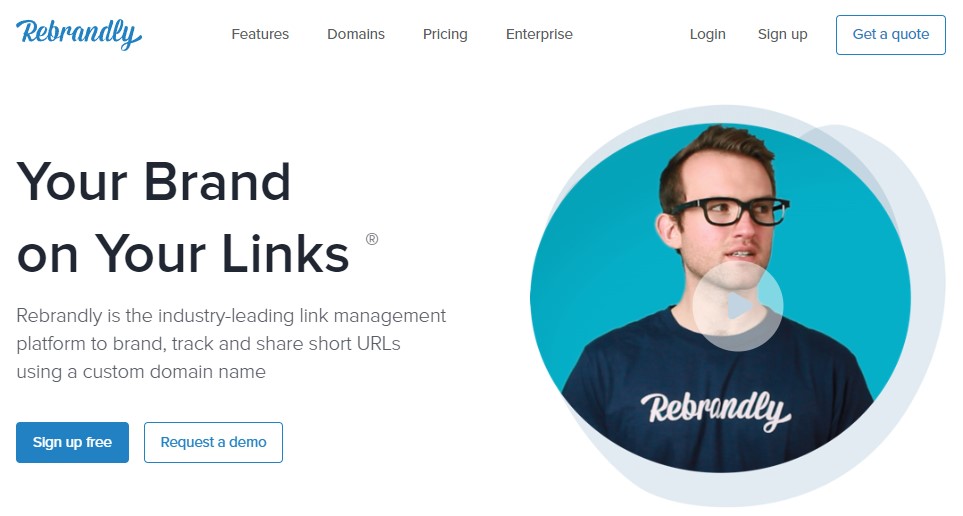 Overview
Rebrandly is a leading link management platform for branding, tracking, and sharing short URLs using custom domain names.
It is easy for users to create, share and manage their branded links from a central dashboard with Rebrandly. Furthermore, users can create and share links through Rebrandly's browser extensions as a natural part of the company's workflow.
Users can register custom branded domains with Rebrandly, featuring more than 500 extensions available. A branded link is instantly recognizable, pronounceable, and fully customizable. In addition, they are proven to help increase click-through rates by up to 39% compared to short generic URLs, improving users' trust and potential customers.
It is the best alternative to generic short URLs. As a result, Rebrandly has been adopted by many well-known brands and influencers such as Lamborghini, Harvard, Dell, Accenture, Oracle, Tesla, United Nations, Axa, SAP.
By far the most advanced and scalable link management platform on the market for advanced users and custom projects. They provide a vast set of APIs and the support of expert engineers to build small and large projects around links (SMS, transactional messaging, affiliates and influencers, single-sign-on, oAuth, and more).
Ease of Use and Interface
Whenever you create a link on Rebrandly, you can craft a message that describes what the link leads to and what your brand is all about. Users can do this in three ways that work effectively: First, choosing a compelling custom domain name to showcase your brand. Second, selecting your TLD (top-level domain) that highlights what your brand does. And lastly, by choosing a URL slug with a relevant keyword or phrase to indicate what information the link contains.
The users using the free version of this tool are limited in the number of shared links, domain connections, and the number of users associated with their accounts.
No limitation will ever be placed on the lifetime of control that you have over the links you create. A branded link will never break once you start it. As long as you are a Rebrandly user, you will be able to categorize, edit, share and manage your link. Just make sure to keep your domain name up to date.
If you need more additional links, domains, reports, or marketing features, an upgrade of your plan would be required.
Features Explained in More Details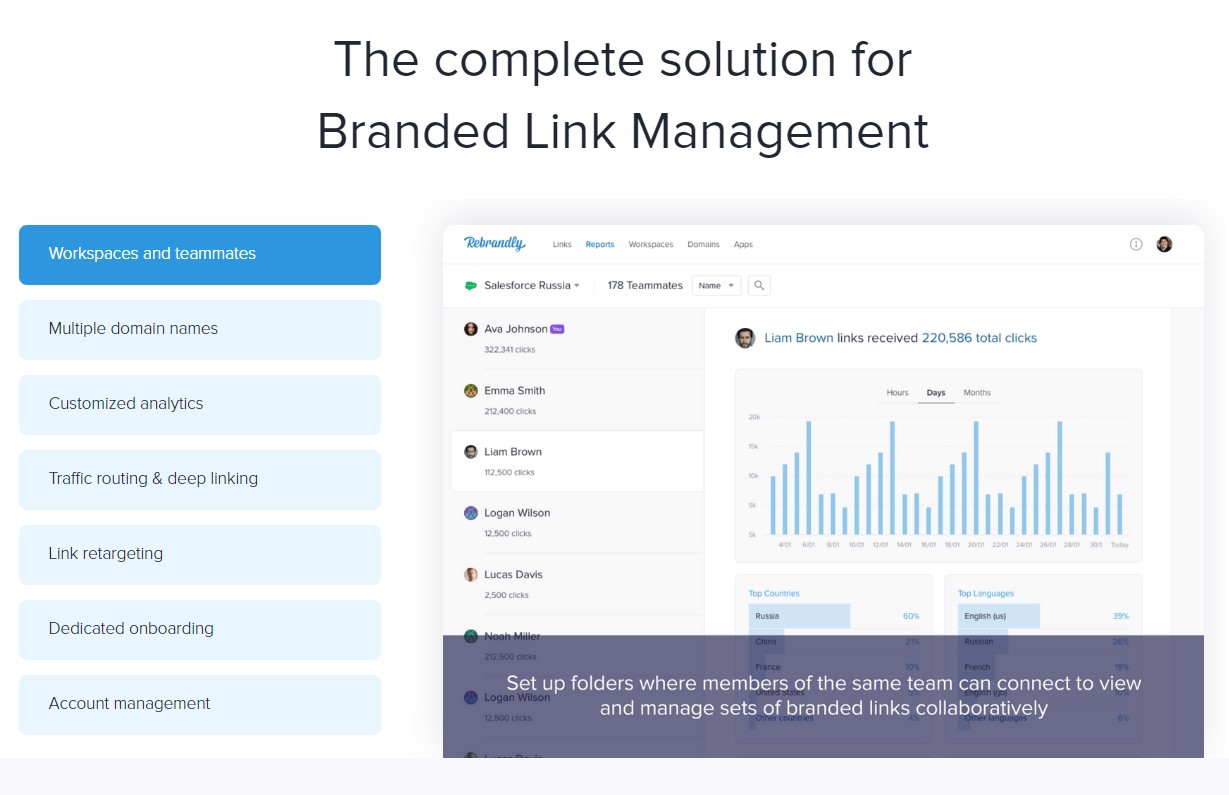 Rebrandly is the most advanced and scalable link management platform on the market for beginners, advanced users, and custom projects. An extensive set of APIs is provided alongside the support of dedicated engineers to build small and large projects around links (SMS, transactional messaging, affiliates and influencers, single-sign-on, oAuth, and more).
Some of the most prevalent features are:
Branded Links: Create a shortened URL built around a brand or related term that helps associate your company with the links, content, and information you share online.
Custom Domains: Purchase or connect a custom domain of your choice to use for your branded links.
Teammates: Invite your teammates to share branded links as a team and track the links they create from the dashboard.
Now, depending on your current plan, there are extra features as well:
Starter Features
Emojis: Users can create branded links that include emojis (not currently supported by all browsers but are a very cool extra).
QR Codes: Generate QR codes from your repertoire of branded links.
Add UTM parameters to your links.
Save UTM templates.
View all those stats in your Google Analytics dashboard.
Link Notes: Add short and searchable descriptions to your links.
Pro Features
Retargeting: Add retargeting scripts to your links to offer users ads at a later date.
Aggregate reporting: View your audience's most popular click metrics grouped by tag, domain, workspace, or teammate.
Link Tags: Tag your links and organize them in your Rebrandly dashboard.
Premium Features
Customizable API Rate: Get higher API request limitations per second based on your specific needs.
Custom Report Builder: Customize, schedule, and send custom reports based on your audience click data.
Mobile Deep Links: Redirect users to a specific location in a mobile app.
Pros & Cons
Despite being one of the most popular tools, this does not imply that it is perfect, so we can analyze the pros and cons that define it.
Pros:
Custom link creation
Edit custom URLs
User-friendly
Branded shortening of links
Adding UTM values.
Adding tracking pixels to shortened links.
Monitoring the number of clicks on a link.
Allows to buy and manage branded short domains
Cons:
The mediocre performance of the Reporting feature.
Lack of a control panel that could display statistics and graphs with easily filterable views.
The user interface could be polished a bit more.
At first glance, it is a bit difficult to see how to edit custom URLs
Pricing Plans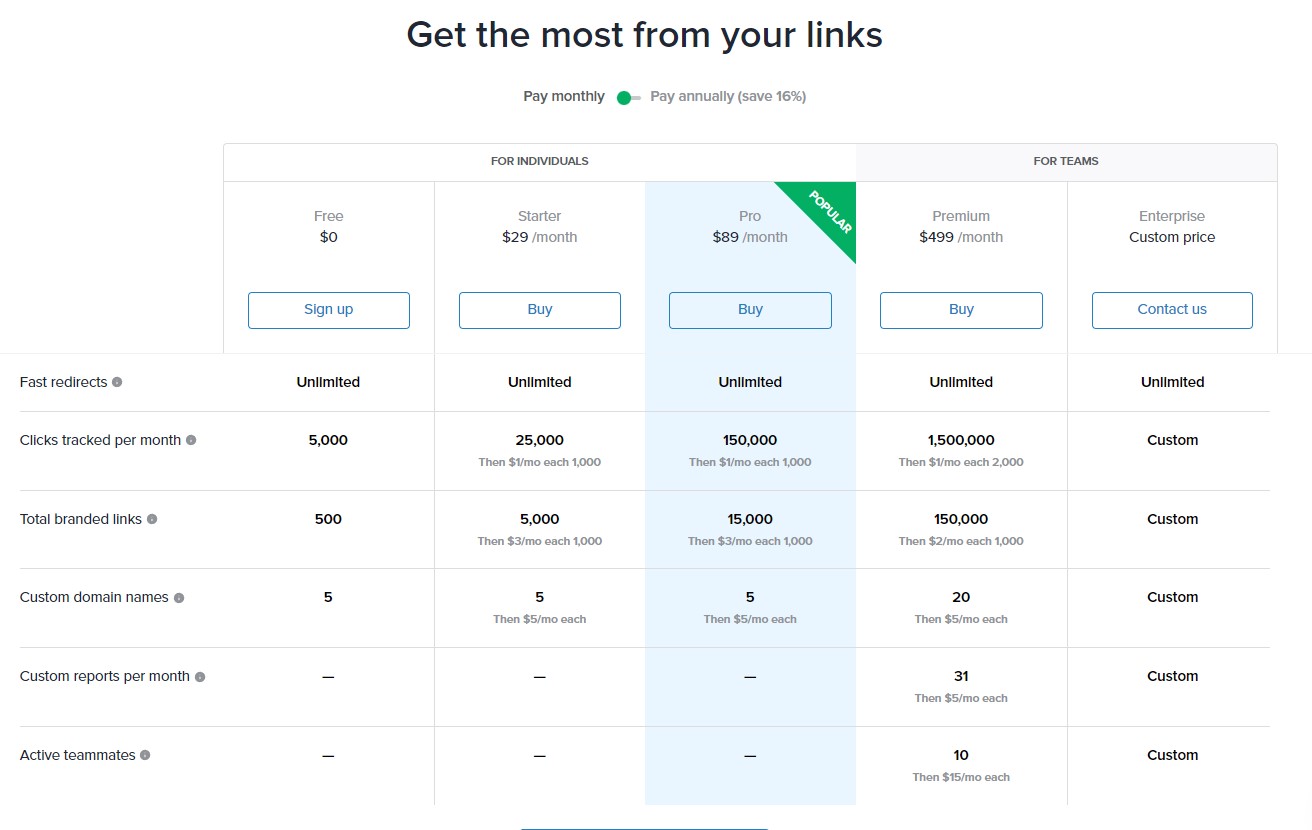 Rebrandly is affordable software for anyone looking for a reliable and professional solution for shortening URLs and much more and currently featuring five packages, including one free plan and four paid plans.
Free Plan
The Free plan offers the following features:
Unlimited Fast redirects
5000 Clicks tracked per month
500 Total branded links
5 Custom domain names
Link history
Link analytics
UTM builder
GDPR privacy
Private/public reports
Editable destination URL
Custom URL slugs
Link search
Links with emojis
QR codes
Starter Plan
The Starter Plan offers the following features:
Unlimited Fast redirects
25000 Clicks tracked per month
5000 Total branded links
5 Custom domain names
Link notes
Bulk link import
Branded domains redirect
404 redirect
Email support
Money-back guarantee
Pro Plan
The Pro Plan is Rebrandly's most popular pricing plan and it offers the following features:
Unlimited Fast redirects
150000 Clicks tracked per month
15000 Total branded links
5 Custom domain names
Aggregated reports
Link tags
URL parameters
Bulk link edit
Traffic routing
Link retargeting
Open graph control
Premium Plan
The Premium Plan offers the following features:
Unlimited Fast redirects
1500000 Clicks tracked per month
150000 Total branded links
20 Custom domain names
31 Custom reports per month
10 Teammates
Custom report builder
Mobile deep linking
Active Teammates
Workspaces
Multiple access levels
Dedicated onboarding
Account management
Enterprise Plan
The final plan offered is a customized plan adapted to your company's needs. Therefore, the total cost will depend on the specific functions you require.
What Is the Best Plan Available?
For an individual, the free version contains enough functions to allow you to make effective use of the tool. However, suppose you want to purchase one of the paid plans. The most popular is the pro plan because it contains all the features that allow you to be superior to the previous plans without being as expensive as the others used by teams such as Premium and Enterprise.
User Reviews and Ratings
It is always helpful to know the opinions of other users about a tool that we are about to acquire. Their opinion will allow us to get a better idea about the product and meet our needs and enable us to know its advantages and disadvantages. In addition, it will also facilitate comparison with other tools.
Notably, we can find different positive opinions about this product on most of the best and well-known review sites. Such is the case of trustpilot.com, where we can find a review by Kristina Quinones where she comments the following about this tool: "Been a Rebrandly user since they opened up shop a few years back, and I love them! Their UI is slick and user-friendly, with plenty of beneficial features - workspaces (can be used as teams, too), multiple custom domains, UTM templates, and the ability to edit destination URL... and that's on the FREE plan I'm on. The paid options have even more!"
On www.g2.com, Katrina L, a marketing manager for a small-Business of 50 or fewer employees, shared the following: "I like Rebrandly's URL shortener because it looks like a link that's come directly from my brand. There's no 'Google' or 'Bitly' add-on, and it makes my audience feel more comfortable that the link we're sharing is legit. The customization is key!"
Is Rebrandly a Good Purchase?
Rebrandly has made link sharing on social networks a lot easier, and particularly in printed materials. Moreover, since the links are now shorter and easier to read, typing them is easier for everyone. Therefore, it is indispensable and valuable for any company to transform long referral URLs into short and easy-to-read URLs.
Suppose you are searching for a professional solution to use shortened URLs in different instances, including CTAs, social media sharing, multiple landing pages, and campaign-based content for tracking. In that case, Rebrandly is indeed suitable for your business.
Although Rebrandly is an excellent tool, it is not the only one out there, and there are more that can perform similar functions that may better suit your needs.
Branch.io: Branch is an analytics company specializing in deep linking and improving attribution for mobile apps. Whether you're building, or have a mobile app, and have a very slim website, this one is probably for you. Their essential deep linking and analytics features are free, while more advanced premium solutions are paid.
ClickMeter: ClickMeter is an excellent solution for affiliate marketers, advertisers, and enterprise-level businesses that are looking for something a little more technical and a little different from Bitly. They also offer conversion tracking, something that not many other URL shorteners do.
Clkim: It offers very similar features to Rebrandly; they also have a solid price and friendly user interface and work on educating their users. The main difference between Rebrandly and Clkim is that they have focused on link monetization and cross-site advertising. At the same time, Rebrandly is entirely dedicated to link branding and the power of link trust.
Sniply: Is a great URL shortener for content creators who strive to build an email list or drive additional traffic.
Rebrandly FAQ
Which pricing plans does Rebrandly have to offer?
Rebrandly offers these pricing plans:
Starting at: $29.00/mo.
Pricing model: Free, Subscription
Who are the typical users of Rebrandly?
Rebrandly typically serves the following clients: Self-employed, Large companies, Medium-sized companies, Non-profit organizations, Public administrations, Small companies.
Which languages are supported by Rebrandly?
Rebrandly only supports English at the moment.
Is Rebrandly compatible with mobile devices?
Rebrandly currently supports Android and iPhone.
Does Rebrandly provide an API?
No, Rebrandly does not currently offer an API.
Can Rebrandly be integrated with other applications?
Rebrandly also integrates with these applications: Sprout Social, HubSpot Marketing Hub, Zapier, Sprinklr, Buffer, Twitter, Slack, LinkedIn, Facebook, Intercom.
How does Rebrandly provide support?
Phone support, email/help, chat, FAQ/forum, knowledge base