Click.Org Review (2023): Overview, Features, Pros & Cons, Alternatives - StatsDrone
Overview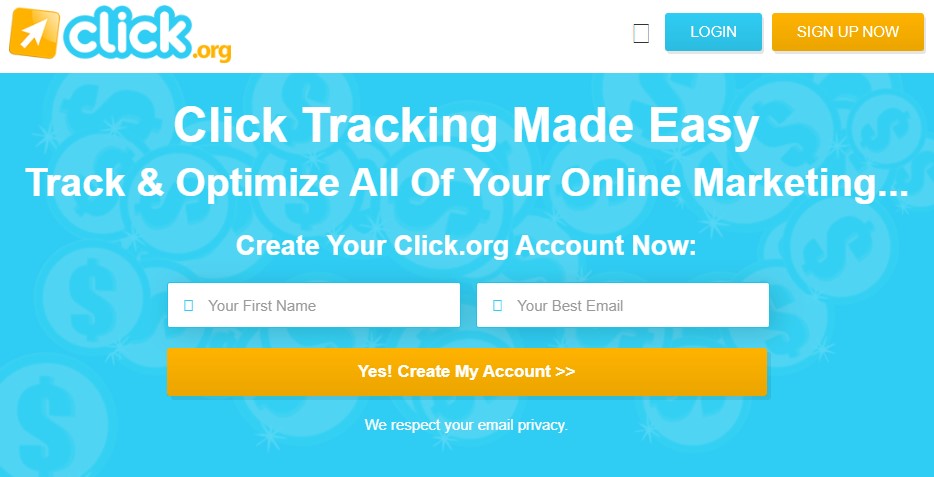 Click.org is an intelligent tool for tracking and optimization featuring both a link tracker and a traffic optimizer. Not only does it track clicks and links, but additionally, it also shortens URLs, cloaks links, optimizes traffic, optimizes traffic, makes marketing campaigns simple, and reports in-depth analysis of an online ad or marketing campaign. In addition, it is designed to give you precise tracking data in real-time instantly so that you can make informed decisions regarding clicks quickly.
A powerful link cloaking and shortening service, which even a naive user can use with ease. Click.org can track and report the most profitable ads or online traffic sources, allowing you to redirect your efforts and money into a higher ROI.
With over 50 features designed to boost your business, Click.org has been developed by marketers for marketers. It's user-friendly and provides you with everything you need to track, target, and optimize all of your online marketing in one place.
Ease of Use and Interface
It is an online tool, which means you don't need to spend time on installation. This means that all you have to do is pick the convenient monthly Plan with a limited number of supported clicks and links, then create your account. The tracking tool is hosted on in-house servers and is customizable without coding. As a result, the interface or the control panel you see after logging in is straightforward.
It is worth mentioning that the confusion when it comes to checking your statistics is gone. With one quick glance at the dashboard, you will have access to everything you need to check about your traffic and numbers.
No cluttered layouts, unclear buttons, or the need to decipher the data to understand it.
Rather than tedious data and numbers, you get fun, colorful charts and clean graphs. At a glance, you can see how all your campaigns are performing and make adjustments with ease.
You can even see live clicks in real-time in your proprietary clickstream.
Features Explained in More Details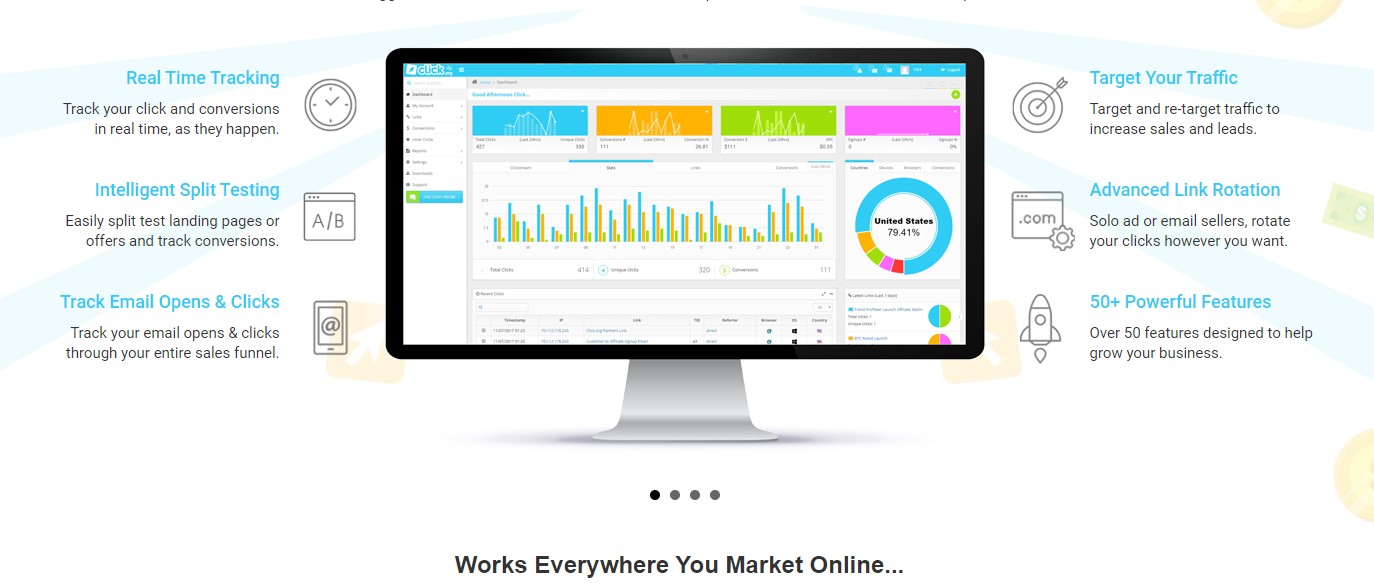 Click.org is the leading click tracking software for the Internet, affiliate, and email marketers that increases profits by 50%, mainly due to its advanced features. Let's take a look at what Click.org has to offer:
Real-time Tracking: Keep track of your clicks and conversions in real-time, as they are happening.
Smart Split Testing: Test landing pages or offers quickly and track conversions.
Track Email Opens and Clicks: Track your email opens and clicks throughout the sales funnel.
Drive Your Traffic: Target and retarget traffic to increase sales and leads.
Advanced link rotation: Solo ads or email marketers rotate your clicks the way you want.
Some of its most advanced features are:.
Live Clickstream: See all your clicks and conversions online in their brand new clickstream. It's completely animated and updates every second in your account dashboard.
Email Open and Click Tracking: Track your open and click-through rates, meaning you can now see how many people are opening your emails, who is opening them, and who is clicking on the links in them.
Sales Funnel: Create and track a complete sales funnel from the first signal through all your up-sells, down-sells, and backend high ticket offers.
Double Meta Refresh: Completely hide your referral sites so no one can see where your traffic is coming from.
Archive: Instead of deleting your links completely, you can archive them and reactivate them again whenever you want.
Cost per click: Track how much you pay for ads versus how many sales you are making per click.
Custom tracking parameters: Add and create as many custom tracking parameters as you want per link.
Custom Stats: Fully customize the stats you want to see for each link, add or remove them at any time and they will save all your choices for you.
Pros and Cons
Although Click.org 3.0 is considered the "secret weapon" by many of the world's top online marketers, email marketers, affiliates, solo ad sellers, media buyers, bloggers, small business owners, and online entrepreneurs. But that doesn't mean it's perfect, and just like any other tool, it has its shortcomings.
Pros
Easy to use and manage
Fast link redirection
Build-In to convert
Accurate analytics
Direct connection to Autoresponder
Cons
Lots of upsells and definitely not cheap
Pricing Plans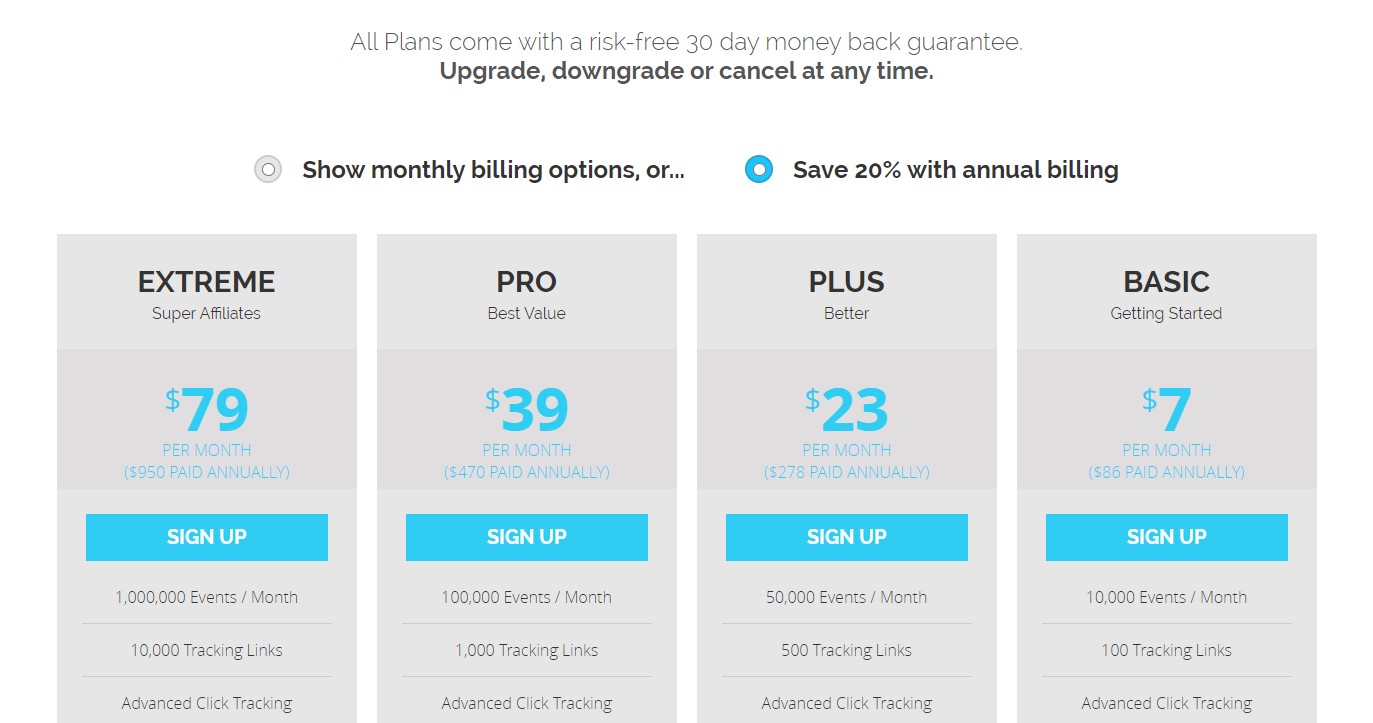 Every product has upsold, and this one does too. This is expensive for some people; however, no need to worry because buying upsells is unnecessary, as even the Front End can provide huge advantages.
Pro Plan
This is an excellent option for those just starting out and it costs $49 per month. It covers the basics they need to get their business moving in the right direction.
Extreme Plan
This is the recommended plan for most marketers and it costs $99 per month. It covers everything in the Pro plan and the ability to create unlimited sub links and tracking IDs. It also includes redirection and IP rotation.
Agency Plan
This Plan consists of 5 extreme accounts managed under one main account and it costs $299 per month. It is ideal for companies that manage marketing for their clients or for marketers who run multiple businesses, allowing them to track and optimize each separately.
Upsell #1 - Custom IP
Providing users with their own IP address for those who focus on email marketing. All customers are provided with custom domains. Using a custom IP with your custom domain increases your email delivery rates by over 30%.
Upsell #2 - Premium Domains
It gives users access to a set of premium domain names with limited usage. This is a cheaper way to increase email deliverability and customize your account.
Additional Sale #3 - Link uptime monitoring
This might be the most valuable $20 a marketer spends. All of your tracking links are checked every 5 minutes continuously. When some page's traffic decreases, the user is immediately notified by text and/or email ( per choice). It can also be set up to automatically redirect to a different page, ensuring that sales are never seen lost.
What Is the Best Plan Available?
If you are just getting started and want to move your business forward, the best option is the "Pro Plan" since it allows you to use the necessary essential tools without being so expensive. However, if you consider yourself an experienced marketer, the best option for you would be to go with the "Extreme Plan" since it has the essential tools in addition to others that will allow you to get the most out of your investment.
User Reviews and Ratings
Whenever we are about to purchase a tool, it is beneficial to review the additional comments left by other users on the Internet. This will allow us to evaluate the benefits and disadvantages, helping us to choose the best option that suits our needs.
On trustpilot.com, Shaun Gilbert shared the following:
"Great product - I'm using Clik.org daily to manage all my marketing campaigns. It does everything it says it can do. I was able to use IP rotation and redirection services, built-in geo-targeting to push specific advertisements and marketing campaigns to specific geographic regions and enjoy a real-time reporting system."
Also, on trustpilot.com, Jessica Anderson mentioned her experience with Click.org.
"I really like this service - have used it for years. Easy to use and automatically improves my online marketing conversions. I've referred several other business owners to Click.org, and they've all been very impressed as well."
Definitely, you will find many positive and negative comments on the different review sites. However, just as we saw a couple of positive ones above, we can also know that it is not a perfect tool and has some flaws. In this case, one of the most recurring faults reported by users is recurring charges made to their debit card without proper authorization.
Is Click.org a Good Purchase?
To summarize, Click.org truly is the Internet marketer's must-have tool. Without tracking your campaign, it is difficult to reach the super affiliate level, and you are just wasting money without even knowing why you are wasting it. With accurate data and conversion-boosting features, this application can definitely provide you with more leads and sales.
There are many more tools that perform similar functions to Click.org, each with some differences and features. However, all of these alternatives are valid and represent a great option. Here are some examples:
SEMrush: It is an online visibility management and content marketing SaaS platform that ensures businesses get measurable results from online marketing. Our software helps companies of all sizes and industries to optimize their visibility across critical channels and create engaging content for their users.
Intelitics: It is a simple-to-use and easy-to-decipher, advanced, data-driven marketing platform for global advertisers and publishers to engage and create meaningful revenue opportunities together. The first iGaming tracking platform with an emphasis on real-time tracking.
Funnelytics: The ultimate funnel tool for marketers who want to scale highly profitable funnels, sell funnels as a service, keep clients happy and paying longer. Funnelytics is your new secret weapon for mapping funnels, calculating the stats that will make them profitable, and delivering results backed by precise, easy-to-read data.
Funnelll: Turn your websites into Sales Engines! Capture meaningful actions users take on your website and optimize your sales funnel for driving Conversions and Sales. No Coding is needed! Link your analytics and ad accounts with a swipe of a button to share and receive data.
Khabin LLC: Track, test, and optimize your online marketing. Visitorkit shows you where your conversions are coming from to spend more time on marketing that works and stop wasting money on poorly converting traffic.
Click.org FAQ
What type of training does Click.org provide?
Training is provided in the form of documentation and live online.
What other applications or services does Click.org integrate with?
Click.org integrates with Facebook Ads, Facebook, Google Ads, LinkedIn, Twitter, and WordPress.
What kind of support options does Click.org offer?
Click.org offers support via business hours, 24/7 live support, and online.
What languages does Click.org support in their product?
Click.org currently only supports English.
What kinds of users and organization types does Click.org work with?
Click.org works with these users and organization types: Mid Size Business, Small Business, Enterprise, Freelance, Nonprofit, and Government.