AdsBridge Review (2023): Overview, Features, Pros & Cons, Pricing - StatsDrone
Overview
AdsBridge has made a name for itself over the years and is considered one of the most reliable cloud-based ad tracking software available today. It was formed in the year 2013 by a team with extensive experience in affiliate marketing.
It ensures to boost your ROI and provides you with everything you need in powerful tracking software. In addition, having over 7 data centers powered by AWS guarantees the fastest reroutes.
Featuring high-end servers that are flexible and scalable, traffic is delivered through the shortest routes with the most negligible loss of clicks.
Covering more than 160 countries globally, AdsBridge has become the trusted bridge for many marketers and media buyers, providing the most high-tech services with uptime support when needed. With one click, you can reach over 100 networks integrated into the tracking software.
It features a suite of integrated solutions, including a self-service landing page builder, granular analytics, and management infrastructure with AI-driven automated ad campaign optimization. Partners also have access to all its developments and technologies and can create CPA networks or generate smart links.
Ease of Use and Interface
One thing to keep in mind is the way AdsBridge presents its actual product, in other words, the statistics you are actually looking to get from all the different tools, offers, traffic sources that you work with.
AdsBridge is really very easy to use when it comes down to it, as you can:
Choose and check out each of the different features with concise and clear visualizations of how they work on the left-hand side.
You can filter by Campaigns Created, Country, Operator, Devices, Landing Page, Creativity, among other parameters.
You can also display statistics such as Clicks, Conversions, CTR, CR, Costs, and Profits.
These statistics can be highly detailed and let you know where and what optimizations you need to quickly make.They are updated regularly, with rare delays of 2 minutes at most.
As mentioned before, the platform is relatively easy to use, and this is helpful in the long run when you have several campaigns running simultaneously.
This is particularly useful if you are an affiliate network using this tracker or someone with massive campaigns.
Features Explained in More Details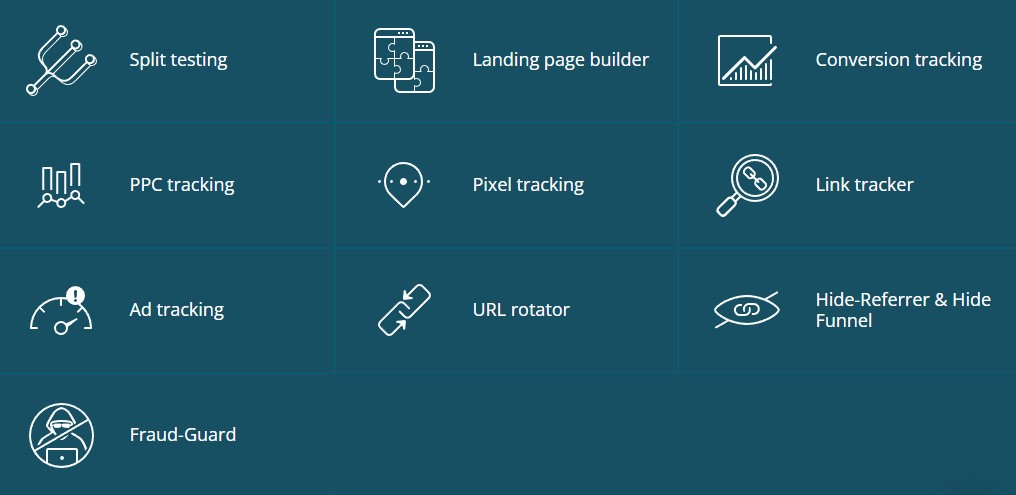 AdsBridge is one of the most comprehensive tracking solutions in the market, and it provides several advantages compared to other trackers.
Some of its most exciting features:
Hide-Referrer & Hide Funnel
Multiple offers and landing creation via CSV
Full access REST API
Multi-user access
Notifications upon events
Automatic conversion caps
Real-time stats
Smartlink toolkit
SSL for custom domains
Path Split
Flows
Top-notch support team
Organic traffic tracking sends traffic without redirects and gets all the necessary data through tokens for distribution within a tracker without violating traffic source rules.
Free SSL Certificate: Get a free SSL certificate if you purchase a domain from AdsBridge.
Batch action: Set batch actions for landing pages and offers. Using this feature, you can remove and replace selected offers and landing pages across all campaigns and streams in a few clicks.
Drill-down reporting: You will be able to choose one of three drill-down levels that allow you to analyze your statistics in more detail.
Third-party Pixel JS: This feature is used if you need to pass conversions from a tracker to the traffic source.
Bot filtering: You can enable proxy detection and filter that traffic to a specific URL. You can also set as many redirect rules as you want based on country, ISP, IP address, etc. You can find more information here.
Automatic Campaign Optimization: Helps increase the performance and efficiency of a campaign and decides the best way to distribute traffic to LPs and offers.
Unlimited custom domains: You can add total custom domains to track and hide from referrers.
Updating costs/conversions: It gives the user the ability to update the cost of traffic or update missed conversions manually for more accurate statistics.
Pros & Cons
AdsBridge offers an enormous scope of tools that provide the necessary functions for an effective affiliate tracking tool. However, it has its flaws, so it is recommended to balance this tool's pros and cons before making a purchase.
Pros
Free trial
Secure hosting
Cloud storage
Mobile-friendly interface
Instant email and SMS alerts
Multi-user access and roles
Intelligent tracking tools
Real-time statistics
Ready-to-use library of templates
Unlimited custom domains
Affiliate network integration
Automatic campaign optimization
Cons
Limit on visits per month
No refunds
Pricing Plans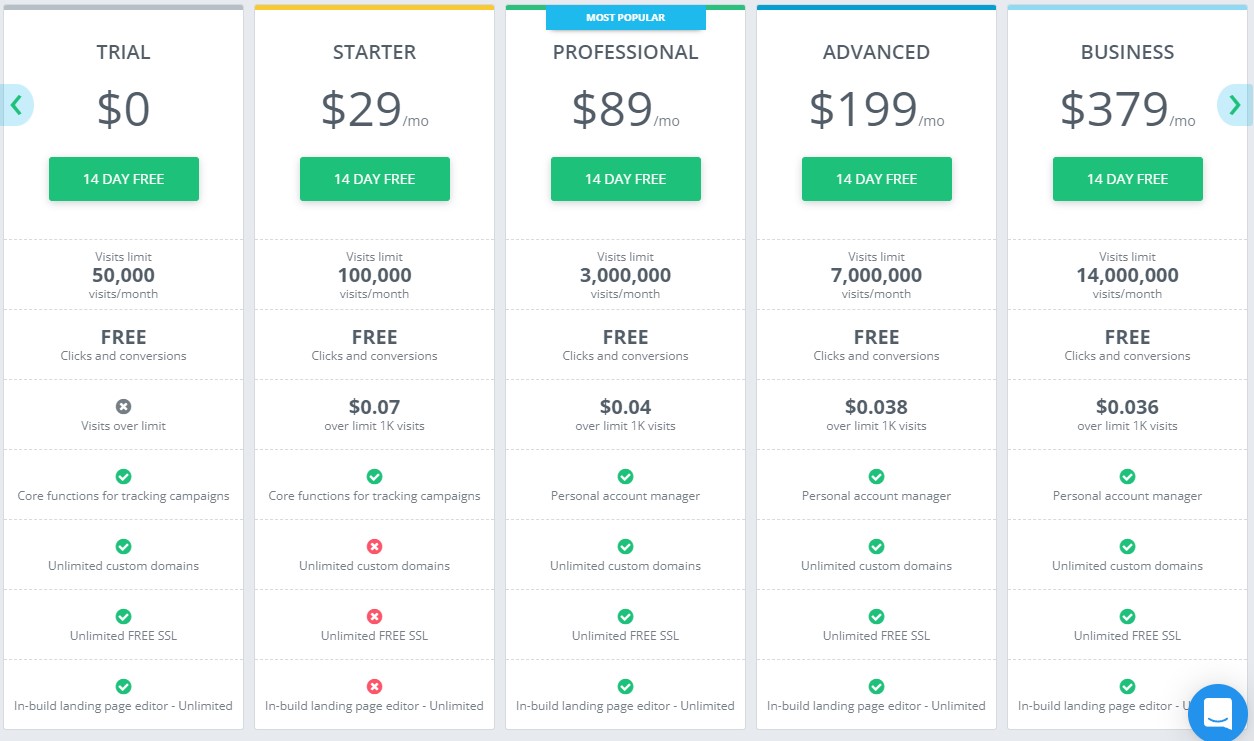 A variety of pricing plans are available on the platform: Trial, Professional, Advanced, and Business.
Additionally, packages for agencies, companies, and exclusive (customized) plans offer visit limits between 15 million and 50 million or more per month.
After registration, you have a 14-day free trial and a limit of 50,000 visits.
You can try the landing page editor, design some landing pages for your campaigns, and once the plan runs out, you can easily upgrade to a plan that's right for your business.
Starter
This plan costs $29 per month for 100,000 visits. Users are also entitled to five landing pages and three custom domains. All features are available except custom notifications, campaign auto-optimization, and multi-user access.
Professional
For $89 per month, this plan includes one million visits and all available features. It also includes unlimited landing pages and unlimited custom domains.
Advanced
For $199 per month, this plan includes everything at the Professional level and accepts a total of four million visits.
Business
For $379 per month, this includes everything under the Professional level, this time with 10 million visits.
Agency
At $499 per month, this second most expensive plan comes with all the features plus 15 million visits.
Enterprise
This is the most expensive plan, worth $799 per month. It allows up to 25 million visits and, of course, all AdsBridge features.
You can subscribe for up to 15% less than the stated monthly price if you pay annually. Also, depending on your plan, overages are charged for every 1,000 visits over.
What Is the Best Plan Available?
The first plan is a great deal, but features such as templates, unique user detection, CPM cost models, automatic optimizations, and "Trusted partner" affiliate network integrations are still not available.
This means that the second plan may be a better option if you want to take advantage of impressive features while also saving money.
User Reviews and Ratings
It is essential to know the experiences of other users who have already purchased AdsBridge's services before committing to any tool. By doing so, you will have a reference on which benefits other people discovered when using it.
In most of the review sites, this tool ranked highly compared to others that perform similar functions. A few comments left by users are listed below.
On Capterra.com, Carl G, a community manager for a telecommunications company with over 10.000 employees, shared the following:
"It is an excellent software that helps us take better advantage of paid traffic directed to marketing campaigns since it optimizes traffic generating fewer expenses and more profits."
Also, on Capterra.com, a verified reviewer who works for a social organization of 50+ employees shared:
"It is an excellent software that helps us take better advantage of paid traffic directed to marketing campaigns since it optimizes traffic generating fewer expenses and more profits."
It is worth noting that despite the overwhelming quality of this tool, some users have commented about how disappointingly slow it can be at times; however, the performance of the campaigns is so high that this drawback is neglected.
Is AdsBridge a Good Purchase?
It is worth trying this platform and is cost-effective compared to other affiliate trackers on the market. The affiliate industry is full of intelligent trackers and tools.
Therefore, it is best to stick with the smartest one that costs less and offers competitive features. In addition, it is easy to use, has excellent support, and its affiliate tools are handy.
This saves you the money you would have spent hiring web developers every time you want to promote products.
Some pretty good alternative applications serve the same purpose as AdsBridge:
Voluum: is a cloud-based ad tracker for affiliate marketers, media buyers, and agencies. It makes tracking, optimizing, and automating ad campaigns easy.
Talon.one: It is a powerful Promotion Engine that enables you to build targeted and customized marketing and sales promotions built around your customer and session data. Create, manage and track discounts, coupon codes, referrals, loyalty, and product bundles in one holistic platform.
Upfluence: The only Influencer Marketing platform that enables brands and agencies worldwide to turn their own customers into sales-driving influencers with Live Capture. Upfluence's platform searches for influencers through different criteria and filters worldwide on 7 other social media platforms.
PartnerStack: Is the only partnerships platform built for SaaS, designed to deliver predictable revenue and accelerate growth for software businesses and their partners.
AdsBridge FAQ
Does AdsBridge help with PPC campaigns?
Yes, AdsBridge is built for tracking and optimizing PPC campaigns from Google, Facebook, etc., in one click? You can add any traffic source. It also tracks conversion on Google Ads.
What languages does AdsBridge support in their product?
AdsBridge supports these languages: English.
Can it filter unwanted traffic?
With Adsbridge, you can conduct A/B tests of campaigns, filter bot traffic and view all possible information about your traffic.
Which Affiliate Networks are directly supported by AdsBridge?
Most of the top Networks like Adcombo, Leadbit, bitter strawberry, click dealer, MaxBounty, and over 100+ networks are directly integrated. In addition, custom affiliate networks can be easily integrated using global or offer postback/pixels.
Do I need a VPS to use AdsBridge?
No, Adsbridge is Cloud Hosted, and you don't need to set up your own server.
Does AdsBridge provide domain names for your campaigns?
You can either buy your domain with Adsbridge or register it and point it to Adsbridge on your preferred domain registrar.
Can I build landing pages with AdsBridge?
Yes, Adsbridge is the only tracker that includes a landing page builder.
What type of training does AdsBridge provide?
AdsBridge provides training in the form of documentation and in person.