Voluum Review (2023): Overview, Features, Ease of Use, Pros & Cons, Pricing - StatsDrone
Overview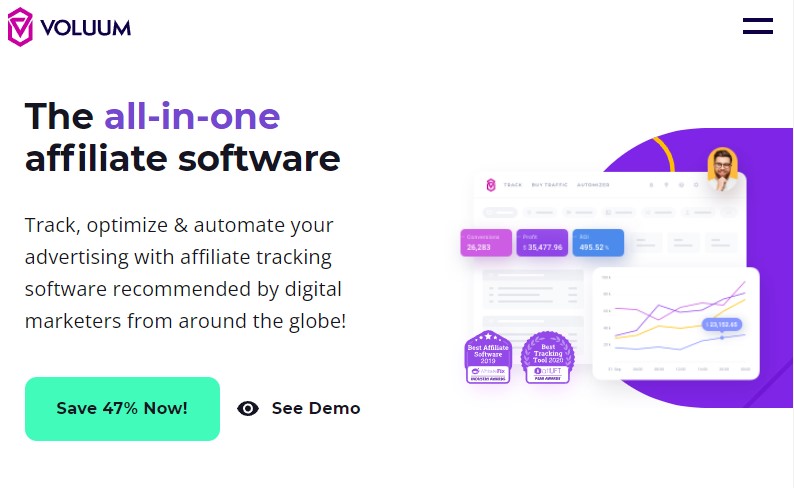 Voluum is a marketing performance analysis tool created for marketers, media buyers, and agencies launched in 2010 by Codewise.
This tool allows you to track, manage, and optimize any traffic source, organic or paid, through a single platform hosted in the cloud.
Among its main features, you will find powerful Artificial Intelligence tools that self-optimize site traffic and, in addition, allow the team to collaborate on different levels to access information.
Any brand that wants to precisely know its page, site, or blog traffic needs a tool like Voluum.
Essentially, it helps you keep your ad campaigns organized and handles traffic tracking by the source of origin. And of course, you will also get:
Complete and transparent knowledge about all your campaigns, including audience type, GEOs, connection type, browser version, and every detail relevant to your growth.
Target your campaigns to the right audience using advanced targeting techniques and rules.
Protection against bots
Program customized alerts that will tell you when something changes in the performance of your campaign.
Ease of Use and Interface
At first, Voluum's interface may seem full of information, windows, tabs, and options.
However, after a while, you get used to it, and it ends up being entirely intuitive and organized; remember that every tool has its learning curve when you start using it.
It should also be noted that creating and configuring your account is fast and straightforward; in just a few minutes, you will be able to use the tool to its full potential.
The first thing you will come across is the main dashboard; from here, you will see windows for views, clicks, conversions, revenue, cost, profit, and ROI.
On the left, you have a window that shows information regarding your top 5 most successful campaigns, the countries you get the most traffic from, offers, and general traffic sources.
Of course, all these metrics are arranged logically and accompanied by their respective graphs, so you can use both types of information to determine the results of your campaigns.
Overall, the tool is easy to use, but it does require a bit of practice at first; once you get used to it, you will find all the information it provides benefits, and you will easily access it.
Features Explained in More Details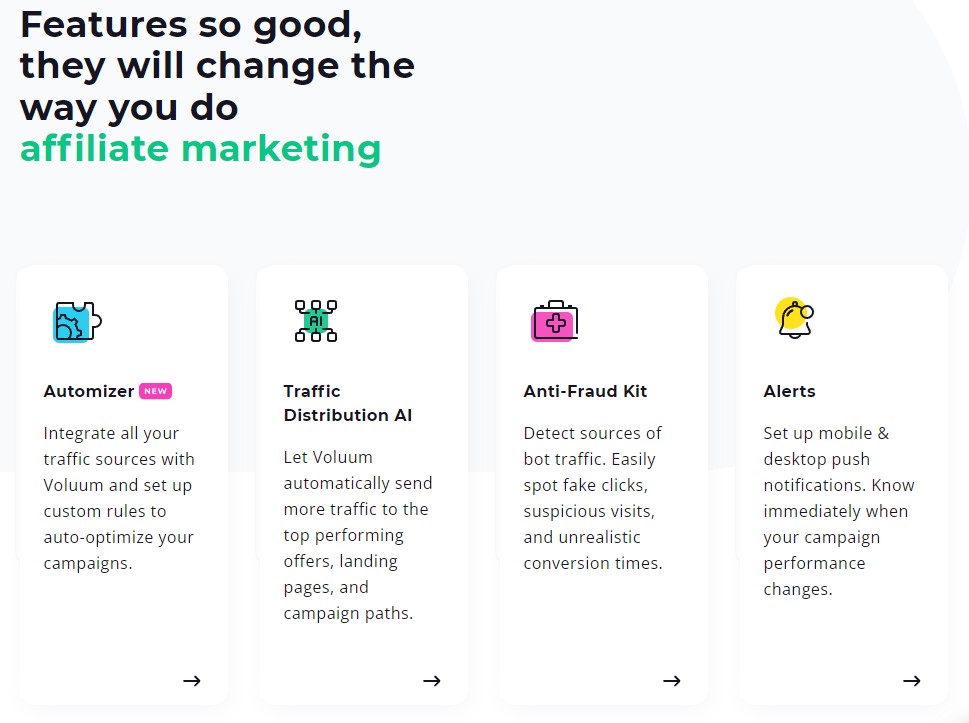 So far, we have mentioned some of the main features of Voluum. However, there are still many more to discover. Below, you will find a list with all of them:
Pre-made templates
Custom templates
Automatic campaign optimization
Affiliate marketing dashboard
Custom conversion tracking
Impression tracking
Organic traffic tracking
Redirect tracking
Direct tracking
Landing page protection
Multi-step funnels
Manual cost update
Real-time reports
A/B Split testing
Rule-based traffic distribution
Trend analysis tool
Proxy reports
Workspaces
Traffic distribution AI
Now that you know all the features that Voluum offers, it is necessary to highlight those that are most interesting for the users. Among them, you will find:
Automatic Campaign Optimization
If you want to grow, then you need to manage multiple ad campaigns at once. But, of course, anyone with experience doing this kind of work knows how complicated managing multiple campaigns can become if you're not careful.
Primarily if you work with several audiences, specialized offers for each of them, the design of landing pages for each proposal, and of course, the budget for each campaign.
Not to mention that you must keep track of your progress. For this reason, it is a great relief that the tool you choose can automate and optimize all your campaigns simultaneously.
Best of all, you can automate every one of them from a single platform, so you won't need to switch between different screens or applications.
Also, this tool is so advanced that it even automates the way campaigns react to performance changes.
For example, suppose the system detects that the performance of a campaign is excellent. In that case, it immediately increases the campaign budget (according to a set of standards determined by the user).
A/B Testing
Beyond creating multiple simultaneous campaigns, the idea is to attract the right people to the correct campaigns; you need to start advertising appropriate to potential customers' tastes, needs, and behaviors.
With A/B Testing, you can easily create ad copies to determine which ones work best based on various factors, such as target audience, for example.
Of course, many programs can do this; the difference is that Voluum uses artificial intelligence to improve the performance of your advertising by considering various factors, thus ensuring that the information reaches the right group of people.
Anti-fraud Kit
Suppose it is already challenging to get a campaign to work optimally. In that case, it is even more challenging to do so if you have to deal regularly with robotic clicks and bots, as they damage the campaign information that dictates whether it works or not.
Of course, it can also expose the vulnerability of your URLs.
Because of this, Voluum's answer is its practical anti-fraud kit. With it, you will be able to perform the following actions:
Identify suspicious clicks and traffic.
Know if you are publishing on poorly designed, dangerous, or unsecured pages.
Track your domain with an SSL certificate to prevent search engines from tagging your pages or websites as suspicious.
Extensive Campaign Tracking
One of the most vital points of this tool is its ability to track multiple campaigns simultaneously.
In this process, several data points are considered while tracking the performance of various aspects of the campaign, ranging from bids to landing pages, through a host of third-party services, such as Facebook and Google Ads.
This exhaustive process allows you to have full knowledge of the development of your campaigns.
That is, you will know how, when, and where your money is being spent, so you can determine if each campaign is generating the expected results.
Furthermore, this applies to track any type of traffic, whether organic or paid; if it is by events, any of them will appear reflected within Voluum.
Pros & Cons
While it is true that Voluum is a reasonably complete tool, like all the others, it also has specific weaknesses that you should consider before making a final decision.
Pros:
Easy to use and setup
Includes a direct tracking Pixel
Can track domains with SSL protocols
Has an A/B Testing optimized with AI
It's a cloud-hosted tool
Has a user-friendly interface.
Fraud detection program incorporated
The program is scalable (you can upgrade or downgrade based on the company's needs)
Cons:
The user interface can feel overwhelming at first
Does not have a free plan or free trial, just a demo
Lower plans have low data retention (it can be as short as three months)
The customer support feels lackluster and could use some improvement
The price might feel high when compared to other tools in the market
Pricing Plans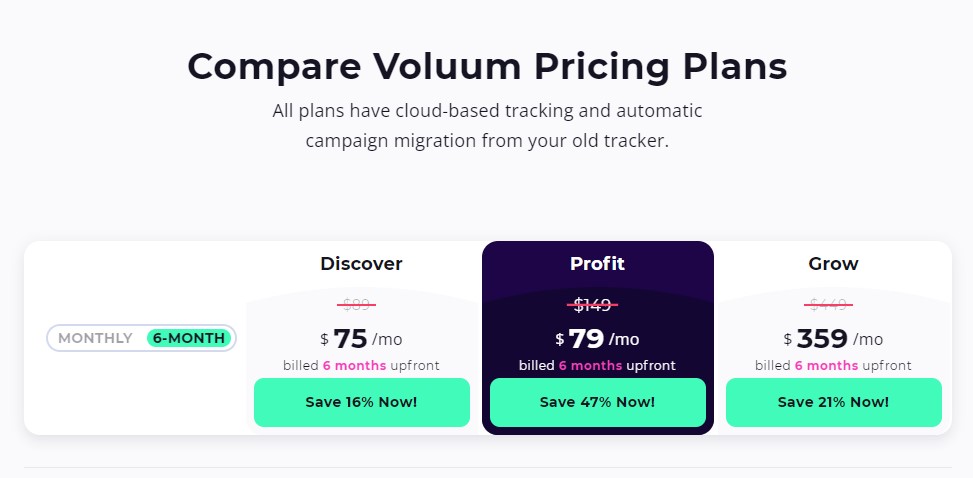 Currently, there are 4 types of plans with which you can obtain different features according to the needs of your business. Below, we show you each one of them:
Discover Plan
This plan includes the following benefits for a cost of $89 per month or $69 if billed annually:
3 months of data retention
Up to 40 active campaigns simultaneously
Custom domains (up to 1)
1 dedicated domain with SSL protection
Automator function for campaigns
Group incorporation to the tool
Basic tracking features
Profit Plan
This plan includes the following benefits for a cost of $149 per month or $119 if billed annually:
6 months of data retention
Unlimited active campaigns at the same time
Custom domains (up to 3) with SSL protection
1 dedicated domain with SSL protection
Automator function for campaigns
Custom onboarding tool
Traffic distribution with AI
Rule-based paths
Grow Plan
This plan includes the following benefits for a cost of $449 per month or $349 if billed annually:
12 months of data retention
Unlimited active campaigns simultaneously
Custom domains (up to 5) with SSL protection
1 dedicated domain with SSL protection
Automator function for campaigns
Custom onboarding tool
Traffic distribution with AI
Rule-based paths
Anti-fraud kit
Additional users
Custom Plan
This plan was created for those who want to get the most for their money and are interested in customizing their experience using Voluum.
By choosing the Custom plan, you can select the most features you need and apply them in one place.
What Is the Best Plan Available?
According to Voluum's website, the best plan to get is the Profit plan, since, in terms of cost and features, it is the most balanced of the three.
In this case, the Discover plan is fundamental and does not contain many features that make Voluum so amazing. On the other hand, the Grow plan is the most complete and reflected in its cost.
However, we want to highlight the fourth option, the Custom plan.
While it is true that the price is defined by the features you choose, you also ensure that you will get what your business needs to grow, and you will not have additional features that you will probably not end up using.
User Reviews and Ratings
Before deciding to invest in any tool, it is vital to know the opinions of other users. For this reason, we leave you some of them below:
Emily M. left a review on the G2.com page with the following message:
"Voluum is Good if you get the right plan." In the review, she explains that Voluum is an excellent alternative to Google Analytics with an intuitive interface and that, in general terms.
"You can track your affiliate offers easier as well as specific data points like devices, conversions, operating systems, etc. We found it easier than Google Analytics in terms of setup and reviewing data."
However, he didn't like Voluum because if you don't choose the right plan, you will "get stuck" with their redirection technology.
In his recommendations, he indicates that it is better to invest a little more money and get a plan that does not have this technology, as some browsers may block your traffic since it is part of their security protocols.
"[…] if you use their redirect technology, some browsers may block the traffic from reaching your offer. It's a security protocol […]."
The final score for the tool was 3 stars and a half out of 5.
The rest of the reviews you will find on the internet talk about how although the tool is handy, the cost of subscriptions is relatively high compared to the competition.
Finally, it is necessary to mention that there are negative reviews of the tool. Still, beyond criticizing Voluum or its features, they blame the company's lack of ethics and professionalism that manage the tool.
Many users have complained about unsatisfactory customer service and the injustices and delays caused when trying to cancel a payment.
Is Voluum a Good Purchase?
In general terms, we can say that Voluum is an excellent option for all those who need to optimize and control several advertising campaigns from a single place.
However, Voluum is not the only option, and in fact, there are cheaper alternatives with similar features.
Below is a list of alternatives to Voluum that perform the same functions:
ClickMagick: You can get an advanced reporting tool that can also track across multiple platforms and devices for a lower price.
Journal: This tool allows you to track everything from links to brand links.
AnyTrack: It allows you to carry out promotions through various media (Google, Facebook, etc.) while all the data is converted and recorded in one place.
In addition, this information is synchronized through all the pixels and analytics of the various campaigns you have active.
Voluum FAQ
What is Voluum?
Voluum is a powerful tool that analyzes advertising campaign data in real-time. It is designed for both performance marketers and individual advertisers looking to record, optimize and track all their advertising campaigns from one place.
What features does it offer?
Voluum offers a long list of features, including pre-made templates, custom templates, automatic campaign Optimization, affiliate marketing dashboard, custom conversion tracking, impression tracking, organic traffic tracking, redirect tracking, direct tracking, landing page protection, multi-step funnels, manual cost update, real-time reports, A/B Split testing, rule-based traffic distribution, trend analysis tool, proxy reports, workspaces, traffic distribution AI, and many more.
What can I do with Voluum?
This tool allows you to analyze, track, and optimize all of your affiliate campaigns no matter what medium they are in, while receiving extensive analysis of each campaign's overall and individual progress and performance.
Can I use Voluum as a beginner?
Yes, even if this tool may seem a bit complicated at first, the truth is that with a bit of practice, you get used to using it without significant complications. Moreover, its intuitive and user-friendly design makes this process even more accessible.
Is Voluum better than Google Analytics?
This tool is an excellent alternative to Google Analytics, mainly because the integrations and features it offers are much more complete. However, some users recommend using both tools to have greater control of campaigns.
Can I use it on my smartphone?
One of the most essential advantages of Voluum is that you don't need to be glued to a computer to use it. The system includes mobile applications that allow you to keep control of all your campaigns from the comfort of your smartphone.
Is Voluum Self-hosted or Cloud-hosted?
This tool is cloud-hosted, making it even better for rookies that are just starting to build an affiliate business. In addition, you won't need to invest in separate servers to install a self-hosted tool since Voluum is already a cloud solution.
Which ad formats does Voluum support?
All ad formats are supported; this includes display banners, email advertisements, native ads, pop-ups, push ads, search ads, social ads, and video ads. You can even have access to pre-made source templates or create your templates if you prefer that option.
Can I track landing page performance?
Of course! Voluum lets you monitor the performance of any landing page that you have registered. This includes the number of visits, unique visitors, clicks, conversions, revenue, ROI, and every important detail you might need to optimize your campaigns even more.
Does Voluum support campaign migration?
Yes! You can import campaign data from AdsBridge, BeMob, Binom, or Thrive automatically. However, if you are using another tracker, the tool encourages you to contact their customer support for assistance with the transaction.
Do I get access to detailed statistics?
Voluum gives precise and detailed insight into all statistics. It also provides the option to segment your audience by nation, operator, OS, device type, conversion hour, and IP address.
Is Voluum Secure?
Your information is well protected inside Voluum since they use security protocols similar to those used by global financial institutions. In other words, authentication and encryption methods are robust.