LeadDyno Review (2023): Overview, Ease of Use, Features, Pricing - StatsDrone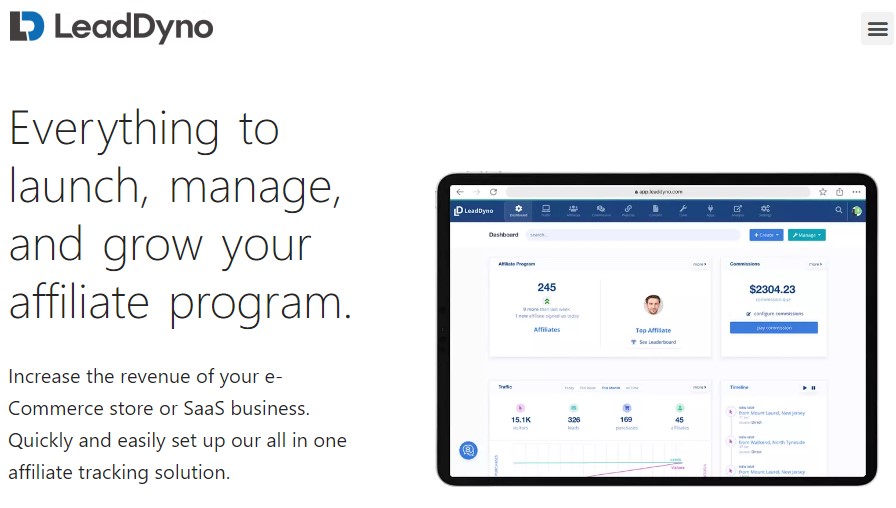 Overview
LeadDyno is an all-in-one online marketing platform that helps you manage affiliate recruitment, control, and track lead generation, and simplify the signup procedure. It also allows you to engage with them and do social media marketing. In addition, LeadDyno helps companies of all sizes manage commission payments and launch programs with automated emails, social media marketing, affiliate tracking, and more.
LeadDyno is a company that makes payments a breeze. It has top-notch features for people who use it, allowing for excellent results in the short term. They have been in business since 2014 and have assisted over 44 million referrals to grow their businesses, too.
You can set up an affiliate/referral program in a matter of minutes with their affiliate tracking software. Then, quickly and efficiently manage your affiliates and their payouts with LeadDyno. Additionally, learn which online marketing channels are working best, so you can strategically allocate your online advertising spend in the future.
Ease of Use and Interface
It is effortless and intuitive for beginners to use LeadDyno's interface, making it quick and smooth for newcomers to start and grow their affiliate program.
With LeadDyno, you get all the tools you need to start, manage and grow your affiliate program. Their affiliate management system features a user-friendly, robust, and easily customizable system to suit your needs. In addition, assistance is provided to effortlessly and quickly build a network of affiliates to resell your product.
Build your commission scheme to reward affiliates who provide you with referrals. Set up multi-level marketing (MLM) to 10 levels. Conveniently bulk pay commissions to affiliates using Paypal, Coinbase, or other payment integrations.
LeadDyno streamlines affiliate acquisition with quick and easy onboarding, each of your affiliates will have access to their very own affiliate control panel containing all they need to start promoting your store and products. You can upload banner ads, import your copy and marketing materials, and help affiliates create custom links to specific product pages and subdomains. Affiliates can gain access to shareable content and banners with social tracking. Also, affiliates can download a mobile app to monitor sales or share content.
Features Explained in More Details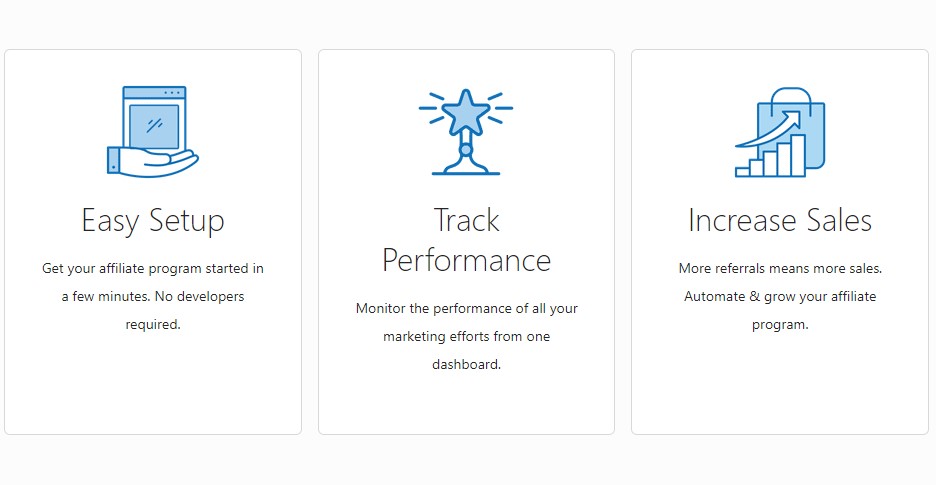 In addition, to fully customize your LeadDyno page to make it the way you want it, you can also create unique affiliate links that will help promote your product right away. And also, you can view your affiliate's progress on the dashboard. However, this is just the tip of the iceberg in terms of features because LeadDyno offers so much more:
Website Traffic: Because of the subsequent increase in affiliate traffic when using LeadDyno, the users can expect to see an increase in website exposure and even the number of purchases. This increased traffic is just a bonus because users are not charged for it.
Streamlined Affiliate Payment Solution: In the very essence of an affiliate program, it is dictated that users pay out a fraction of their sales as commission. LeadDyno handles this tedious process with its PayPal-powered payment solution.
Affiliate Invitation Feature: Invite the target market automatically to become a member of the user's affiliate program every time customers purchase from you.
Product Promotion: It will be easier for affiliates with LeadDyno to promote users' websites across major social media channels like Instagram, Twitter, Pinterest, and Facebook.
Automated Email System: This affiliate software solution makes it possible to send out letters at specific events that you dictate.
Affiliate Payments: Paying affiliates is a breeze with this feature since the developers have integrated PayPal into the system.
Comprehensive reporting: Besides letting users know which affiliates are making progress, the program also allows users to fully automate the majority of their affiliate management system, thus sending emails to their affiliates every time they provide users with a new purchase and every time they get a new lead.
Pros & Cons
LeadDyno is one of the best tools in its area; however, this does not imply that it is perfect, and while it has many positive features, it also has some shortcomings.
Pros
Quick and easy to sign up
User-friendly for sellers
Affordable pricing
Smooth integration with both social media platforms and e-commerce stores
Monitoring of social networks
Fully automated email system
In-depth reporting
One-click sharing on social networks
Cons
Customer service and support could be improved
More and better pricing plans are needed
Pricing Plans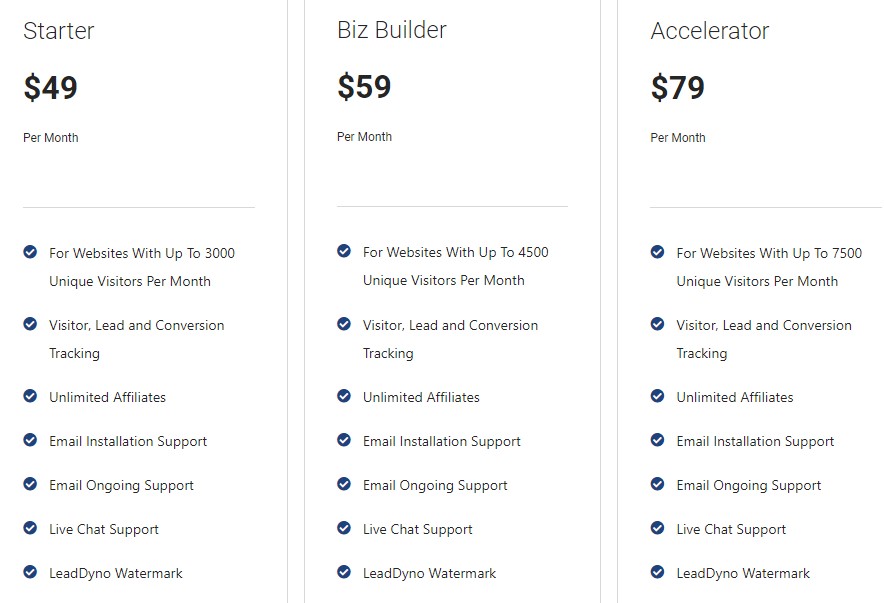 LeadDyno has three pricing plans available, and they are as follows.
The Starter Plan
At $49 per month, it is a basic package for websites that receive no more than 3,000 unique visitors every month. In addition, the plan has visitor, lead, and conversion tracking functionality; seven-day-a-week live chat support; access to the affiliate network free of charge; unlimited affiliates can be taken on; and email and phone installation support that lasts until the user ends the subscription.
The Biz Builder Plans
With a $59 per month, this mid-tier package is for websites getting up to 4,500 unique visitors monthly. It has everything that the first package offers.
The Accelerator Plan
Costing $79 per month, it is for websites getting up to 7,500 unique visitors per month. Just like the Biz Builder pricing plan, the Accelerator plan has everything that the first package also has with it.
In addition to all this, first-time users may want to know that LeadDyno has a 14-day trial available for them to take advantage of. Even this demo has installation support from the company.
What Is the Best Plan Available?
Each plan brings to the table the same features; there is no extra functionality by having a more expensive plan. The only difference between each one will depend on the number of visits your site receives monthly. The more you receive, the more expensive plan you will need to purchase to continue taking advantage of this tool's benefits.
User Reviews and Ratings
When it is time to decide which tool to buy to help us accomplish all the tasks we need to do, we can always take a minute to read the positive and negative comments left by other users who have bought it before, so we will know what we are facing.
On www.capterra.com, Madison P., A director for a political organization of about ten employees, shared her opinion:
"Besides having a great platform and an amazing price, the team at LeadDyno is super responsive. I was able to speak with a specialist who was assigned to me. He was knowledgeable and helpful. My team met with him twice while trying to get familiar with the setup and function. I was also very, very happy with the help chat module that is available. It made it easy to get help while working in the program quickly. This action allowed me to implement and test quickly without hours or days of delay."
On www.g2.com, Jake M., who works in a small company of 50 or fewer employees, commented on the platform.
"I'm able to see new clients that sign up. I am commissioned based on new clients, and it's the easiest place to see what clients have signed up that I have personally dealt with!"
Despite having so many positive ratings, many users expressed some dissatisfaction with the quality of customer support, which may well be one of the company's weakest points.
Is LeadDyno a Good Purchase?
LeadDyno is a fantastic offer if you are new and still experimenting. A 30-day free trial is available to learn just how good it is. Featuring a system that is very user-friendly and takes almost zero setup time, LeadDyno's system is an efficient affiliate software solution that any affiliate marketer has to check out.
There is no discussion about the quality and efficiency offered by LeadDyno, which keeps it among the highest positions in the different review sites. However, it is not the only tool that offers such performance, and some other tools and platforms can also be viable alternatives.
Impact: It's a platform that enables significant improvement in the return on global advertising spend for brands and agencies; it provides a fully integrated suite of products for media attribution, performance marketing, tag management, and mobile analytics.
PartnerStack: it's the only partnerships platform built for SaaS, designed to deliver predictable revenue and accelerate growth for software businesses and their partners.
Post Affiliate Pro: Solution that runs your entire affiliate program from top to bottom, except for processing the financial transactions. Post Affiliate Pro is intuitive, fast, effective, and infinitely expandable.
Tune: Empowering performance marketers of all kinds to build, manage, and grow their partner programs and networks on mobile and web.
Everflow: provides intelligent tools for marketers. Everflow is to provide means for marketers that will make them more productive and successful.
LeadDyno FAQ
For what is LeadDyno typically used for?
It is being used as an affiliate tracking and social media sharing software.
Which are some of the most commonly used applications LeadDyno is used with?
The applications that are primarily used in conjunction with e-commerce and payment software.
Are guides, tutorials, or customer support offered by LeadDyno?
The following support is offered: user guides, FAQs, user guide, live chat, email, and phone.
Who are LeadDyno's primary user audiences?
The service is mainly used by e-commerce merchants and SaaS business owners in small and medium-sized companies.
How does LeadDyno integrate with other applications?
LeadDyno integrates with BigCommerce, Chargify, WordPress, Woocommerce, Zapier, PayPal, Shopify, Squarespace, Recurly, and more.
Which platforms does LeadDyno work with?
LeadDyno is a web-based application.
Are there any multi-user capabilities (e.g., teams) that LeadDyno offers?
Yes.
Is LeadDyno offering an API?
Yes, it does offer APIs.