Pretty Links Review (2023): Overview, Features, Pros & Cons, Pricing - StatsDrone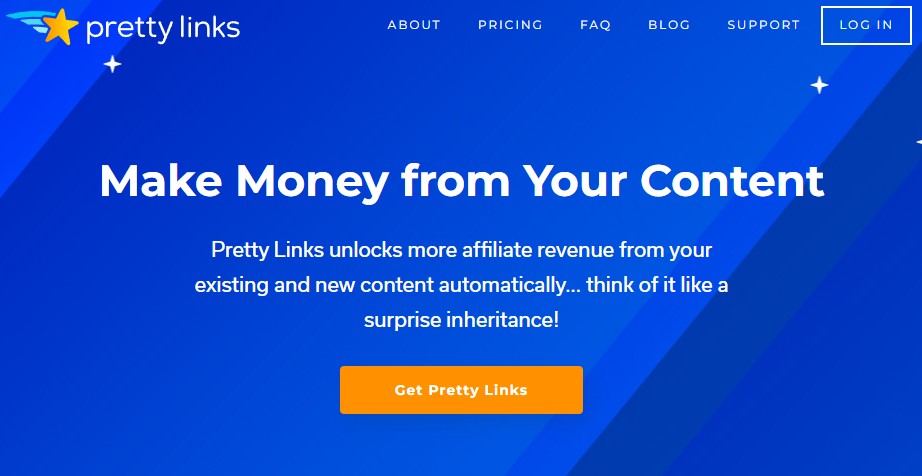 Overview
Pretty Links is a powerful plugin to manage links for WordPress. It allows you to create very clean and uncomplicated URLs on your WordPress site, from which you can redirect to any other URL.
With this plugin, you can easily set up redirects for your existing site content or external links such as affiliate links and group them for easy sharing on multiple platforms.
You can turn your annoyingly long and ugly affiliate links into attractive links.
Whether you are a blogger or an affiliate marketer, this plugin has many features that allow you to add and arrange affiliate links in WordPress conveniently.
In addition, it is also a link shortening tool that allows you to have URLs shortened for your posts and pages, which you can share on social media platforms and in your email campaigns.
In contrast to some other URL shortening services out there like TinyURL, budurl, and bit.ly, this plugin gives you the freedom to create short links that are sourced from your domain.
Ease of Use and Interface
Pretty Links is a user-friendly and straightforward WordPress plugin with a clean interface. It comes in both a free version and different paid versions, but if you're on a tight budget, the free version is all you need to get started.
This plugin makes it a breeze to shorten, cloak, share and even track your affiliate links in terms of ease of use. You can do all this from the WordPress dashboard and with far more features than the typical link shortener.
Although a Pretty Links Lite version is available, the premium version provides a plethora of redirection types, conversion reports, and a massive assortment of automation and sharing features to boost the way you present your site's links.
On the other hand, it is also possible to use Pretty Links Pro, a significant upgrade compared to the other plans, by adding many tools and redirection types.
In addition, the Pro version will enable you to create pretty links automatically, hide links, replace keywords all over your blog with pretty links, categorize and tag your links, and much more.
Features Explained in More Details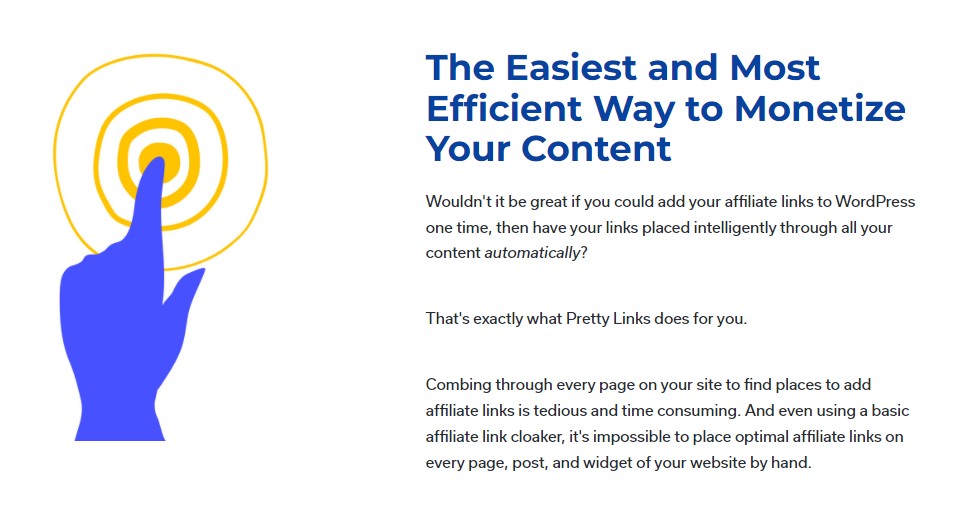 Pretty Links is packed with numerous benefits that make it one of the most popular link cloaking plugins available. First, let's have a look at the main features:
Hyperlinking keywords: The majority of website posts usually center on a single genre.

After creating a Pretty Link, you can hyperlink this link to a specific keyword on your website.

Instead of going over the entries on your website manually and hyperlinking the desired keyword, you can do this automatically.

With Pretty Links, you can alternatively change the chosen keyword throughout your website in all your posts.
Statistics tracking: An essential aspect of affiliate marketing is tracking your statistics.

Pretty Links offers you the possibility to track link clicks on the web. Your link clicks can help you track your potential earnings and improve your website.

Having this information can enhance link performance or remove links if you are not getting enough link clicks. An important thing to do is to exclude IP addresses from the statistics as well.

You can accomplish just that with Pretty Links.
Clean and straightforward URLs: A primary function of Pretty Links is to make links simpler. You can take your long, disorganized link and create a clean URL.
Link Redirection: It has a crucial role in link shortening.

Regardless of how well-written your text is or how eye-catching your images are, your click-through rate can be negatively affected if your link creates a wrong idea about your business.

This feature also helps you avoid ranking penalties. These relate to the chance of your page being found in a search engine.

Search engines have complex algorithms that take many factors into account.

One of those factors is the number of affiliate links on your site. Naturally, search engine traffic has a direct impact on the commission of your affiliate links, so you should not allow yourself to compromise your page's chances of being found.
Pros & Cons
Although Pretty Links is a beautiful and useful tool, it doesn't mean it's perfect so let's look at the pros and cons before using it.
Pros:
Automatic sharing of short links to email and social networks
Seamless and user-friendly interface
Easily view details or information related to clicks (browser, IP address, referring website, operating system, etc.)
Generate 3-4 character slugs or create custom URL slugs
Various types of redirection
Affordable link management solution
Track clicks per link
Custom link configuration and tracking features
Bookmarklet
Reporting interface that can be filtered by date range or by specific clicked links
Track unique clicks per link
Download click report in CSV
Option to replace the keyword with URL (in Pro)
14 day trial with a money-back guarantee
Cons:
There are only essential functions for affiliate link management
There is no way to schedule links
No Pretty Links button for WordPress' Gutenberg block editor
Lack of automatic link health checker
Pricing Plans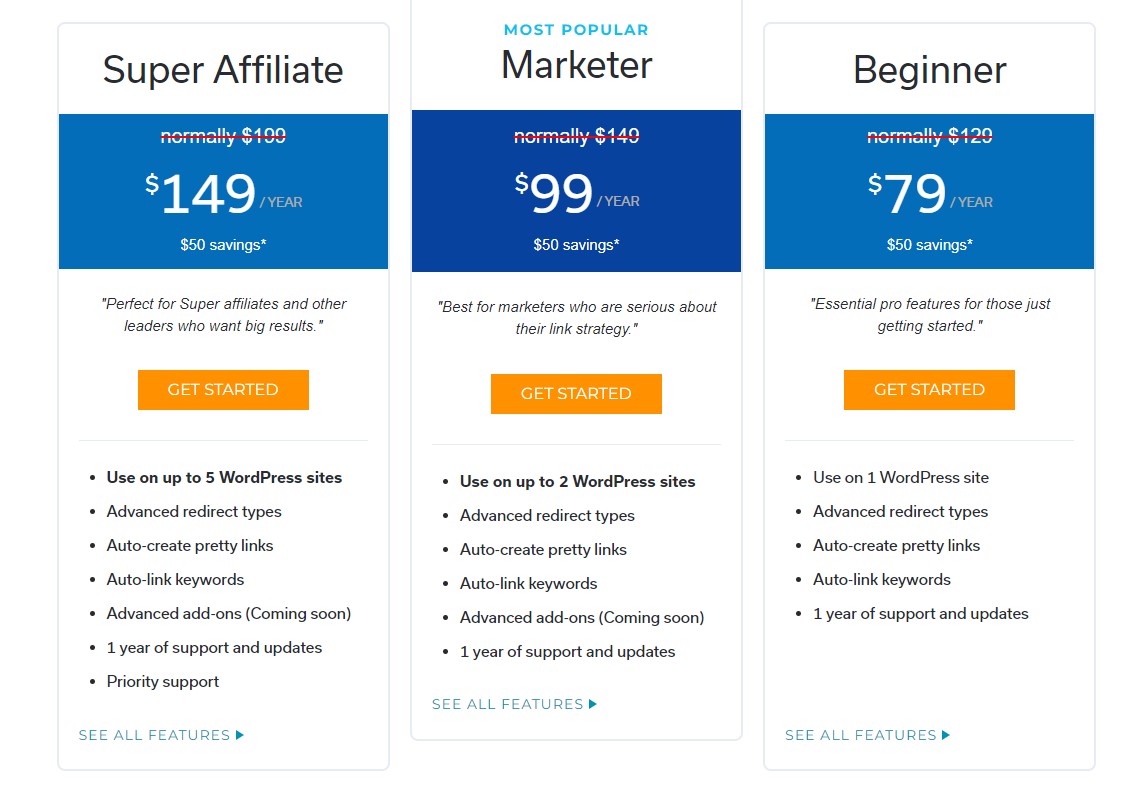 Pretty Links offers a free plugin, and there is also the premium plugin, which has more features. Unfortunately, its free version is minimal and has little to offer compared to other alternatives.
The majority of the functions that make Pretty Links a great plugin come in its pro version.
Beginner Plan
The beginner plan is priced at $49 for a yearly subscription if you have 1 WordPress website and includes:
All advanced redirect types
Expanded link management settings
Google Analytics plugin integration
Advanced automation features
Index keywords and URL replacements
Marketer Plan
If you have 2 websites, it is $99/year and comes with:
Social sharing plugin integration
Rest API add-on
All Beginner features
Super Affiliate Plan
For 5 websites, you will have to pay $199/year and this plan includes all Beginner & Marketer features.
With each plan, you get all the pro features and 24×7 email support. The $199 plan has priority support options as well.
Pretty Links has a money-back guarantee, meaning that if you don't like the plugin, you can get a full refund within 14 days.
What Is the Best Plan Available?
The cost of a plugin alone could be the decisive factor for website owners. However, a free version of the plugin does not require you to make any payments, but it's a limited version. The available functionality has limited capabilities, and some features are not even provided. On the other hand, all paid plans have excellent features, so there really isn't one better than the other; it depends on the number of web pages you manage.
User Reviews and Ratings
It is vital to know the opinions of other users who have already purchased Pretty Links' services before you invest any money. By doing so, you will have a good idea or a comparison of what benefits other people found and which problems they faced while using it.
Pretty Links is highly rated on many different review sites. In addition, it is usually one of the most recommended and top-ranked URL shorteners compared to others available on the web.
It is effortless to find positive comments about this tool all over the web; among them, we have one from Luria Petrucci from Geeks Life & Live Streaming Pros:
"Pretty Links is one of the coolest WordPress plugins I've ever found! It can automatically create short links on your domain. It makes it easy to group and organize links. It tracks click counts, replaces keywords, and that's only a small number of its features. The price is totally worth it because it allows your short links to promote your brand."
Also, Pat Flynn from Smart Passive Income commented: "Pretty Links has become one of the most important tools I use across all of my online businesses. I use it on my blog, podcast, and videos to make life easier when promoting or recommending items to my audience. Also, it becomes easier for my audience to remember those links too."
Is Pretty Links a Good Purchase?
Affiliate link tracking and management cannot be understated in their importance. Therefore, a fully functional and adequately built link plugin is a necessity for all affiliate marketers worldwide.
The Pretty Links plugin is a powerful tool. Features a complete set of functions that allow you to create affiliate links, organize and manage other links. In addition, you can easily shorten your links and transform them into pretty links.
Using Pretty Links is relatively easy. This plugin can be used by anyone familiar with the WordPress interface. No coding knowledge is required to use it, and you will manage your links like a professional.
Pretty Links, undeniably, is one of the top link management plugins out there. However, it is not the only one available to you. A few other Pretty Links alternatives are:
With more than 300000 downloads and over 800 5-star ratings, Pretty Links is clearly one of the best.
FAQ
What is Pretty Links?
Pretty Lnks is a great all-in-one link management plugin for WordPress. It allows you to create clean and simple URLs to redirect to any other URL on your WordPress site. Using this plugin, you can create redirects for your existing site content or for external links such as affiliate links, bundle them, and share them easily on multiple platforms.
What is Pretty Links recommended for?
Pretty Links is a powerful tool for anyone who has a unique website or is an affiliate marketer. The number of links on your website will quickly grow beyond your capacity to handle. The tracking features are particularly advantageous for knowing how effectively your links perform if people click on them. Furthermore, you also get click-through data, allowing you to analyze and optimize your site's content.
Can I migrate existing links to Pretty Links?
You can import existing links as long as you export them via an export script, a .htaccess file, or a database.
Will my links remain if I don't renew my Pretty Links license?
The license will be renewed automatically annually; however, your pretty links will not be removed if you choose not to extend your subscription.