Betzest Affiliates Closure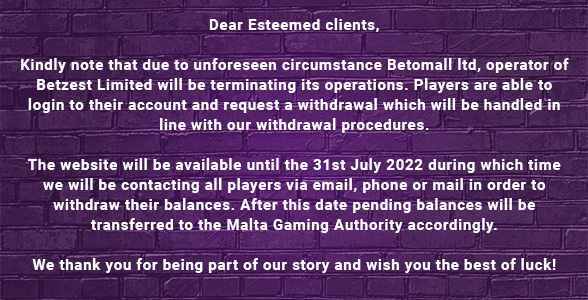 After many years of hard work building a leading affiliate program on the international/Scandinavian stage, Betzest Affiliates has made an unexpected announcement that the program plans to close its operations on Sunday the 31st of July 2022.
We must confess that the announcement has taken us by surprise, and even more so because we do not know the reasons that have led Betzest Affiliates to take this difficult decision. Even more so when it was clear from the outside that this program| was reaching its target.
As we recall, this affiliate program was launched in 2018, powered by premium affiliate software provider NetRefer to promote the eponymous brand Betzest, an online sportsbook, and casino that innovated the world of sports betting powered by SportingTech.
Betzest was the product of hard work to create a truly unique product, synonymous with enthusiasm, passion, love for sports, live sport, casino and live casino, virtual gaming, and e-sports.
The bookmaker's launch was accompanied by an innovative advertising campaign featuring Betzest's affiliate program, which has just announced a possible closure.
During these four years of operation, Betzest Affiliates managed to generate a solid network of affiliates, consistently working to promote a culture of creativity, where good ideas and a techno-entrepreneurial attitude are encouraged and rewarded.
In addition, they brought to the competitive gaming and betting market the best online gaming products under one brand, truly focused on delivering an exceptional player experience.
Official closure announcement
As contemplated in one of the rights and limitations clauses, established in the Terms and Conditions, Betzest Affiliates reserves the right to terminate, modify and/or close its Affiliate Program at any time and in any manner deemed appropriate.
It further states that any such changes will be posted on the Affiliate Program site and emailed to the Affiliate.
In this sense, we have received an email announcing the possible closure of the affiliate program on July 31, 2022, as well as some guidelines for the cessation of the promotion of Betzest.com
The following is a transcript of the above-mentioned communication, divided into sections that differentiate between points relating to players and others relating to affiliates:
Closing date
As can be read in the communication, the closure of Betzest Affiliates is scheduled for Sunday the 31st of July 2022.
"Dear Partner,
After an internal review of the business, the difficult decision has been made to close down the operations of our long-standing brand, Betzest.com. The intention is to close operations completely on Sunday the 31st of July 2022 pending all goes as planned."
Guidance to players
"Players can log in to their account and request a withdrawal, which will be handled in line with our withdrawal procedures.
The website will be available until the 31st of July 2022 during which time we will be contacting all players via email, phone, or mail to withdraw their balances. After this date, pending balances will be transferred to the Malta Gaming Authority accordingly".
Guidance to affiliates
"As a result of this decision, we kindly ask that you stop promoting Betzest.com with immediate effect and remove all ads and reviews relating to Betzest.com."
As a sign of the company's responsibility toward its members, Betzest Affiliates went ahead to address some of the concerns that members may have regarding the termination of the affiliation agreement.
What should I do as an affiliate?
You should stop promoting Betzest.com with immediate effect and remove all our ads and reviews.
What will happen to my earnings?
All commissions generated from players will be paid accordingly.
Make sure that you have the correct banking details registered in your affiliate account, and we will process your commission accordingly.
How long will the affiliate program be open?
We intend to keep the affiliate system open until 24th July 2022, but suggest that you collect stats for payments etc. as soon as possible.
For affiliate-related questions, please use internal messaging within your Betzest affiliate account.
We would like to thank you for your business with us during all these years.
Warmest Regards,
Betzest Affiliate Team"
We say goodbye to Betzest Affiliates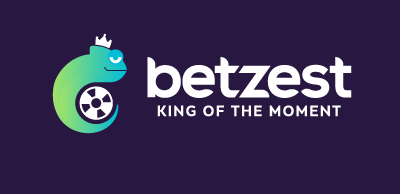 The news came as a great surprise. We have always enjoyed working for the great team at Betzest.
This team is made up of highly talented and specialized individuals with years of experience in the gaming industry. These characteristics have always helped affiliates make informed marketing decisions based on expert insight and knowledge.
When this team created the Betzest Affiliates program, they wanted to make a difference in the gambling industry. Therefore, they brought something new and innovative to the world of sports betting.
Although we do not know the reasons, we appreciate the difficult decision taken by the Betzest Affiliate Team to end the operations of the affiliate program. We hope that it will be able to face new challenges in the future and that the Team will be able to succeed based on its merits, its status as a benchmark for the online gaming industry, as well as the work capacity demonstrated over the years.
We wish them the best of success in the future!