LinkTracker.Pro Review (2023): Overview, Ease of Use, Features, Pricing - StatsDrone

Overview
Link Tracker Pro is not just another affiliate software because you can consider this tool as the Swiss army knife of the affiliate software world.
Why? Because it has all the tools you can need as an affiliate marketer, including real-time tracking, link building monitor, fake clicks detector, PBN Link testing, and more.
Link Tracker Pro utilizes advanced technology to get the job done so it would never let you down.
The creators of this software thought about everything, including the most minimal detail, so by using this tool, you can rest assured that you will be using one of the best affiliate software that exists.
With this software, you can check all the data and metrics of your website, including clicks, time per user, IPs, devices, browsers, and many more meaningful metrics, traffic conversion, and fake clicks.
There is also much more critical analytics to ensure that you are on top of everything happening on your websites.
Ease of Use and Interface
This software is not difficult to use at all, regardless if you have experience in this kind of software, you can say that it is user friendly.
Since it is effortless to use because of all tabs, graphics, percentages, metrics, and all it is supposed to be.
When you log into your account, you will see a new dashboard with the perfect amount of great colors for eyesight.
The interface of this tool is good to the point that you would want to spend hours and hours checking all your graphics, metrics, information, analytics, and of course, your profits.
If you are unsure about trying this software, you can use the 30-day free trial to thoroughly test and learn everything about the program.
Plus, you can get a detailed customer support service, and there is even a live chat section ready to help you with any issues or questions you may have.
Features Explained in More Details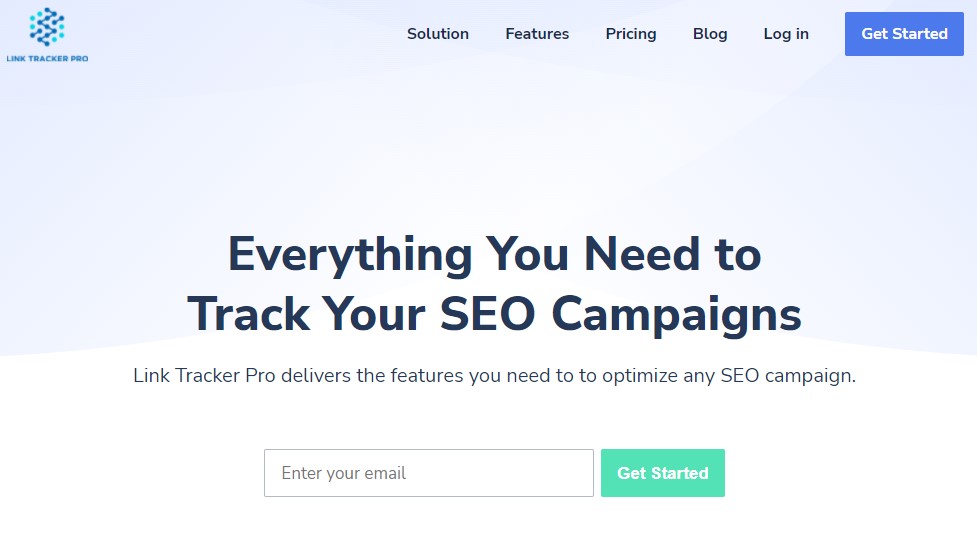 Link Tracker Pro has tons of advanced features that you can bet will help you in your marketing campaigns, including the following ones:
Advanced management: This software allows you to top your marketing campaigns, projects, and more. You can create as many groups as you want to track different pages, archive your backlinks, and much more.
Accurate Rank Tracker: With this feature, you can rank your website and other websites in local and international terms. By doing this, you can first compete and be on top of your local competition and then go global.
Fake Clicks Detection: Like many other programs, you will be able to detect bots, spam, and all other toxic activity that may cost you money.
Advanced and Detailed Reports: You will have access to precise and real-time reports about what your traffic is doing on your website, which is always essential to make the necessary corrections and redirects.
Pros & Cons
LinkTrack.Pro is not perfect like every tool ever made and it has some pros and cons so let's dig into that.
Pros
Many features that can help affiliate marketers
Compatible with existing Google analytics
You can export reports and other data to Excel
Live chat custom service
Nothing to install
Cheap plans
Lots of learning resources
User friendly
Mobile friendly
Free trial version
Cons
Few banking options (only credit cards)
Cryptocurrencies are not accepted
English only
Pricing Plans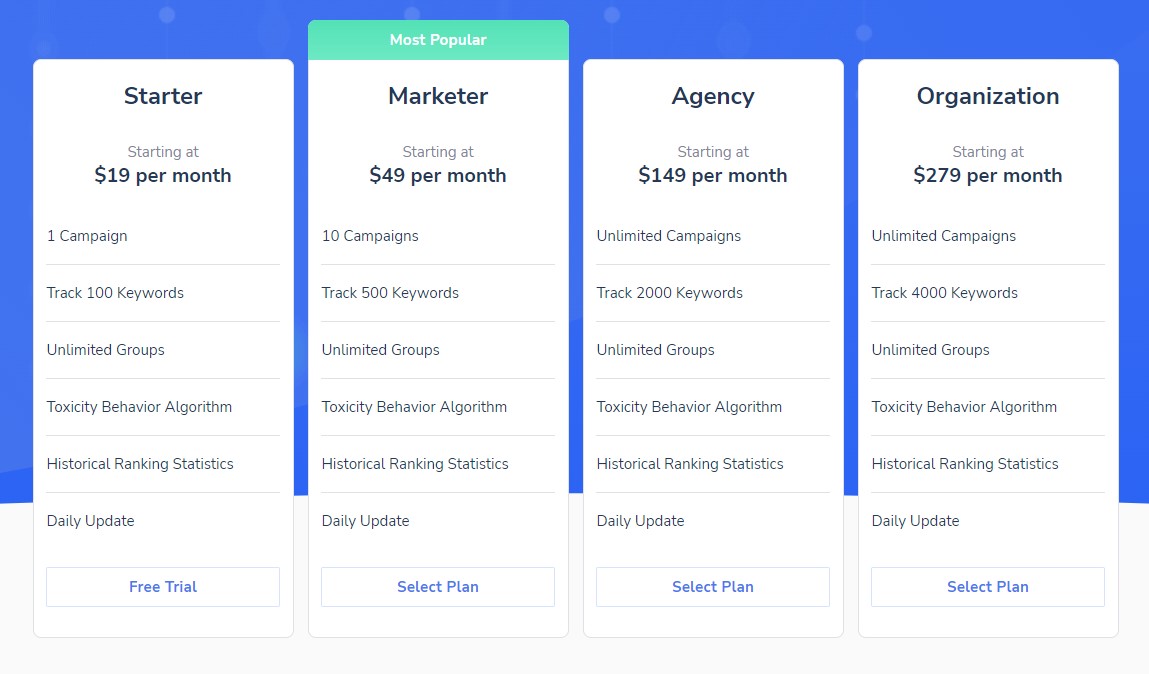 Link Tracker Pro has 4 plans that you can pick depending on your needs:
Starter Plan
You can thoroughly test the starter plan for free within 30 days; after that, the Starter plan is for $19 per month, and it offers you:
1 Campaign
Track 100 Keywords
Unlimited Groups
Toxicity Behavior Algorithm
Historical Ranking Statistics
Daily Update
Marketer Plan
The Marketer plan is only for $49 per month, and it offers you:
10 Campaigns
Track 500 Keywords
Unlimited Groups
Toxicity Behavior Algorithm
Historical Ranking Statistics
Daily Update
Agency Plan
This plan is for $149 per month offers you more advanced features such as:
Unlimited Campaigns
Track 2000 Keywords
Unlimited Groups
Toxicity Behavior Algorithm
Historical Ranking Statistics
Daily Update
Organization Plan
This is the most extensive plan, and it is for $279 per month; it offers you:
Unlimited Campaigns
Track 4000 Keywords
Unlimited Groups
Toxicity Behavior Algorithm
Historical Ranking Statistics
Daily Update
What Is the Best Plan Available?
All plans are reasonable; however, the most popular plan is the Marketer plan which has the best value, so we recommend that one. But if money is not a problem, you should pick the Organization plan since it has tons of features that will improve your marketing campaigns even more.
User Reviews and Ratings
This software has many good things, but to be fair and square, we would like you to check other reviews that we have compiled among other websites just as follows.
From sourceforge.com:
"Meet Link Tracker Pro, the new tracking monitoring tool that is redefining SEO. Link Tracker Pro is the new swiss army knife that every SEO expert should use. Track all your keywords and backlinks campaigns in one dashboard! Add your list of keywords and select from one of the 49 countries available. Get accurate ranking data with daily updates.
From capterra.com:
"Track your backlinks from beginning to end. Then, test, build, and monitor all your backlinks in the same dashboard.
Add your backlinks as soon as they are created and receive alerts when a backlink hurts your ranking. Then, let our advanced algorithm do the hard work for you! Our software gives you detailed insights on your keywords and backlinks with complete history. Get also alerted automatically as soon as something is wrong. Next, remove or disavow the backlinks that hurt your ranking and improve by leaving only the healthy backlinks active. Link Tracker Pro has been built by an SEO expert and solves the everyday problems that any SEO specialist can face in their daily analytic routine."
From softwaresuggest.com:
"Link Tracker Pro is a reputable link tracking tool devised to help you build backlinks with ease. It is the most sought-after software among SEO experts. Link Tracker Pro not only helps you track your ranking performance but also identifies low-quality links."
From thirdpartymodules.com:
"Link Tracker Pro allows you to build backlinks more smartly. You will be able to text every contextual backlink before you create it. This rank tracking tool will help you make healthy links that will boost your rankings while at the same time keeping you safe from links that will damage, instead of helping, your SEO campaign performance. It redefines backlinks management by giving you different ways of filtering out toxic links from healthy ones. Through Link Tracker Pro, you will be able to improve your website rankings even with a small investment.
Link Tracker Pro is a new way to perform backlink monitoring thoughtfully and efficiently. It allows owners of the website and people in charge of link building to generate backlinks that will help raise ranking while keeping away toxic and harmful links to SEO ranking. Link Tracker Pro redefines how websites can manage their SEO rankings through opportunities to test backlinks and see how it will affect rankings based on tracked URL."
Is LinkTracker Pro a Good Purchase?
By all means, Link Tracker Pro is a good purchase since the first 2 plans are cheap and can help you immensely with your promotional campaigns. Plus, don't forget that you have a live chat support team ready to help you, tons of tutorial material, and much more critical content. But if you are not sure yet, then you should consider other similar software just as the following ones:
ClickGum: this software will allow you to take complete control of all the traffic of your websites, and you can fully automate all aspects in terms of redirect, block spam, and many more.
ClickPerfect: this is top-notch software that you must check at least once in your lifetime because it has everything that you can need on your promotional campaigns, and it has great prices.
Ahrefs: Ahrefs is a must-use software for all affiliate marketers looking to improve themselves and those willing to go further and be on top of their competition. This tool will give you access to the global ranking backlinks and many more meaningful metrics.
LinkTracker Pro FAQ
What is Link Tracker Pro?
Link Tracker Pro is an advanced tool that any entrepreneur, affiliate marketer, advertisers, or other SEO professionals should check because this software has all the features and tools that will increase your promotional campaigns' profits.
What features does Link Tracker Pro offer?
Link Tracker Pro has your back with many advanced features, including advanced tracking, fake click detection, accurate reports, and many more.
What other apps does Link Tracker Pro integrate with?
This software works with lots of APIs so, don't worry about that; feel free to contact the support team via live chat for more information.
What would I use Link Tracker Pro for?
You can use this software to track all your traffic perfectly, increase your ROI, have detailed reports in real-time, and so much more.
Can I use Link Tracker Pro on my smartphone?
You do not have to download anything since you can use Link Tracker Pro on all your mobile devices.
Do I get access to detailed statistics?
Yes, Link Tracker Pro gives you detailed daily, weekly or monthly reports of all your metrics.
Is Link Tracker Pro secure?
Your information is perfectly protected with Link Tracker Pro because everything is encrypted with HTTPS technology, so don't sweat about that.