GeniusLink Review (2023): Overview, Ease of Use, Features, Pricing - StatsDrone
Overview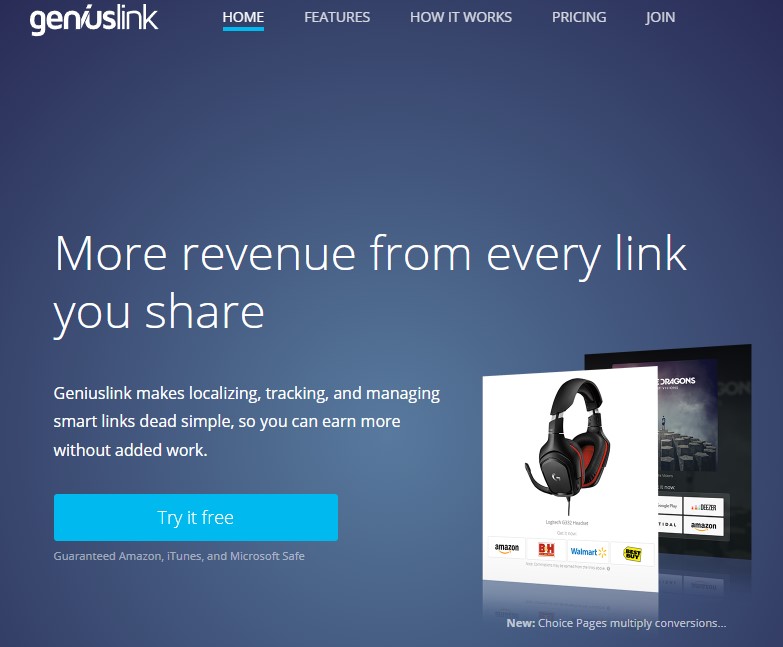 Get ready to enjoy one of the best affiliate software on the market.
With GeniusLink, you will feel like a complete Genius due to all the features and possibilities this software has.
With this software, you will be on top of everyone and everything.
GeniusLink will provide you with a great set of features to make your life easier when working on your marketing campaigns.
You can count on features like traffic conversion, real-time tracking, automation, smart links, geo localization, and more critical parameters that will increase your revenues by at least 200%.
Professionals, affiliates, and advertisers created this software just like you, so they know what you need in a software like this one, and that is what they offer.
However, feel free to contact the support team with any questions or inquiries that you may have regarding the features, APIs, banking options, or anything.
Ease of Use and Interface
GeniusLink is not difficult to use since it has everything you may need just a few clicks away.
The tabs, options, tools, graphics, percentages, variables, and everything else should be so you have no problem working with this software.
Everyone that wants to work as an affiliate marketer, advertiser, author, eCommerce business owner, and other professionals would surely enjoy how the dashboard is displayed on their computers, laptops, smartphones, or tablets since the software is fully mobile-friendly.
In addition, you don't have to download anything, which is always great.
This software has a free trial version that we recommend you to the maximum to test all the features, perks thoroughly, and everything that has to offer you and whenever you feel ready, then purchase the paid version, which will not let you down.
Also, be sure to check the tutorial videos on Youtube for more information on using this software.
Features Explained in More Details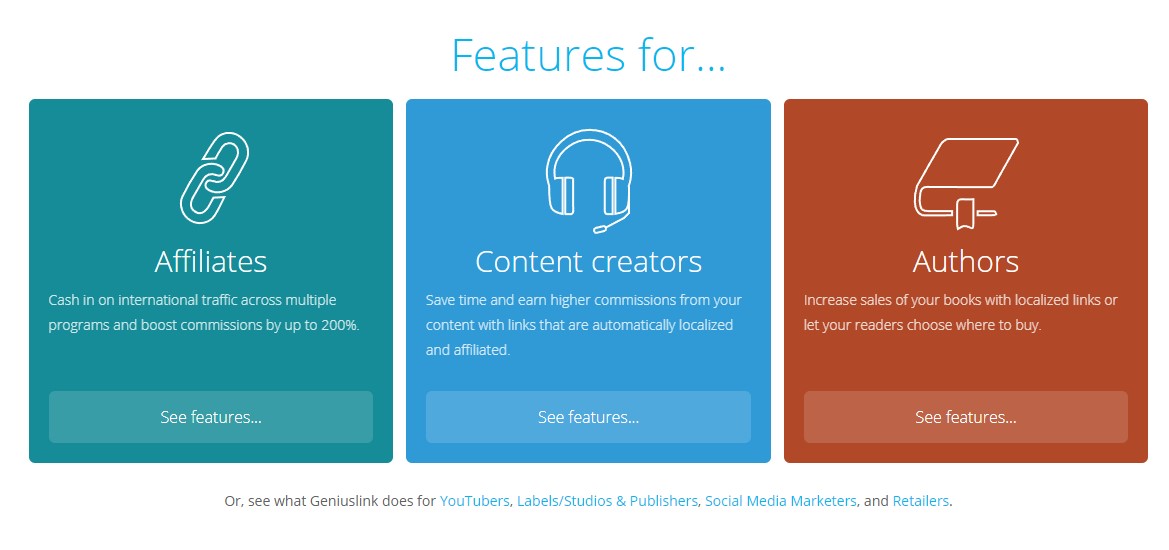 GeniusLink has tons of advanced features that will improve all aspects of your marketing campaigns.
So be sure to check all the recommendations, and don't forget to ask the support team for any tutorial videos or learning resources to make the most of it.
Now we would like to talk about the most critical features of this software just as follows:
Automate: You don't waste hours manually editing links or hunting down your affiliate ID by using the automated features adequately. Just copy and paste, and your optimized links are ready to go, and you will convert this software into a commission boosting machine.
Localization: this feature allows you to detect your traffic's location, country, language, device, browser, and more. All these variables are suitable to know to redirect that traffic to a better website for better conversion.
Retargeting: you can add pixels to your short links to build better and qualified custom audiences that you can continue to engage, and better yet, with this feature, you can create audiences from links that go anywhere.
Amazon Link Health monitoring: with this feature, you can get alerts when amazon links break or when a product goes out of stock so you can fix the link, change it by another product or change your offers.
Keep it simple: GeniusLink allows you to manage all your affiliate links in one place and no matter how many affiliate programs, websites, or marketing campaigns you run because with this software, you can keep them separate and organized for better performance.
Pros & Cons
GeniusLink has tons of great perks, but it also has some things that you may not like, so let's see some pros and cons.
Pros:
Many features that can help affiliate, authors, and eCommerce businesses, owners
Compatible with existing Google analytics
You can export reports and other data to Excel
Great custom service
Import affiliate commissions from third-party networks
Nothing to install
Free trial plan
Cheap plans
Lots of learning resources
User friendly
Custom domains for only $50 per month
Cons:
Few banking options
Cryptocurrencies are not accepted
No live chat support
English only
Pricing Plans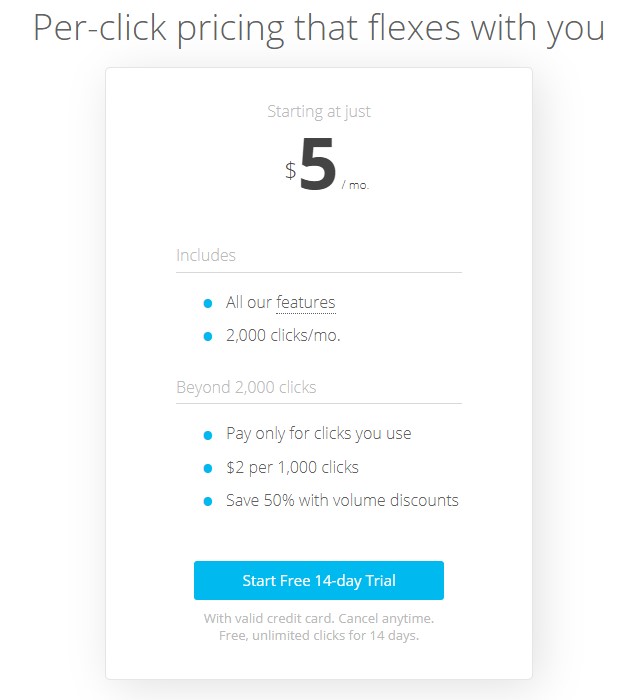 GeniusLink has no pricing plans; instead, they offer a per-click pricing plan that depending on how many clicks you choose, the price can go bigger.
For example, for $5 per month, you will get all the features and 2,000 clicks per month.
For $7, you will get all the features and 3,000 clicks per month, and so on.
But in case you want more than 250,000 clicks per month, it will cost you at least $253.
Keep in mind that brand domains, additional users, and other customization have other prices above this.
What Is the Best Plan Available?
As previously mentioned, there are no plans in GeniusLink.
Instead, they have a system in which you pay for the number of clicks you hired at the beginning, which allows you to get a more personalized bill, so you will pay only for what you use, which is incredible.
User Reviews and Ratings
GeniusLink has tons of good things and some things that you may not like, and by using the free trial version, you can learn a lot from it. However, you can also learn a lot from affiliates, advertisers, and authors that have used the software in the past, so let's check some reviews that we have gathered here:
On Capterra.com, you can read the following review:
"Geniuslink gives you the best way to share monetized products and affiliate links with your audience. You can get the most out of every link with simple and powerful tools that improve conversions and save you a lot of time. Use actionable reports to measure what's working and what's not, and then adjust your marketing strategies for better performance shortly."
From internetfolks.com, you can read the following review:
"Geniuslink is an affordable affiliate link localizing, redirection, and tracking service. Geniuslink was founded in 2009 by Jesse Lakes, Jesse Pasichynk, and Shannon McGuire is headquartered in Seattle, WA. The primary use-case for Geniuslink is to geo-localize your Amazon affiliate links. So, for example, if you link to this Amazon Fire TV stick on Amazon.com, and a visitor from Canada clicks on the link, Geniuslink will redirect them to the relevant Amazon.ca page so you can make an affiliate commission."
At yourentrepreneurresources.com, you can read the following review:
"This software allows you to add in all of your affiliate information for all of the different Amazon affiliate programs that you've signed up for. Then, Geniuslink generates one link that you can send out to people; they're going to be automatically redirected to their local Amazon store, and your affiliate link or affiliate tracking ID is passed along with this."
Is GeniusLink a Good Purchase?
GeniusLink is great software with tons of features for affiliate marketers, authors, advertisers, eCommerce business owners, and other SEO professionals. As we have seen before, the prices are affordable, starting at $5 per month, but we also would like to show you other similar software like the following ones:
Bitly: with this software, you will have many features at your disposal, including advance tracking, branded links, short links, and lots of essential metrics in real-time that will help you in your marketing strategies.
Vene Dash: this is a great alternative made in Germany so that you can expect nothing more than quality features. This software has tons of features such as fake click detection, advance tracking, advance tracking conversion, intelligent links, and more.
Ahrefs: This is a must-have software or at least check once in your lifetime since it has much vital information that all affiliate marketers must know. Moreover, you can use this software to check your competition and learn how they get their backlinks.
GeniusLink FAQ
What is GeniusLink?
GeniusLink is an advanced tool that can help affiliate marketers, authors, advertisers, and others increase their sales or commissions by at least 200%. This software has lots of features, great prices, many learning resources, and friendly customer service.
What features do GeniusLink offer?
GeniusLink offers you many essential features such as advance tracking, retargeting, Geolocalization, automation of tasks, and many more.
What other apps does GeniusLink integrate with?
This software works with many websites like Google Analytics, Amazon, and other APIs. Don't worry about that; feel free to contact the support team for more information about this topic.
What would I use GeniusLink for?
It would help if you used this software to improve your commission since GeniusLink has many features to improve your traffic conversion.
Can I use GeniusLink on my smartphone?
Yes, and you do not have to download anything because you can use GeniusLink on any mobile device, and that, of course, includes your iPhone, smartphone, tablet, or any other mobile device.
Do I get access to detailed statistics?
Yes, GeniusLink gives you detailed daily, weekly or monthly reports of all your metrics and in real-time.
Is GeniusLink secure?
Your information is perfectly protected with GeniusLink because everything is encrypted with HTTPS technology, so don't worry about safety.