Vene Dash Review (2023): Overview, Features, Pros & Cons, Pricing - StatsDrone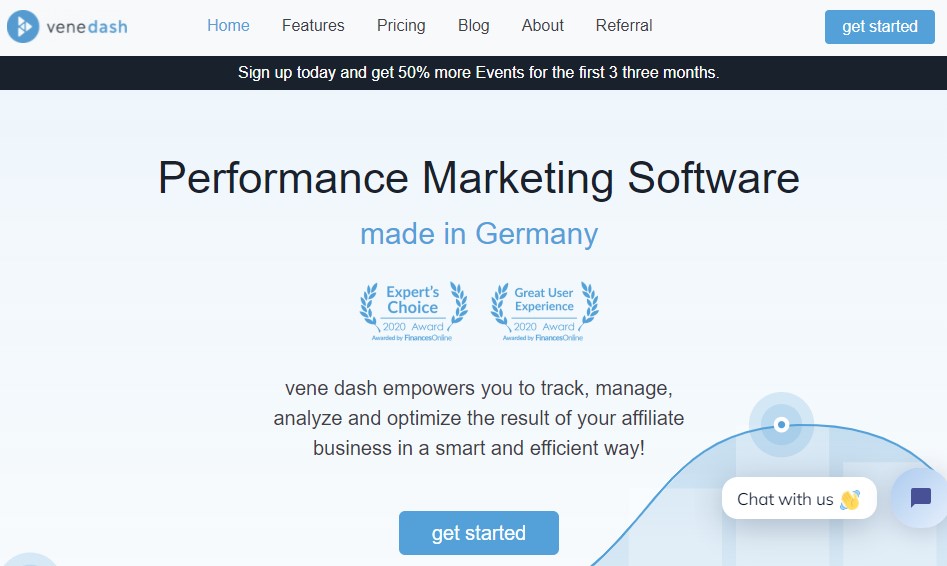 Overview
Vene dash is a high-performance marketing software made in Germany that empowers you to track, manage, analyze and optimize the result of your affiliate business or eCommerce business cleverly and efficiently.
This is a must-try tool, and after you try it, you will not be disappointed.
Vene dash was such a great software that earned 3 awards in 2020: the Expert's Choice award, the Supreme Software award, and the Great User Experience award.
So, the guys behind Vene dash must be doing something right.
The team behind Vene dash is a young and dynamic team committed to making your business a success with agile development and with new features added every two weeks, which means that you will count on vanguard technology from the beginning.
The company that developed the software "Vene International GmbH is a company of Media Elements Group."
It proudly offers you a support team that is available live chat or via email and is ready to help you with any questions or inquiries you may have, so don't hesitate to contact them. They are very friendly and very professionals.
Ease of Use and Interface
Vene dash offers you everything you need to have success in your affiliate marketing campaigns or eCommerce business.
When it comes to the dashboard, from the moment you login for the first time, you will feel like you already know the software because it is super user-friendly, so it is no wonder they won the Great User Experience award in 2020.
The software allows you to check up on all your essential variables and metrics in real-time such as user time, tags, browsers, IP, traffic, and other parameters.
Plus, you can check your competition's data so you can compare your websites and make the necessary changes to stay on top of your competition.
Whether you are a beginner or a pro user of affiliate marketing software, Vene dash offers you video tutorials and tailored tutorials to make the most of this tool.
Don't be shy if you understand something about a feature because they are eager to help you.
You should have no problems understanding how everything works with Vene dash because all features, graphics, data, metrics, revenues, profits, and other important variables are displayed in a significant way, so don't sweat about it.
Features Explained in More Details
Vene dash has many features that will help you solve all your problems regarding software that you need to gather information, manage your campaigns, analyze your data, optimize, and more.
Now we will like to talk to you about some of the most essential features of Vene dash:
Security: Security is always crucial no matter what; fraud protection and traffic risk assessment are available as one of the features of Vene dash. The strictness of each fraud scenario can be individually established.
Billing and Invoicing: The billing and invoicing feature allows you to manage your billing information and request payments for past periods. The best thing is that it is all in one place, plus you can request bank transfers and cryptocurrency payments.
Advanced Monitoring: you can ideally monitor any URL and ensure the validity of all offer destinations since Vene dash will automatically check for URLs providing alerts on changes to the destination site and render screenshots for fast comparison. It allows you to detect fake clicks.
Constant Innovation: among all the great advanced features, you can create intelligent tracking URLs that can distribute your traffic based on the best performing offers to allow you to get the maximum revenue possible
Pros & Cons
Vene dash offers you some really good features, but it is completely normal for it to have some cons, so let's list some pros and cons.
Pros:
Lots of awards in 2020
Great reputation
You can export reports and other data to Excel
Constant innovation
Live chat support
Nothing to install
Free demo for a limited time
Support in many languages, including Spanish, English, and Portuguese
Cons:
Plans are expensive compared to other similar programs
Few banking options
It's not very popular among affiliate marketers
Pricing Plans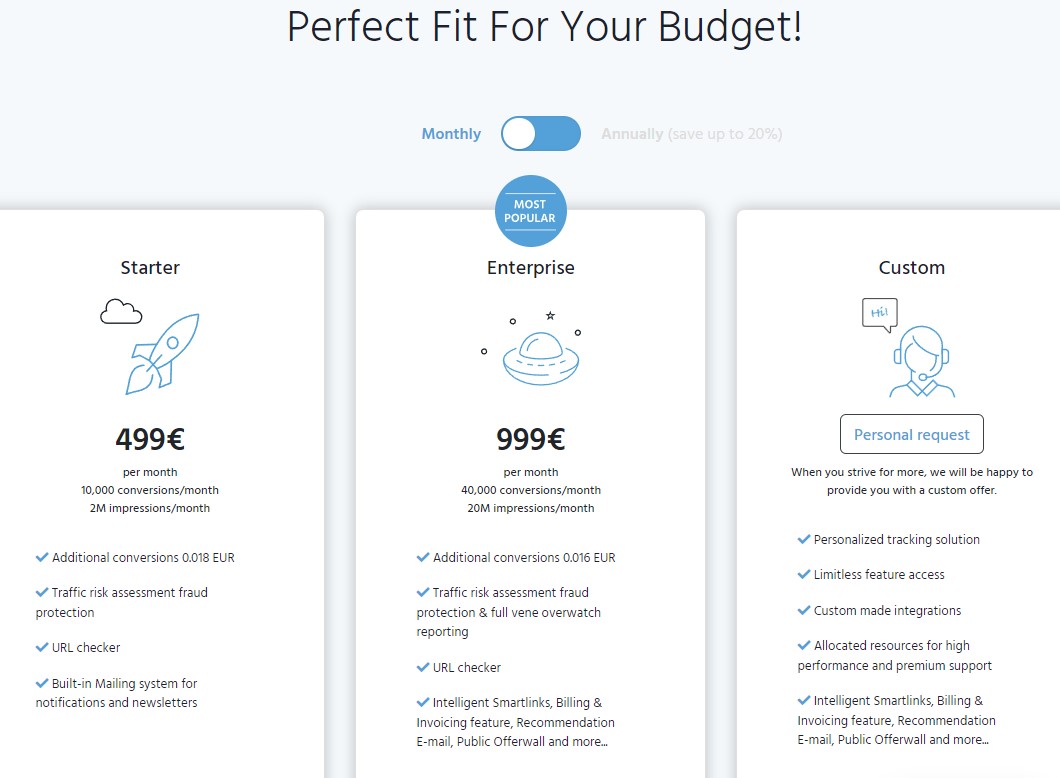 Vene dash offers you 3 plans and a free demo version which will expire and will require you to choose one of the following plans:
Starter Plan
For €499 per month, you can enjoy the following features:
10,000 conversions per month
2M impressions per month
Additional conversions 0.018 EUR
Traffic risk assessment fraud protection
URL checker
Built-in Mailing system for notifications and newsletters
Enterprise Plan
This plan has the best value for €999 per month, and it gives you:
40,000 conversions per month
20 M impressions per month
Additional conversions 0.016 EUR
Traffic risk assessment fraud protection & full overwatch reporting
URL checker
Intelligent Smartlinks, Billing & Invoicing feature, Recommendation Email, Public Offerwall, and more...
Custom Plan
This type of plan is negotiable, and you can customize what you need, including:
Personalized tracking solution
Limitless feature access
Custom made integrations
Allocated resources for high performance and premium support
Intelligent Smartlinks, Billing & Invoicing feature, Recommendation Email, Public Offerwall, and more...
What Is the Best Plan Available?
Depending on your budget, we have to say that the best plan available is the Starter plan which offers you great features and everything you need to ensure your success, so we recommend that one unless you can afford the Enterprise plan, which is €999 per month.
User Reviews and Ratings
Reviews and ratings are always critical because you can learn more about a product, a service, or in this case, software by reading what other people think. Since they have tested the products. Furthermore, they let you know their conclusions, so we have compiled here some reviews that you should find helpful:
From crozdesk.com:
"The Vene dash SaaS suite enables Advertisers, Ad Networks & Publishers to manage offers, aggregate data, and improve performance all within a single, streamlined system. In addition, our reliable tracking solution with built-in fraud protection, state-of-the-art billing feature, cryptocurrency payments, and many more unique features allows performance marketers to scale their business and stay ahead. Vene dash is built with passion by industry experts in the heart of Berlin, Germany."
Anonymous reviewer from getapp.com:
"First of all, Vene dash is one of the most beautiful, user-friendly, and easy to use tracking platforms that I came across in my last 7 years in the industry. I have seen and worked with many from Tune, Cake, Affise, Offerslook, Everflow, and the list goes on.
I believe that Vene dash is the fastest and most user-friendly platform I have ever seen from all these platforms. Secondly, to be honest, any third-party tech solution can be great on its own but is worth nothing without the proper support. In the case of Vene dash, the support is impeccable, on top of its game.
One of the main reasons is that I feel that everybody behind this product is 200% involved and motivated and treats it as their own. And genuinely wants to make sure that everything is in the best way possible for the customer."
From softwareadvice.com:
"Vene dash is an affiliate marketing solution designed to help businesses track, manage, analyze and optimize the performance of online advertising campaigns. The integrated billing and invoicing module enables publishers to capture billing information in a centralized repository.
The built-in destination site monitoring tool lets businesses automatically verify the validity of offer destinations and send alerts on changes to the destination site. Using Vene dash's server-to-server tracking system, administrators can securely handle communications between multiple networks, advertisers, and publishers. Additionally, the application allows administrators to track the first interaction with a potential client, user behavior, and conversions on a unified platform.
Vene dash provides a publisher portal, which helps publishers search for promotional offers, set up the postback, and gain an overview of ongoing offers' performance. Pricing is available on a monthly, and annual subscription and support are extended via online measures."
Is Vene dash a Good Purchase?
Vene dash is a great tool that will allow you to get huge profits, it's fully mobile friendly and user friendly, you can be sure that this software will meet all your expectations but keep in mind that it is pretty expensive, so if you can afford it then, by all means, buy it.
On the other hand, if Vene dash is too pricey for you, we would like you to know about similar tools just as follows:
Bitly: with this tool, you can take advantage of tons of features, including the chance of shortening your links and URLs to achieve better customer conversion plus, you can have personalized branded links, monitor all the interactions of your sites, and check your competition at any time.
LinkTrackr: with this tool, you can be on top of your competition in no time since it offers you everything you can possibly need, including tracking, optimization, integration, automatization, and other features that all affiliate marketers need.
GeniusLink: with GeniusLink, you can improve the traffic of your website by knowing all the essential variables that you need, such as IPs, GEO, user time on your website, clicks, and more plus it offers you other features such as customer management, so it's a great alternative.
Vene dash FAQ
What is Vene dash?
Vene dash is a premium platform for professionals that will give you the ability to get better traffic conversion, detect fake clicks, and detailed reports of all your parameters. But, of course, the best thing is to have intelligent URLs and links that can distribute your traffic for better performance.
What features does Vene dash offer?
Vene dash proudly offers many features, including top security, full automatization, invoicing and billing, advanced Monitoring, and many more features.
What other apps does Vene dash integrate with?
This platform can work with more than 30 APIs so, don't worry about that.
What would I use Vene dash for?
Vene dash can be used to create invoices and billing, check your competition, have intelligent links to distribute your traffic, affiliate marketing campaigns, and many more.
Can I use Vene dash on my smartphone?
Yes, you do not have to download anything since you can use Vene dash on any device, and that, of course, includes your smartphone, tablet, or any other mobile device.
Do I get access to detailed statistics?
Yes, Vene dash provides you with daily, weekly, and monthly metrics about your new leads, locations, clicks, devices, and tons of other variables.
Is Vene dash secure?
Your information is well protected with Vene dash. In addition, your links information is protected with HTTPS encryption and SSL security, so chill, there is no problem with the safety.