Head of partnerships & account management with Heleen Lambrecht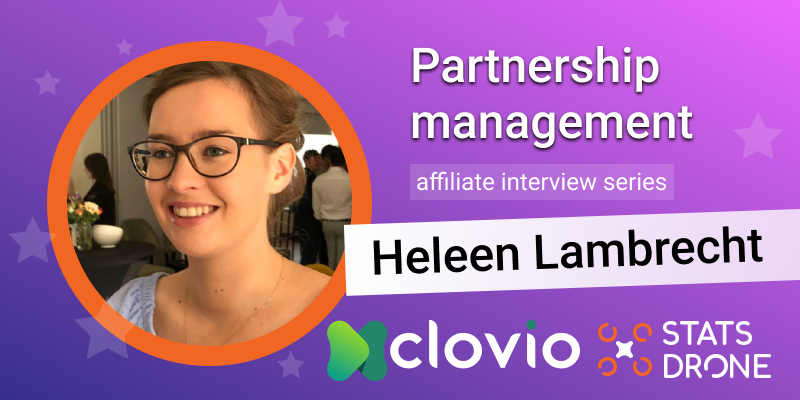 How many people work at clovio?
The clovio team has expanded greatly in the last year and we've doubled the number of employees compared to the previous year. In the first quarter of 2023, a Content Creator, Content Manager, PAM intern, and two Content Writers joined our ranks. There are now around 20 people working at clovio.
What are the industries and iGaming verticals your company focuses on?
We're diversified in various industries and verticals to cope with sudden changes in market situations and regulations. One of our biggest websites, Best Reviews, focuses on internet security, online privacy, communications, marketing, accounting, computer optimization, and data solutions. Within the iGaming industry, we feature locally licensed online casinos, bookmakers, and poker sites in regulated markets (Portugal, Belgium, Spain, Romania, Hungary, Colombia, and Peru). Lastly, we feature financial services on our Belgian website, Financus.
How did you end up at clovio?
I started at clovio when I was still a student, working as a Content Creator. This job involved writing and making videos about investing and gambling for Financus and Feeling Lucky, respectively. Although I initially worked in content, I switched to the partnerships side when I graduated.
I noticed you started as a content writer and also did some articles on investing, tell us about these projects, what you learned and what you liked about working in affiliate marketing?
It was interesting to learn more about finance while writing product and blog articles for various insurance products, loans, investment opportunities, etc. Furthermore, it was a great opportunity to interview stock-exchange, real-estate, and banking professionals. These 20-minute interviews allowed us to go in-depth and bring even more value to our visitors.
Affiliate marketing is an exciting, fast-changing world where multiple interests must be considered, both on the side of the publisher, advertiser, and audience. Thanks to working as a Content Creator first, I got to know affiliate marketing and learn that the most important thing is informing our visitors. No matter the field, we bring value through our first-hand tested content.
As head of partnerships how many programs do you have partnerships with?
There are too many to count. As clovio is diversified into different verticals and markets, we partner with a long list of brands. For iGaming, we feature almost all licensed operators in Portugal, Belgium, Spain, Colombia, Peru, Romania, and Hungary. Furthermore, we cover hundreds of brands on Best Reviews and feature the majority of Belgian banks, healthcare funds, and insurance providers on Financus.
What can you tell us about the Belgian markets for affiliation including iGaming?
In Belgium, we're active in iGaming and finance via our websites, Feeling Lucky and Financus. Naturally, Belgium is a relatively small target audience, and all content needs to be translated into two languages (Dutch and French). We also notice that affiliate marketing isn't that well-known in Belgium yet, and there are fewer dedicated account managers specifically for the country. However, an increasing number of people search for information online before making a purchase decision in Belgium, so we're seeing good results in this market. We're planning on expanding even more in Belgium and are already on our way, with our launching of the Belgian French version of Financus.
There's a lot of uncertainty concerning iGaming advertising in Belgium at the moment. According to a new law coming into force in July 2023, only people actively looking to gamble can be targeted. Although affiliate marketing aims to inform visitors specifically searching for iGaming and guide them toward legal options, iGaming affiliate marketing might also be impacted.
As an account manager, what is the biggest challenge you have in doing your job?
As account managers, we have to balance multiple parties' interests. We must ensure the partnership is mutually beneficial, making the campaign worthwhile for the advertiser and publisher. While doing so, we must bring value to our visitors and inform them about the best purchasing decisions. To do so, it's key to keep track of all existing data, follow up on the campaign, and create stellar content in collaboration with our partners.
clovio seems to be growing fast, what is in store for 2023 and 2024?
We're indeed constantly on the lookout for new business opportunities. For example, we're creating content to launch Feeling Lucky in the Netherlands and start the Belgian French version of Financus. Furthermore, we're also looking into launching Feeling Lucky in Brazil and Switzerland. In addition, we plan to create a website in a new and promising vertical – health and beauty.
Which is your favourite iGaming conference and why?
There are a lot of iGaming conferences, so it's difficult to choose just one. We attend multiple conferences, such as iGB London, iGB Amsterdam, SiGMA Malta, and SiGMA Eurasia. iGB London is great for us, as many partners attend this conference, although SiGMA Eurasia in Dubai hosts the best events and has far better weather.
What is one event you would like to attend outside of the iGaming industry?
A dream already came true in early 2023 when I had the chance to attend Affiliate Summit West in Las Vegas. Paradoxically, this conference in the world's casino capital doesn't target iGaming. Instead, I got the chance to meet in real life a lot of VPN, parental control, password managers, medical alert systems providers, etc., who I normally only correspond with via email. This conference was also a great opportunity to get to know Las Vegas, play at its casinos (although I wasn't feeling very lucky), enjoy a Cirque du Soleil show, and visit the awe-inspiring Grand Canyon. Luckily, we can always keep dreaming, as the Affiliate Summit also takes place on the other coast, in New York.
Some of our recent interviews are here
Be sure to check out our Affiliate Interview series podcast
Where to listen
Are you an affiliate and want to be featured in our interviews? If so fill out this form