Improvely Review (2023): Features, Pros & Cons, Pricing - StatsDrone
Overview
This program is being used by more than 7,000 marketers, so you can guess it is outstanding in tracking results and detecting fraud. With the real-time tracking Improvely can identify and protect you against suspicious click activity on your ads and even across multiple campaigns which means that you can stop paying for fake clicks.
This tool has everything in one place, so you don't have to log in to many different websites to track marketing campaigns, organic traffic, SEO, social media, and other traffic sources. This program will make your life easier by having everything in one place.
Improvely will provide you with up-to-date information including inbound links, search queries, and changes in marketing campaigns. So every report and metric in Improvely is real-time to the point that you can see on live how many people are on your website and interacting with it.
Ease of Use and Interface
Improvely is not that difficult to use; however, you can have access to an interactive demo on the website plus there are many YouTube videos that teach you how to use this program.
To use this program, you only have to make an account, and that is it because you can use it for 14 days for free. After that, if you like it, you can buy the paid version, which is only $29 per month, but sadly they only take debit and credit cards for the moment, so we will like to see other banking options or even cryptocurrencies added.
The interface is very generic; you will not get lost since you have everything you can possibly need, including all data, metrics, and more at your sight. But again we recommend you to take the demo course, which is only a few minutes long, plus don't be shy to contact them for help or any questions you may have.
Features Explained in More Details
Improvely is an essential tool for any affiliate marketer, SEO professional, or other entrepreneurs looking to generate money from their websites, but what does Improvely do exactly?
Well actually it has lots of features but let's talk about the most important ones:
Advanced Conversion Traffic: With this feature, you can track all your links, conversions, and revenue from your online marketing in just one place with the best traffic reports in real time.
Click Fraud detector: This is one of the best tools you can probably have since many similar websites like Improvely do not offer it. With the click fraud detector you can check which pages are not working or which ones are fake and save a lot of money since it is estimated that around 17 – 29% of clicks from paid ads are fake.
Affiliate marketing tools: With these tools you can work like a pro and direct your promotional campaigns and check real-time data and make the necessary changes depending on the results.
Agency & White-Label: you will get the opportunity to have everything under your logo and company name and you can decide what level of access your clients will get to Improvely.
Pros & Cons
Like all things, Improvely also has pros and cons, so let's dig a little deeper into this.
Pros:
A free trial version of 14 days
Interactive demo for new users
Compatible with existing google analytics
You can export reports and other data to Excel
Import affiliate commissions from third-party networks
Fight Click Fraud
Test new landing pages instantly
Learn about the users that interact with your site
Nothing to install
Cons:
Few banking options
It's not widely known in the iGaming industry
No live chat support
English only
Pricing Plans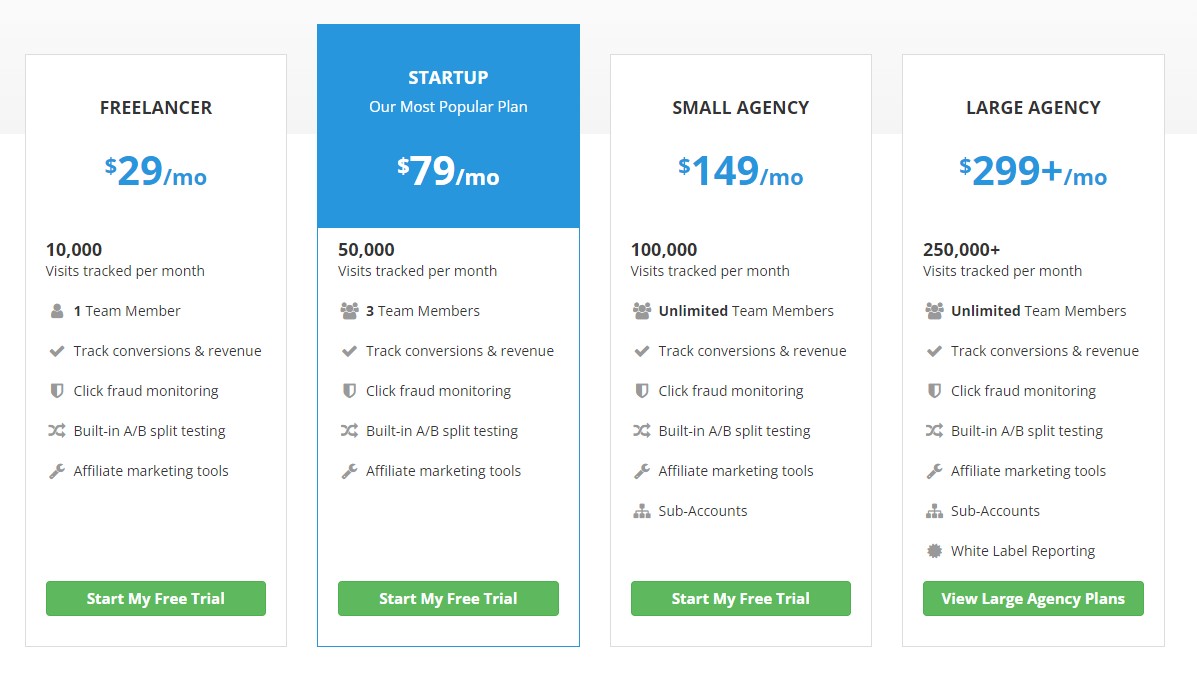 There are 4 pricing plans that you can use: Freelancer, Startup, Small Agency, Large Agency. Let's take a look into every single one of their offerings, before you make a decision.
Freelance Plan
It offers you the basic features but still is good and it is only $29 per month:
10,000 visits tracked per month
1 team member
Track conversions and revenues
Click fraud monitoring
Built-in A/B split testing
Affiliate marketing tools
StartUp Plan
This is the most popular plan for only $79 and features:
50,000 visits tracked per month
3 team members
Track conversions and revenues
Click fraud monitoring
Built-in A/B split testing
Affiliate marketing tools
Small Agency Plan
This plan is only $149 per month, and it is for small companies with a lot of potentials:
100,000 Visits tracked per month
Unlimited Team Members
Track conversions & revenue
Click fraud monitoring
Built-in A/B split testing
Affiliate marketing tools
Sub-Accounts
Large Agency Plan
This is the most effective plan that Improvely offers, and it is only for $299 per month negotiable, and it features:
250,000+ Visits tracked per month
Unlimited Team Members
Track conversions & revenue
Click fraud monitoring
Built-in A/B split testing
Affiliate marketing tools
Sub-Accounts
White Label Reporting
What Is the Best Plan Available?
After checking all these plans it is up to you to decide which is the best plan since if you are a lone marketer we recommend you to choose the StartUp plan which offers lots of features packed up for a reasonable price.
User Reviews and Ratings
We like to play fair and square, so we will want to show you what other users think about Improvely:
At the Crozdesk website, you will find an anonymous review that goes as follow: "IMPROVELY IS A CONVERSION TRACKING AND CLICK FRAUD MONITORING APP THAT WORKS WITH ADWORDS, BING ADS, TWITTER ADS, AND FACEBOOK ADS.
Improvely combines click and conversion tracking, click fraud detection, landing page split testing, and affiliate marketing tools into one easy-to-use platform.
Learn where every new customer came from — what site, web search, or ad click first brought them to your shop.
Keep track of the cost, revenue, and profit of your Google AdWords, Bing Ads, Facebook, and other advertising — all in one report."
From the area of user reviews of the Cuspera website:
"...Improvely will show you which of your campaigns, ads, landing pages, and keywords are generating commissions for you without creating a separate referral link for every keyword you bid on. ..."
Is Improvely a Good Purchase?
So after you read some reviews and check all the pros and cons, it will be up to you to decide if you would like to use this program, but of course, it will depend on what you will use it for.
Regardless of Improvely features, we would like to inform you of some other similar platforms just as follows:
LandingTrack: This platform basically offers the same features as Improvely, but the platform is far way more beautiful and user-friendly. TrackLanding can be an alternative tool to use, and it provides a free trial version too.
Bitly: This is another powerful program that helps you shorten links and URLs to get better customer conversion plus, you can create custom-branded links, keep track of all interactions of all your links, and you can get real-time metrics of your visitors.
GeniusLink: This tool is an excellent alternative to Improvely, this platform is available 24/7, and you can access it from any mobile device, including your laptop, tablet, or smartphone. GeniusLink is a tool that is focused on eCommerce business as well as for affiliate marketing business.
Improvely FAQ
What is Improvely?
Improvely is a great tool that helps you fight fake clicks, advanced conversion tracking, conversion attribution track clicks, conversions, and revenue from all your online marketing in one place, plus it offers you competitive prices.
What features does Improvely offer?
Improvely offers its users 4 main features: Conversion tracking, click fraud monitoring, affiliate marketing, and agency and white label tools.
Do other apps integrate with Improvely?
This tool allows integration with several APIs so, don't worry about that.
What would I use Improvely for?
Improvely is a tool that you can use to check all the metrics of your websites including live-time data of users interacting with your website and of course, you can check for fake clicks.
Can I use Improvely on my smartphone?
Yes, you don't have to download anything, you can use Improvely on any device, and that, of course, includes your smartphone or tablet.
Do I get access to detailed statistics?
Of course! Improvely gives a precise and detailed insight into all link-related statistics, including you can see the number of clicks, new leads, GEOs, locations, and devices.
Is Improvely secure?
Your information is well protected inside Improvely, and also your links information is also protected with HTTPS encryption.