OSI Affiliate Review (2023): Overview, Features,Pros & Cons, Pricing - StatsDrone
Overview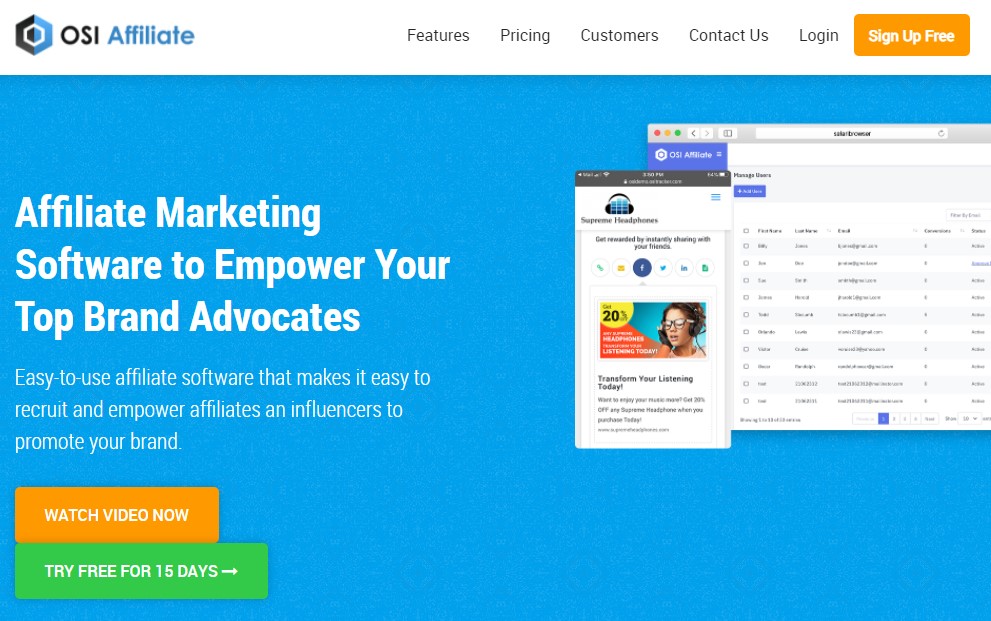 OSI Affiliate is a leading cloud-based affiliate marketing management service for advertisers and marketers, providing an end-to-end customer referral solution.
The most common functions of OSI Affiliate include lead generation, affiliate campaign management, lead tracking, referral marketing, content management, fraud detection, and affiliate rewards distribution.
The lead management features are comprehensive and highly useful. It covers the need to have separate lead generation software and gets the job done for you.
By creating an affiliate program and integrating it into your website, customers can start promoting your products and services to their friends and family.
New customers will come to you and increase your sales because they will come to your business through trusted referrals. Get more traffic, get more deals and save money through an affiliate program. It's a compelling marketing strategy with massive results that saves you money in the process.
Ease of Use and Interface
It is not difficult to completely customize this software, and it can be seamlessly integrated with your website.
You can either personalize the template interface or cut and paste the code into your site to incorporate all the software's features.
OSI affiliate comes with an easy-to-use interface along with powerful marketing referral tools that all work together to ensure that your next campaign is definitely the most successful one.
In addition, OSI Affiliate is loaded with many advanced features to make sure that you generate a lot of traffic and sales for your business.
A few of these features include social media sharing, promotional code tracking, support for using your own domain, influencer targeting, startup wizard, and so much more.
As a result, this software has seen a wide selection of businesses successfully thrive. OSI Affiliate is, without a doubt, the best way to convert your customers into brand advocates.
Features Explained in More Details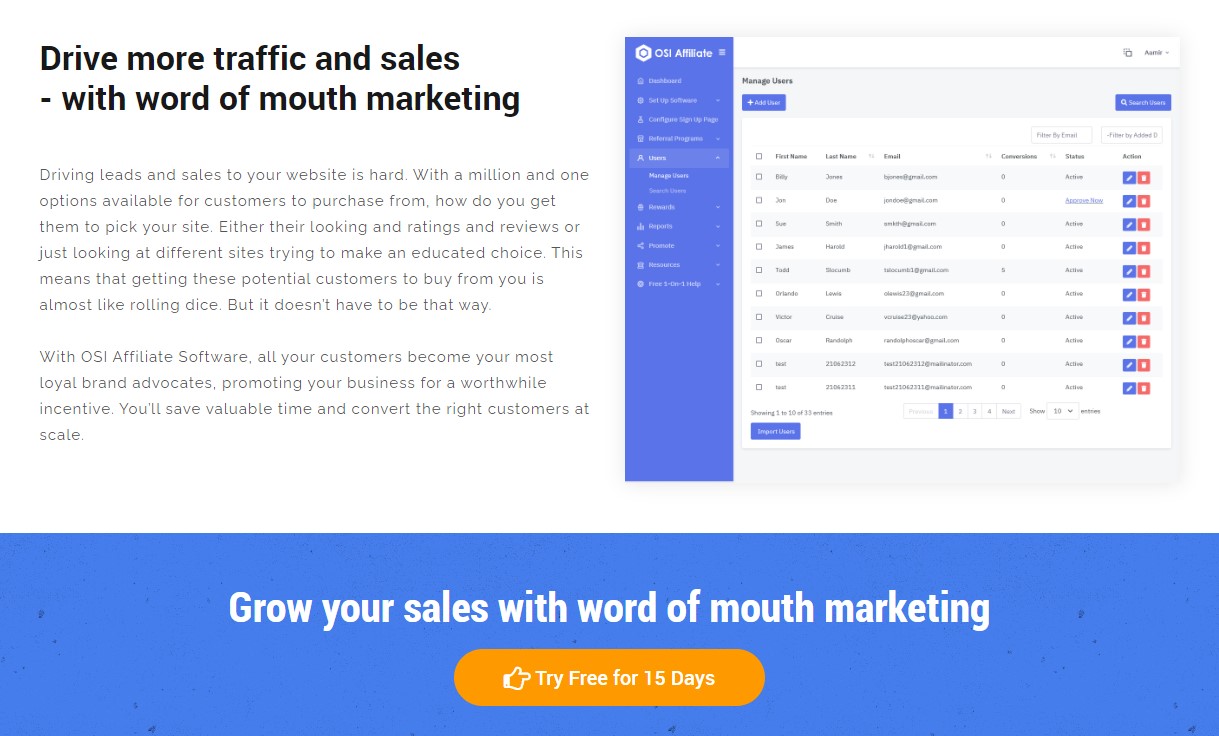 Omnistar Interactive's OSI Affiliate Software is a premier affiliate marketing platform that will allow you to efficiently create and run referral programs for your business.
Boasting a user-friendly interface and powerful referral marketing tools, OSI Affiliate Software will enable you to produce the best possible affiliate program that will help you promote and expand your marketing channels.
Some key features include:
Affiliate management
Commission calculations
Dashboard statistics
Email templates
Feedback management
Offer commission and rewards to referral partners
Referral partners have access to their own portals
Referral tracking
Reporting
Run referral contests
Set up a sign-up page
Social media integration
Promotional code tracking: OSI affiliate allows you to assign promotional codes effortlessly to make it easier for members to promote by delivering unique promotional codes that customers can use at checkout.
Social Media Sharing: Each package comes with full integration with LinkedIn, Facebook, and Twitter, allowing all your affiliates to share the link across multiple platforms.
Own domain: OSI affiliate helps keep your entire brand consistent through the setup of all your affiliate links along with the account URL to your domain.
Getting Started Wizard: OSI affiliate comes with an easy to set up wizard for the user.
Influencer Directory: The influencer directory makes it easy to recruit the best affiliates to promote your brand worldwide.
Built-In Promotional Resources: Make the most out of the inbuilt promotional features to promote and grow all your affiliate plans.
Multi-tier support: The Multi-tier support system makes it easier for affiliates to recruit other top affiliates.
Graphic Design: You can upload banners and other graphics that your affiliates can use on their blogs or sites.
Pros & Cons
OSI Affiliate is an excellent and robust affiliate marketing solution that can help businesses boost online traffic and automate referral rewards and commissions for affiliates. However, the tool has its shortcomings, so it is recommended to weigh the pros and cons before purchasing.
Pros
Various methods to pay for the payouts.
Free customer service on-call.
Initial setup takes less than 5 minutes
Accurate in-built lead tracking.
Effortless software integration
Feedback management
Affiliate management
Run referral contests
Access to Portals
Social media integrations
Cons
The interface is not that intuitive.
A limited number of total affiliates
A bit more expensive as compared to the alternatives.
Pricing Plans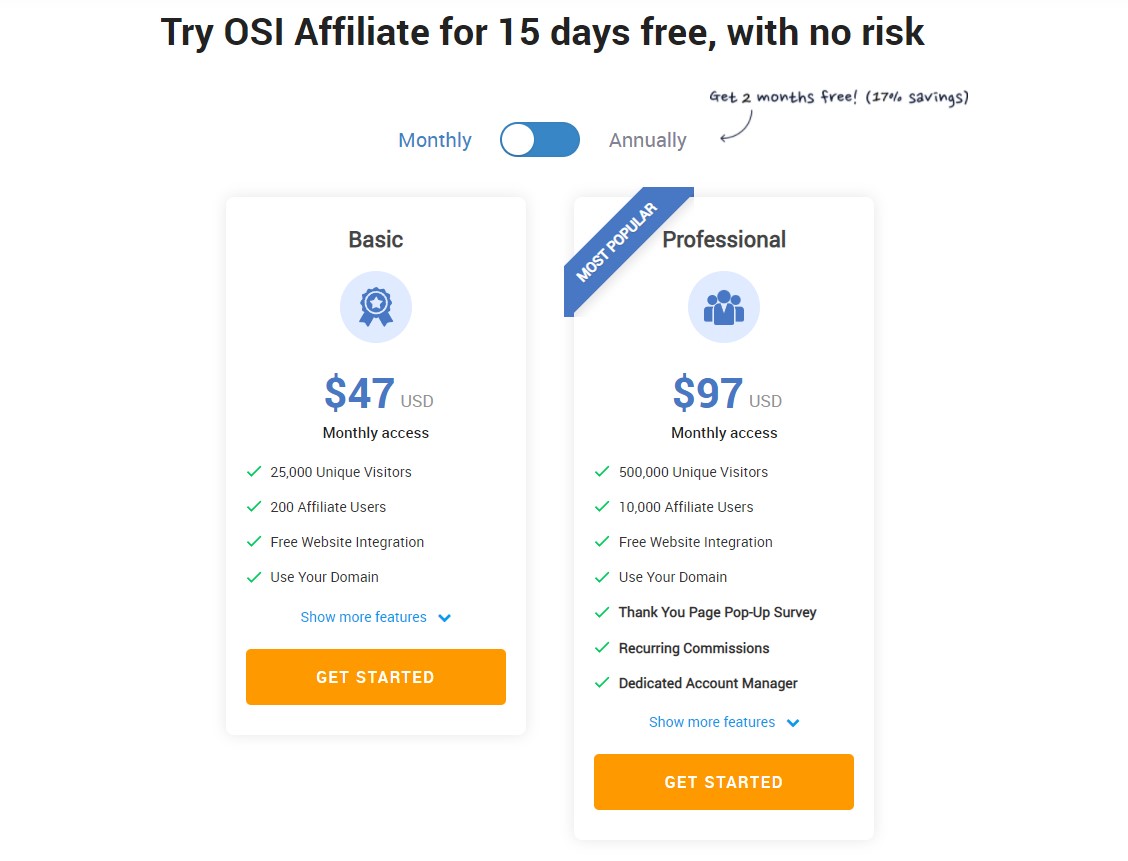 OSI Affiliate Software currently offers three pricing plans with a great range of features. The proposed pricing plans come with two pricing models: one with monthly payments and the other with annual costs. You can choose the one you are comfortable with.
This platform offers a 15-day free trial, in which all significant features can be tested before committing to the software. In addition, it has three pricing plans, Basic, Professional, and Premium, which can be paid monthly or annually.
All plans include free onboarding support, training, live chat support, promotional resources, multi-level support, and branded domain options.
The Basic Plan
The plan includes 200 affiliate users, 20,000 tracking requests, the option to use your own domain, free setup, directory listing, recurring commissions, feedback survey tool, and advanced social media sharing option. It costs $47 per month and $470 per year.
The Professional Plan
This plan includes 1000 affiliate users, 500,000 tracking requests, the option to use your own domain, free setup, directory listing, recurring commissions, and the opinion survey tool. The plan also includes an advanced social sharing option, third-party integration, timed pop-ups, pop-up opt-in forms, exit intent pop-ups, and thank you page pop-ups. It costs $97 per month and $970 per year.
The Premium Plan
This plan includes 5,000 affiliated users, 1 million follow-up requests, the option to use your own domain, free setup, directory listing, recurring commissions, opinion survey tool. It also offers an advanced social media sharing option, third-party integration, timed pop-ups, opt-in forms, exit intent pop-ups, and thank you page pop-ups. It costs $247 per month and $2470 per year.
What Is the Best Plan Available?
A basic plan is an excellent option if you do not require many advanced options. However, the professional plan is considered the most popular, and despite costing twice as much as the first one, it comes with many benefits that make it really worth it.
User Reviews and Ratings
In most review sites, OSI Affiliates has a very high score on different items such as ease of use, features, customer support, integration, and more. Still, we can go a little further by evaluating other users' comments who have purchased this platform to have more confidence in it before buying it.
One of those customers is Dave Schneider, who left a comment on Cuspera.com letting us know what he thinks about OSI Affiliates:
"Before OSI Affiliate, we had a custom affiliate program that we were using from the previous software. It was minimal, and it didn't integrate with Stripe. We needed a new solution, and that was OSI Affiliate. OSI Affiliate has allowed us to create custom coupons, affiliate links and manage everything in their dashboard. It is simple and easy to run an affiliate program with OSI Affiliate."
Also, on Cuspera.com, Mark Ament from The Maka Team shared the following:
"We went with OSI Affiliate Software due to overall better features and customer service. It wasn't an easy decision since OSI Affiliate Software has a monthly fee, but we were convinced after the trial that OSI Affiliate Software would be well worth the extra cost."
It is worth noting that before using OSI Affiliates, many customers used other programs that were not what they were looking for, and, despite a higher cost in comparison, they managed to get the features they needed to improve their business.
Is OSI Affiliate a Good Purchase?
Definitely, OSI Affiliate is an excellent and powerful affiliate marketing solution that can help businesses drive online traffic and automate referral rewards and commissions for affiliates.
It is easy to customize the platform and allows users to adjust everything according to what they prefer. It is recommended for companies that want to add a personal touch to affiliate marketing campaigns.
Other alternatives are equally well-rated and have similar functions to OSI Affiliates, such as the following:
Refersion: A relatively new and fast-growing affiliate management solution, Refersion has a portfolio of more than half a million customers to its credit. Their app was founded in 2014 and offers simplified payment solutions. With it, you can convert your valuable customers into affiliates and track their sales in the process. In addition, with its customization and optimization options, getting great results is readily at your fingertips.
Everflow: Everflow is a cloud-based Performance Marketing Platform offering services in Affiliate Management and Partner Tracking. It provides some of the best analysis and automation tools to affiliate marketers and streamlines their day-to-day activities. It is best known for its multi-dimensional analytics and data visualization capabilities that help analyze campaign performance and efficiently report.
LeadDyno: It is an affiliate management platform that helps create and manage affiliate marketing campaigns. It is mainly used by online businesses and eCommerce stores to track and control their affiliate programs. The system easily integrates with third-party websites and platforms, making the workflow smooth.
Tapfiliate: It is a fully customizable, cloud-based Affiliate Tracking Software that enables advertisers to create, track, and optimize their affiliate marketing programs. With Tapfiliate, you can automate most of your Affiliate Marketing tasks, including Affiliate Tracking, Commission Management, or even Multi-Level Marketing (MLM).
Tune: Tune is a powerful SaaS platform specializing in partner marketing services across web and mobile platforms. It helps you build, manage, and improve your current partner programs with its robust set of features.
OSI Affiliate FAQ
How exactly does the 15-day free trial work?
If you cancel your subscription within the first 15 days of signing up, you won't be charged anything. Even after the 15 days, you can cancel your account at any time, and you will not be charged again.
What is OSI Affiliate generally used for?
Affiliate marketing and referral marketing.
Is there a limit on the affiliate programs I can create in OSI Affiliate?
There is no limit; the software allows you to add an unlimited number of affiliate programs. Once you add the affiliate program, you can create a form for that program for your website, and when you make the form, you can decide which programs will go along with the form.
What are some applications OSI Affiliate is commonly used in tandem with?
Email marketing software, billing software, shopping cart applications, website builders, etc.
Is There Any Need To Install Extra Plugins For OSI Affiliate To Work?
There is no need to download any additional plugin to make the software work; everything is in-built by default.
How Does OSI Affiliate Offer Customer Support?
The platform offers customer support through a ticket system and responds in about 24 hours. Once you have submitted a ticket and still need help, you also set up an appointment on the phone with the support staff.