SE Ranking Review (2023): Overview, Ease of Use, Features, Pricing - StatsDrone
Overview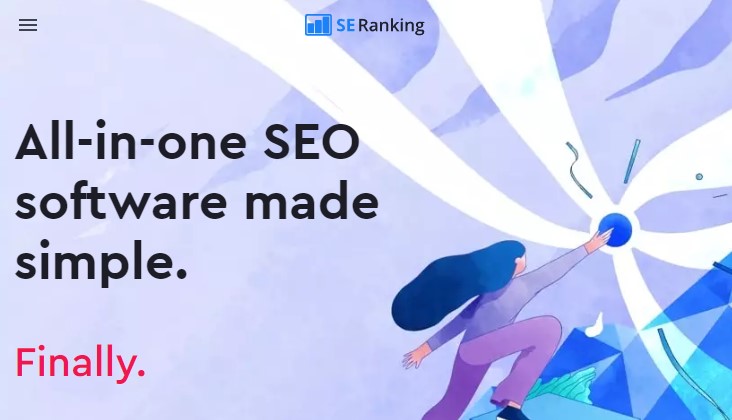 SE Ranking is a comprehensive all-in-one cloud-based platform for SEO and online marketing professionals with a complete tools package.
In addition, the features serve for in-depth site auditing, competition analysis, website ranking, keyword suggestion and grouping, backlink monitoring, and advanced professional reporting.
Besides the standard SEO tools, additional feature sets, such as white labeling and marketing plans, are offered by the system to take professional digital services to a whole new level.
The software provider states that everything is being provided on a single platform within the same user-friendly interface.
No matter how many projects you have, SE Ranking offers solutions for entrepreneurs, SMBs, and digital agencies, which means the platform is always fast and convenient to work with.
If you are new to SEO, SE Ranking will help you get started on the right foot very quickly.
Moreover, if you are an expert, you won't have to go through the annoying process of adjusting to the new interface and going through a learning curve.
The platform is straightforward and surprisingly intuitive.
Ease of Use and Interface
SE Ranking was designed to be a user-friendly tool and is straightforward that even SEO beginners can quickly and easily get started.
The platform will guide you through a five-step process. In the process, you enter your general website details, select the keywords you want to monitor, and select your country and search engine preferences.
After that, you then choose a maximum of five different competitors to track and connect with an analytics service such as Google Analytics to get a complete picture of where your traffic is coming from.
Everything can be set up in just a few minutes. Naturally, you can also change the data later in case you need more.
Furthermore, SE Ranking is an outstanding tool for checking how good you are doing on search engine results pages (SERPs).
This all-in-one tool does much more than check your SEO ranking, though. Using SE Ranking allows you to monitor your competitors' campaigns, generate new leads for your business, track search traffic and visibility, and detect SEO issues on your website.
Features Explained in More Details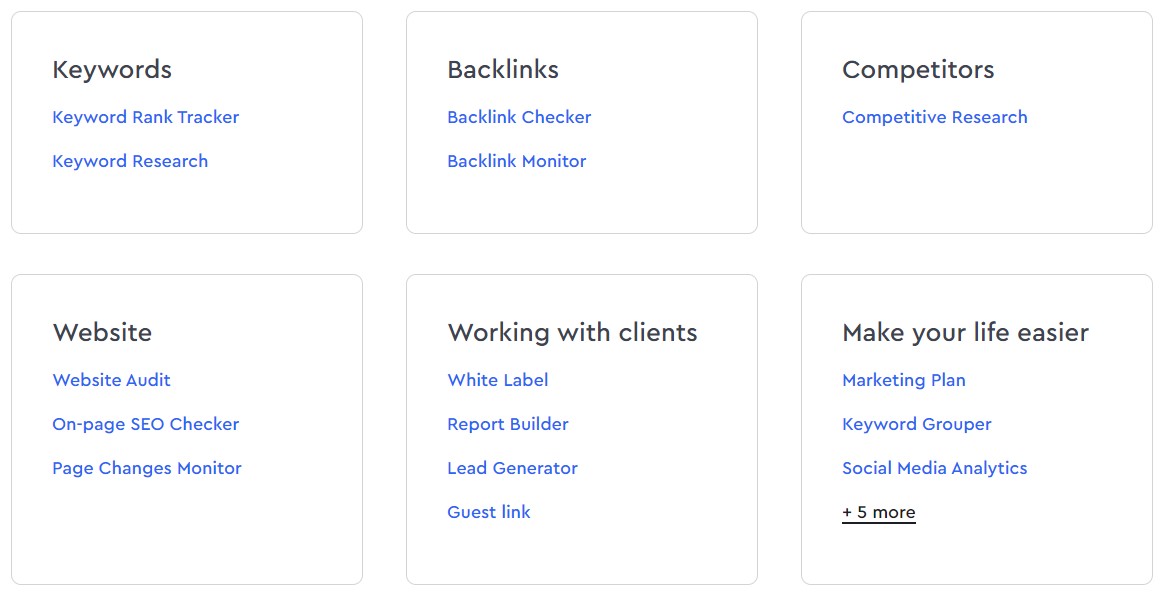 SE Ranking is an amazing scalable and very flexible SEO tool. In addition, it has impressive features that make it a powerful tool. The main features at your disposal are the following:
SE Ranking Website Rank Tracking
The critical feature of SE Ranking is its website rank tracking functionality. Essentially, SE Ranking provides you with the advantage of monitoring how your website is performing in the search engine results pages (SERPs).
SE Ranking Website Audit
You can find out precisely why your website is not ranking well in the SERP. SE Ranking uses a powerful page crawler capable of going through up to 1000 pages in only 2 minutes.
SE Ranking Backlink Checking and Monitoring
Periodically, the software checks your backlinks to make sure that everything is performing as intended. A notification will also be sent to you in case of any link changes.
SE Ranking Competitor Research
SE Ranking offers an ingenious cheat sheet to give you an advantage over the competition. By simply entering a URL or domain name, you'll get full access to information about your competitors' paid advertising and organic strategies.
SE Ranking Lead Generator
One doesn't see such a feature built into an SEO tool very often. But, noticeably, it is clear that this product also has marketing in mind and not just SEO.
SEO Features
Keyword analysis
Backlink management
SERP ranking tracking
Page ranking
Competitor analysis
Site audit / diagnosis
Site recommendations
Task management
SEO channel features
Local SEO
Mobile SEO
Global SEO
SEO platform and account management features
Multi-domain support
Integration with web analytics tools
Additional features
Backlink checker
Keyword suggestion tool
Keyword aggregator
On-page SEO audit
On-page change monitoring
Competitor PPC/SEO research
Marketing plan
White labeling
SEO reporting tool
Lead generator
API
Social media management
Historical keyword/domain data
Pros & Cons
SE Ranking provides a broad range of features that provide the necessary functions to accomplish SEO tasks effectively but also has its flaws, which is why it is recommended to carefully evaluate the pros and cons of this tool first before making a purchase.
Pros
Tracks rankings very precisely and based on location.
Provides pretty good website audits
Competition research.
The highly affordable price point
Backlinks analysis
Cons
It has a relatively poor backlink index.
Confusing to use. Not so optimized UI.
Reporting systems could be better.
It can be a bit slow.
Pricing Plans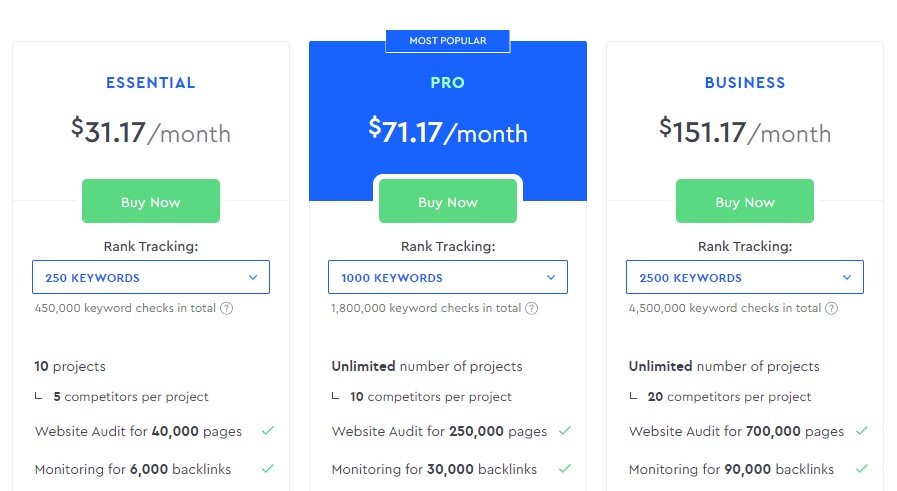 SE Ranking offers three pricing plans. Each plan varies in price according to the number of keywords you want to monitor.
Essential Plan
It costs $18.60 per month for the Essential plan to track up to 250 keywords. It then increases in price to $25.80 for tracking 500 keywords and $33.00 for 750 keywords. Additionally, the Essential plan allows you to monitor up to 10 websites and perform website audits of up to 70,000 pages.
Pro Plan
By far, the Pro plan is SE Ranking's most popular option. The price for this plan starts at $42.50 to track up to 1000 keywords. However, if you pay $71.40 per month, you can increase your keyword limit up to 1750 keywords. In addition, you can check unlimited websites with this plan, which is much better than the ten you get with the Essential plan.
Business Plan
Then we have the Business plan. Starting at $90 per month for tracking up to 2500 keywords. You can pay extra to track even more keywords each month:
5000 keywords: $167 per month
10000 keywords: $263 per month
15000 keywords: $359 per month
20,000 keywords: $431 per month
What Is the Best Plan Available?
For the solo entrepreneur who has a limited number of websites, the Essential plan is ideal. It's scalable enough for people who will occasionally take care of SEO or digital marketing for clients, as well. For anyone running a small to medium-sized agency, the Pro plan is a perfect choice. The Business plan for large organizations that manage numerous clients and massive piles of data is the only one that offers APIs. This plan is excellent for integrating your existing systems into SE Ranking if you have developers.
User Reviews and Ratings
There are times when it is not only essential to know if a product is good, but we also need to know why it is good. One of the best ways to understand this is to take a look at the opinions of other users about the product we are about to purchase. The user reviews will allow us to get a better idea about it and if it will satisfy our needs. In addition, knowing its advantages and disadvantages can be very important when deciding if we will purchase it.
On capterra.com, Brent R., An owner who has used the platform for over six months, shared the following:
"I'm able to offer my clients a fully white-labeled experience on MY site without paying hundreds of dollars per month, and I get accurate rank tracking and reports. I've fully switched to using SE Ranking for all my rank tracking and site audits, and it's been great."
On trustradius.com, Yuliya Karnaukh, Marketing strategies and business consultant at Strategies and beyond, commented the following:
"SE Ranking is a great tool for anyone who has or administers a website. For example, it could be used by business owners who manage their sites or agencies that provide marketing services to their clients. I use SE Ranking for both - to manage my site and in my consulting services to my clients."
Despite being a tool with very few flaws and great functionality, this product has relatively limited shortcomings. However, many customers mentioned that the interface could be a bit more polished, and the basic plan lacks many options balanced with its low price.
Is SE Ranking a Good Purchase?
SE Ranking is an impressively flexible and scalable SEO solution. Its pricing scheme ensures that you can find the optimal price point for the power and functionality you require. In addition, It is competitively priced when you consider that it is an all-in-one SEO and marketing tool. Both of these functions are usually treated independently of each other. However, by combining both of them, you are assured of getting all you need to succeed.
The following are equally well-valued options with similar functions to SE Branding:
SEMrush: This software is designed for marketing managers in businesses of all sizes that want to optimize their online visibility across crucial channels and create engaging content for users.
CanIRank: Great tool for SaaS, eCommerce, financial services, health, and other startups and small businesses looking to grow their search traffic without needing to build out an in-house SEO team.
Raven Tools: Designed for SEO Professionals, PPC Managers, digital marketing agencies, freelancers, and small to large businesses.
Funnel Science: Funnel Science has helped 1,000's of companies around the world with sales funnel optimization and marketing management that typically have revenues from $5m to $100m
SE Ranking FAQ
What is SE Ranking?
SE Ranking is a website optimization solution. It features these critical capabilities: Local Rank Tracking, Automatic Daily Updates, and Competitor Monitoring.
What are SE Ranking's main competitors?
Semrush, Moz Pro, and RavenTools are among the most common alternatives to SE Ranking.
What is the best feature of SE Ranking?
According to most reviewers, its integration with web analytics tools is its best feature.
Who uses SE Ranking?
Typical users of SE Ranking are small businesses and those in the marketing and advertising industry.