ClickPerfect Review (2023): Ease of Use, Features, Pros and Cons, Pricing - StatsDrone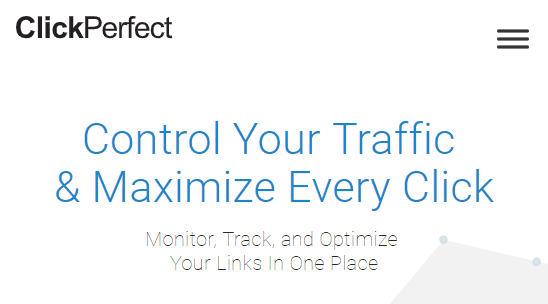 Overview
ClickPerfect is an excellent software for any SEO professional or affiliate marketer looking for a tool to process, monitor, track, optimize, and improve his website's traffic. Plus, you can check on your competition with this tool, which is always a great idea if you want to be on top of them.
Get ready to feel the perfection when using ClickPerfect. This program has everything you can need as an affiliate marketer to solve your problems in redirecting traffic, traffic conversion, short links, accurate time tracking, metrics reports, analytics, and many more.
ClickPerfect is simply one of the best tools in the market for you to take advantage of since it has tons of features that will make your life easier and make you make more money if you use them correctly, so if you would like to know more, keep reading this review.
Ease of Use and Interface
This software was designed by digital marketers, and they know the affiliate marketer's needs, and that is what they offer you. Therefore, from the moment you log in to your account, you will see all the necessary tabs, graphics, and information in a smooth and friendly way. Moreover, you can customize many aspects of the program if you don't like something.
In ClickPerfect, everything is where it is supposed to be; you will never feel lost or anything like that since the control panel is straightforward to use, plus you can always count on the support team via email to help you with any issues that you may have.
So, feel free to use the 14-day free trial version that ClickPerfect offers you, and don't forget to check out the tutorial video they have on their website. Also, we recommend you to read the FAQ section, in which you will find the answers to the most common questions.
Features Explained in More Details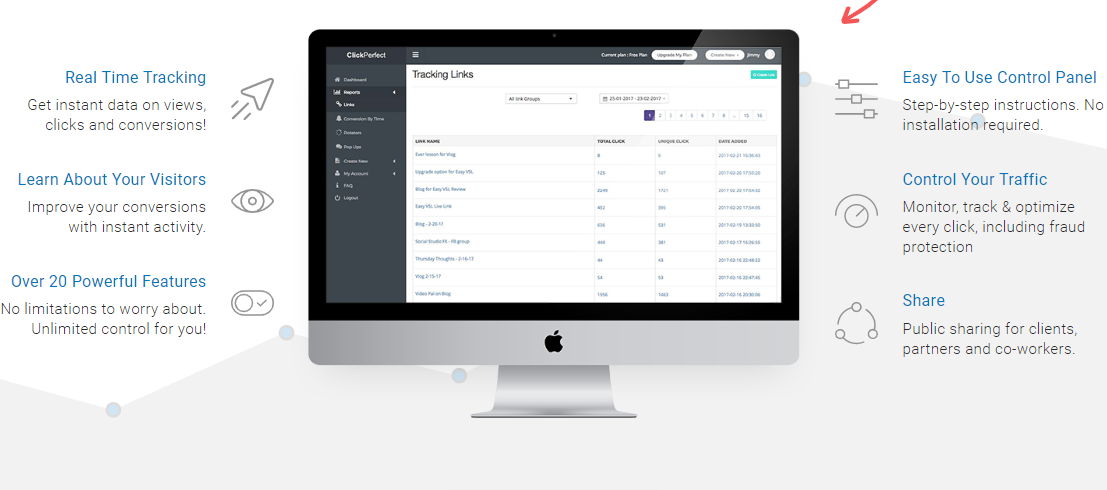 ClickPerfect offers you more than 20 neat features that will surely help you solve all your affiliate marketing campaigns issues, so let's have a look at some of the most essential features:
Real-time Tracking & Reporting: With this feature, you can access many important data such as clicks, number of users in real-time, IPs, devices, browsers, amount of time per user in your website, and much more critical analytics.
Advanced GEO Targeting: You can set up the software to automatically sort your traffic by importance and redirect it depending on the country, location, IPs, device, or anything for better performance.
Custom Domains: You can take advantage of custom domains that are provided by ClickPerfect.
Link Cloaking: You can cloak your links for better privacy and protection
Click Fraud Monitoring: You will have the possibility to detect fake clicks and bots and blacklist them.
Pros & Cons
ClickPerfect is a great software used by thousands of users but it is not entirely perfect, so let's list some pros and cons.
Pros:
More than 2,000 users
Compatible with existing Google analytics
You can export reports and other data to Excel
Great custom service
Import affiliate commissions from third-party networks
Nothing to install
Cheap plans
Lots of tutorial videos
Cons:
Few banking options
Cryptocurrencies are not accepted
Few features compared to similar software
No live chat support
English only
Pricing Plans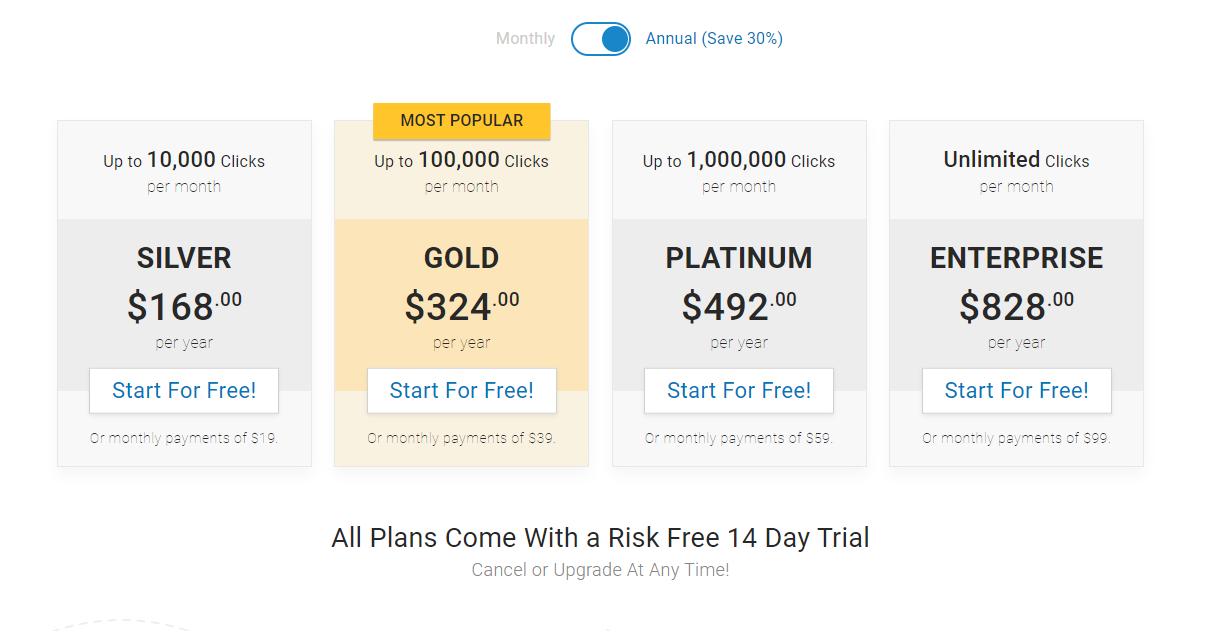 ClickPerfect has 4 plans that you can choose, and you can test them for free for 14 days:
Silver Plan
This is the first plan, and it is only for $19 per month, and it offers you up to 10,000 clicks.
Gold Plan
This is the most popular plan and has the best value; and it is for $39 per month, and you can get up to 100,000 clicks per month.
Platinum Plan
This plan offers you up to 1,000,000 clicks per month for only $59 per month.
Enterprise Plan
The Enterprise plan is the most extensive plan offered by ClickPerfect, and it provides you with unlimited clicks per month for only $99. This plan comes with all the features and access, so if the budget is not a problem for you, maybe you should try this one.
What Is the Best Plan Available?
The best plan available will depend on how you are going to use this software; however, we recommend you pick the Gold Plan since it has the best value and is the most popular plan among the users.
User Reviews and Ratings
We all love to read reviews and ratings for products, software, services, movies, series, and more, and in this case, it is about software, so we have gathered here some reviews that can be found online.
From dailyjobkiller.com:
"On internet marketing, you will not just promote one offer to monetize. Indeed, you have to promote multiple offers to make money. In addition, you cannot always rely on SEO; you need to drive various traffic sources. Therefore, you should know what you are doing when driving traffic to your site, landing page, or promoting something. Some people use various paid traffic sources such as Facebook Ads, Solo Ads, PPC Ads, Native Ads, etc. If you don't track the traffic sources, you are losing your money.
Therefore, investing in tracking software is nearly compulsory for internet marketers. If you track your campaign, you will know how your campaign works, where the clicks, impressions, sales are from, and to know your conversion rate. Moreover, split-testing is always essential for tracking to improve your own campaigns. If you join some training, almost all teachers recommend you to buy tracking software.
Voluum and iMobiTrax are the best services, but they are too expensive for some people. Additionally, their cheapest services are $99/month for Voluum and $179/month for iMobiTrax, which is nearly impossible for the inexperienced. Fortunately, we have ClickPerfect, which is much more affordable and it can track unlimited clicks. Besides, ClickPerfect was created by Anik Singal's team, one of the biggest names in the industry."
From sourceforge.net:
"From email marketers, affiliate marketers, eCommerce owners, and small business owners, or anyone simply looking to track your traffic. ClickPerfect was designed for and catered to Digital Marketers. Get instant data on views, clicks, and conversions! Improve your conversions with instant activity. No limitations to worry about. Total control for you! Step-by-step instructions. No installation is required. Monitor, track & optimize every click, including fraud protection. Public sharing for clients, partners, and co-workers.
We kept our plans simple. We include all features to every level because we don't want you to feel left out. The only selection you need to make is based on your monthly clicks. All our plans come with a 14-day risk-free trial. Sign up today, try us out for 14 days, and you can cancel or upgrade at any time."
From softwaresuggest.com:
"ClickPerfect is a powerful click tracking and click targeting solution. Optimize your marketing campaign with advanced features: Link Cloaking, Advanced Geotargeting, Click Fraud, and Bot Monitoring, One Line Conversion Tracking & Advanced Retargeting To Your LinksTracking."
Is ClickPerfect a Good Purchase?
ClickPerfect is a smooth software for affiliates, entrepreneurs, business owners, webmasters, and anyone who wants to make money online. What makes this software a great choice is that it has many demo videos and tutorial videos, and the support team is more than willing to help you understand perfectly how the software works.
After all, that being said, we still would like to show you other similar tools like ClickPerfect, just like the following:
Ahrefs: This program allows you to check out the most critical metrics of your website and any website, plus it provides a website ranking that is updated every day. Ahrefs is an excellent tool for any affiliate marketers. We strongly recommend it.
GeniusLink: GeniusLink is another excellent software that allows you to grow your affiliate marketing campaigns or eCommerce business by providing you with essential variables, traffic, customer management, and more.
Bitly: This is popular software that has many features and among them the possibility to create branded links, advanced tracking, creation of short links and URLs, and of course, it provides you with important analytics in real-time.
ClickPerfect FAQ
What is ClickPerfect?
ClickPerfect is software used by more than 2,000 affiliate marketers, business owners, and webmasters, so this program is a must-try if many people are using it. ClickPerfect will provide you with real-time data, traffic conversion, neat graphics and analytical reports from all your websites, and more essential features that can help you in your business.
What features ClickPerfect offer?
ClickPerfect offers lots of features such as accurate time tracking, fake click detector, pixel tracking, link cloaking, and many more.
What other apps does ClickPerfect integrate with?
This software works with many APIs so, don't worry about that.
What would I use ClickPerfect for?
You can use ClickPerfect to detect fake clicks and bots, track your websites' visitors, cloak your links, and many more essential uses in real-time.
Can I use ClickPerfect on my smartphone?
Yes, you do not have to download anything since you can use ClickPerfect on any device, and that, of course, includes your smartphone, tablet, or any other mobile device.
Do I get access to detailed statistics?
Yes, ClickPerfect gives you new reports of all your metrics.
Is ClickPerfect secure?
Your information is perfectly protected with ClickPerfect because everything is encrypted with HTTPS technology.