Linkly Review (2023): Features, Pros & Cons, Pricing, User Reviews - StatsDrone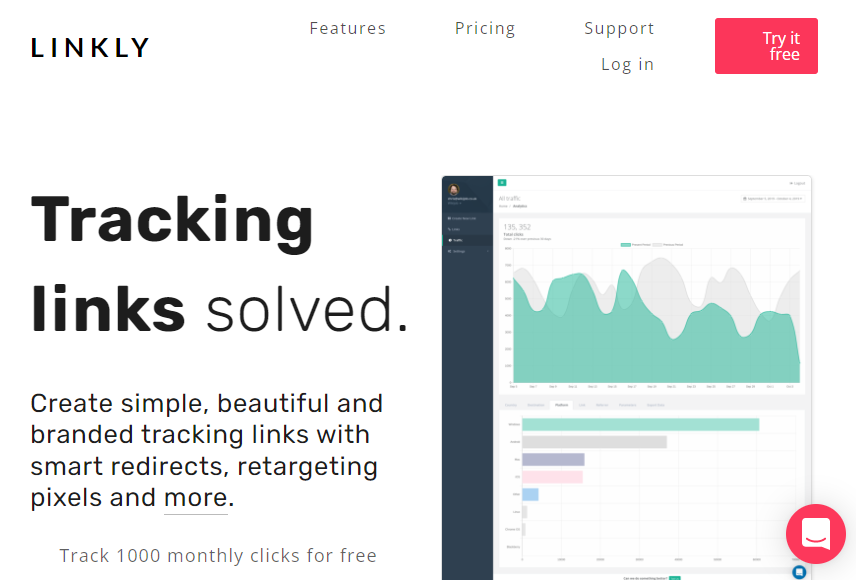 Overview
Linkly is a simple-to-use software that allows affiliates, SEO professionals, and entrepreneurs to track all their links and data by creating simple but beautiful and branded tracking links with smart redirects, retargeting pixels, and many more features.
Linkly has a minimalistic and straightforward layout that feels great when you look at it, and it makes you want to spend more time watching your metrics since it is smooth and neat.
With this tool, you will be in control of all your variables, including links, emails, traffic conversion, revenues, clicks, IPs, URLs, countries, devices, and many more meaningful metrics. So it will not be difficult for you to stay on top of everything.
Linkly also allows you to shorten your links and have branded domains which is always great for affiliate marketers or people running an eCommerce business.
Ease of Use and Interface
Right after you access your account, you will see that the dashboard of Linkly is very user-friendly, and it has everything where you need it. It is fully customizable; however, don't hesitate to contact the support team if you have any doubts or questions.
You should have no problems when working with Linkly; in fact, it should be the contrary, because you will have a blast when doing your work to the point that the time you spend on Linkly will feel like you are playing a video game.
Linky offers you Addons for Google Chrome, Firefox, Zapier, and other tools for quicker access, and there is a live chat section that you can use to ask or solve any doubts you may have.
Features Explained in More Details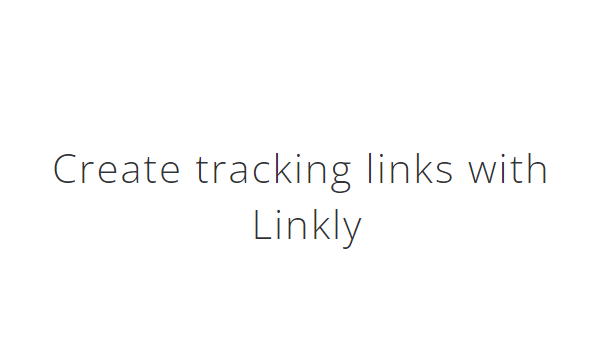 Linkly offers you many solutions thanks to all its features, so you can count on this software to help you solve all your traffic problems, affiliate campaigns, and many more eCommerce business-related issues. We will list and talk about the essential features just as follows:
Tracking Links: You have the possibility of creating monitoring links, and of course, you can use your domain or a branded domain. You can also redirect your traffic based on country, device, or use a link rotator.
Stunning Reports: You will have significant visual click tracking reports at your disposal, making it easy to check your metrics such as country, device, ISP, destination, and many other variables in real-time.
Add Tracking Pixels: You can be on the vanguard by adding Facebook Pixel and Twitter custom audiences or other custom tags to build audiences from your traffic.
Use Your Brands: You can use your domain and create your custom branded short links with any URL you want, so you can promote your business with every click of a link and don't worry about safety since Linkly provides free SSL certificates.
Pros & Cons
Linkly has some excellent features behind it, but also some substandard ones. So let's see the balance between the pros and cons.
Pros:
Many great features
You can export reports and other data to Excel
Advanced metrics
Extension for Google Chrome, Firefox, and other programs
Nothing to install
14-day free trial version
Live chat support
Cons:
Few banking options
Cryptocurrencies are not accepted
Few plans available
English Only
It's not very popular among affiliate marketers
Pricing Plans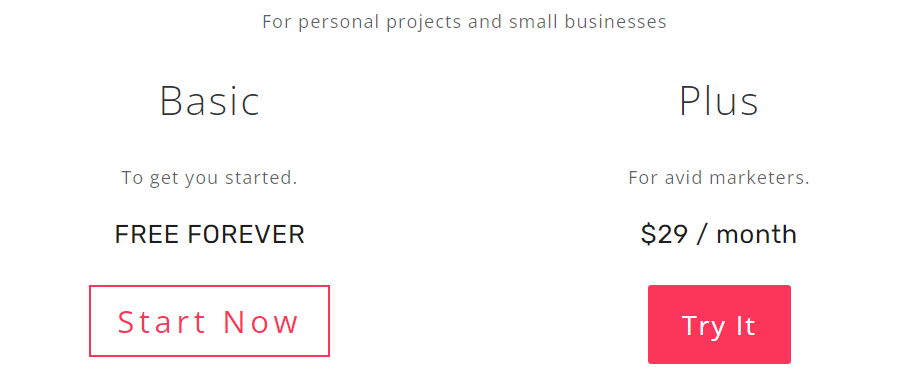 Sadly, Linkly offers you only two pricing plans such as follows:
Basic Plan
The basic plan is free and has the following features:
Redirect & analyze 1000 clicks / month
250 links
Unlimited reports
Unlimited users
Plus Plan
This plan is for only $29 per month and is for avid marketers like you:
Redirect & analyze 25,000 clicks / month
30-day Money Back Guarantee
Unlimited reports
Unlimited users
Unlimited links
14-day free trial
What Is the Best Plan Available?
Linkly only has two options, the Free plan and the Plus plan, so basically, depending on your needs, we recommend you to choose the Plus plan that has everything you need for a low price.
User Reviews and Ratings
Linkly is an okayish software that you can use since it will get the job done; however, we would like to show you what other people think in the following reviews.
From softwareadvice.com:
"Linkly is a URL shortener software designed to help marketers create personalized tracking URLs using custom domains. The platform enables managers to add retargeting pixels and track click rates across links to analyze traffic based on destinations and internet service providers (ISPs).
Administrators can redirect links according to countries, products, currencies, languages, and devices, including mobile and desktop. In addition, Linkly provides a ReCaptcha feature, allowing teams to determine click frauds and identify search robots on a centralized dashboard.
Supervisors can collaborate with team members to generate reports and visualize data across traffic charts and link performances. In addition, Linkly offers an application programming interface (API), letting businesses integrate the system with several third-party applications, including Zapier and Google Sheets. Pricing is based on monthly subscriptions, and support is extended via FAQs, live chat, email, and an online contact form."
From capterra.com:
"Linkly lets you turn any link into a tracking link. You can add retargeting tags, conversion tracking, click fraud monitoring, smart redirects based on location or device, link rotation, and beautiful visual reports.
Linkly works as a custom URL shortener, and you can use your domain to create branded short-links. Linkly is integrated with Chrome, Firefox, Google Sheets, and Zapier. Linkly has a free plan. https://linklyhq.com/create-tracking-links"
From saasworthy.com:
"Linkly is a link management tool with end-to-end capabilities such as creating simple, elegant, and branded links with redirects, retargeting and more. These features make the tool relevant to agencies, affiliates, advertisers, and publishers. In addition, the tracking feature makes custom tracking links and keeps an account of the detailed traffic sent to third parties.
The Target and Redirect feature redirects users based on the geography or device while automatically adding advertising retargeting code. Users can seamlessly collaborate with their team members and invite clients and partners into the project.
Every link created with Linkly is comprehensively tracked with details such as the number of clicks, creating reports, charts, graphs, and more. The tool converts complex URLs into simple and elegant versions as a URL shortener and QR Code tracker. It
can also redirect visitors based on their country, currency, or languages."
From stackshare.io:
"It allows you to turn any link into a tracking link, using your domain, and add retargeting pixels, conversion tracking, and smart redirects. Linkly is a tool in the Link Shortening as a Service category of a tech stack."
From financesonline.com:
"Linkly is an affiliate marketing software used by businesses together with their affiliate partners to create an unlimited number of branded tracking links that aid them in measuring the performance and effectiveness of their marketing campaigns and paid advertising initiatives.
Through these tracking links, they will be able to automatically log essential pieces of information about the people visiting their websites: the channels they come from, the content clicked, the date when users made the click, and the specific campaign that the content was part of, and activities and actions they did on the website."
Is Linkly a Good Purchase?
Due to the low cost is a good purchase since it has everything that you possibly need as an affiliate marketer; however, we would like you to check out the following similar tools:
Bitly: This is a great software that will allow you to be on top of your competition thanks to all the features that it offers, such as customer version, advanced tracking, short links, and many more features.
Vene dash: This software offers you the best affiliate market software; however, it is pretty expensive, so you better have a significant budget if you want to use this tool.

Improvely: With this software, you will have access to all the tools and features you need as an affiliate marketer to track, optimize, integrate and automate most of your workflow.
Linkly FAQ
What is Linkly?
Linkly is a simple yet powerful tool for affiliate marketers that need great software to cover their needs in terms of analytics, branded domains, short links, and tracking.
What features does Linkly offer?
Among all the features that Linkly offers, you will have advanced monitoring, addons, branded domains, short links, and many more cool features.
What other apps integrate with Linkly?
This platform can work with many APIs, so don't worry about that.
What would I use Linkly for?
As an affiliate marketer, you can use Linkly to improve your traffic, have branded domains, short links, have advanced reports on your metrics, and many more.
Can I use Linkly on my smartphone?
Yes, you do not have to download anything; Linkly is fully mobile-friendly.
Do I get access to detailed statistics with Linkly?
Yes, Linkly will provide you beautiful reports of everything you need.
Is Linkly secure?
Your information is well protected with SSL security, so chill there is no problem with the safety.