LinkMink Review (2023): Overview, Features, Pros & Cons, Pricing - StatsDrone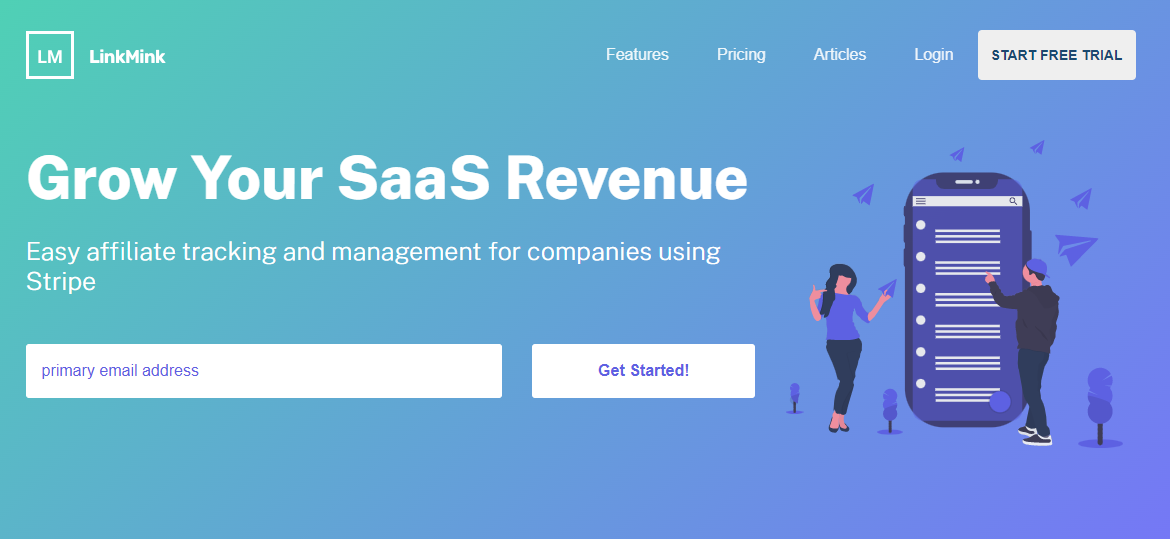 Overview
LinkMink is advanced affiliate software that you can use to fully track all the traffic of your websites. Also, you will be able to have detailed reports of your website's metrics, including IPs, countries, region, time per user, clicks, and many more.
This software offers you lots of features that by adequately using them you will experience an increase in your revenues, more profits, more sales, basically more money, so why would you not use this software?
LinkMink is a software that works for many fields, mainly for affiliate marketers, since most features are focused on that field. However, eCommerce business owners and other entrepreneurs can use this software as well without problems.
Ease of Use and Interface
LinkMink is simple, minimalistic, and light, but it gets the job done, so don't worry about that. From the moment you have access to your dashboard, you will feel delighted with all the tabs, graphics, metrics, and other important information that will make you spend a lot of time checking it every time you log in.
The software is straightforward to use regardless if you are a beginner or a pro. Still, you should check out the support area, which includes the help center, the FAQ section, and the integration guide plus, there is also live chat support ready to help you with any issues or questions you may have.
We also recommend you to try the 14-day free trial version so you can experience all the software, that way, you will get to test the program and try all its features to see if you like it or not.
Features Explained in More Details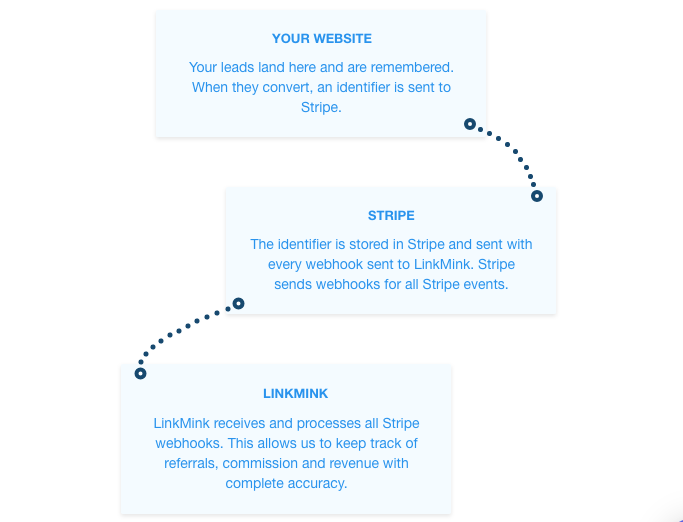 LinkMink offers you many features and even customization depending on your specific needs; however, we will talk a bit of the most important just as follows:
Pro Tracking: with LinkMink, you can track most efficiently all the variables of your traffic, including traffic conversion, time per user, country, IPs, and many more important metrics.
Detailed Reports: You will receive detailed information of all your traffic from all your websites, plus you can get real-time data too, which is always helpful.
Integrated Payouts: this feature allows you to automate your payouts, saving you a lot of time and money.
Automated Control: from the moment you log in, your control panel displays all the options and tabs, but you can automate many tasks that can save you even more time.
Pros & Cons
LinkMink, as much other software in the market, has pros and cons:
Pros
Compatible with existing Google analytics
You can export reports and other data to Excel
Live chat custom service
Nothing to install
Cheap plans
Lots of learning resources
User friendly
Mobile friendly
14-day free trial version
Integrated payouts
Cons
Few banking options (only credit cards)
Cryptocurrencies are not accepted
English only
It is not widely known in the affiliate marketing industry
Pricing Plans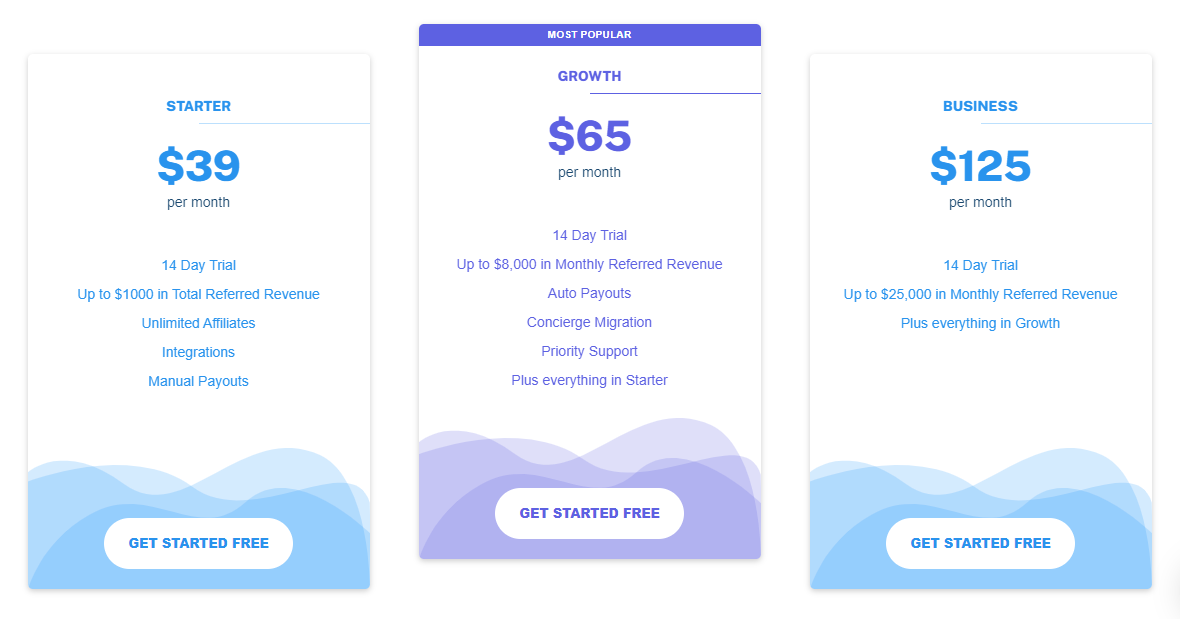 LinkMink has 4 plans that you can test for free for 14 days:
Starter Plan
You can thoroughly test the starter plan for free for 14 days; after that, the Starter plan is for $39 per month, and it offers you:
14 Day Trial
Up to $1000 in Total Referred Revenue
Unlimited Affiliates
Integrations
Manual Payouts
Growth Plan
The Growth plan is only for $65 per month, and it offers you:
14 Day Trial
Up to $8,000 in Monthly Referred Revenue
Auto Payouts
Concierge Migration
Priority Support
Plus, everything in Starter
Business Plan
This plan is for $149 per month offers you more advanced features such as:
14 Day Trial
Up to $25,000 in Monthly Referred Revenue
Plus, everything in Growth
Enterprise Plan
This is the most extensive plan, and it is for more than $125 per month, so you will have to negotiate, and it offers you:
14 Day Trial
Above $25,000 in Monthly Referred Revenue
Plus everything in Business
What Is the Best Plan Available?
All the plans can work good for you, but the Growth plan, which is for $65 per month, has all the tools that you can possibly need, so we recommend that one including integrated payouts, but if money is not an issue for you maybe you should go for the Business plan. Also, don't forget that you can thoroughly test for free and for 14 days all the plans, and after that, you can choose which one to buy.
User Reviews and Ratings
LinkMink has many good things and bad things, so we have compiled here some reviews to see what other people have to say about this software.
From softwaresuggest.com:
"LinkMink is a fully-featured Affiliate Software designed to serve Startups, Enterprises. LinkMink provides end-to-end solutions designed for Windows. This online Affiliate system offers Affiliate Management, Affiliate Tracking, Commission Management at one place."
From capterra.com:
"Simple and Automated Affiliate Software if you're Using Stripe."
Overall: The support is fantastic, the setup is fast and straightforward, and it works great!
Pros: If you're using Stripe to process your payments and want to completely automate your affiliate tracking & commissions, there's no easier or simpler way to do it than LinkMink. It only really does this one thing, but it does it exceptionally well.
Cons: Because it's focussed so exclusively on solving this one problem, it lacks many of the features you might be looking for in more complicated affiliate programs. But again, since I was using it to solve this problem, I can't think of a better tool. No real cons here."
From cuspera.com:
"LinkMink is an affiliate tracking and management for SaaS companies to grow revenue using Stripe. It also handles recurring revenue, commissions, refunds, and monthly payouts with ease. As a result, it helps to increase sales and revenue.
LinkMink's affiliate program helps to grow the reach of the product by recruiting affiliates who already have an established network, and commissions are only earned when actual revenue is paid by referred customers. This means the affiliate program is scalable and low-risk.
Its features include automated commission approval pipelines, reliable tracking, integrated payouts to avoid spending more time reviewing payout spreadsheets, segmented affiliate groups, and many more."
From crosdezk.com;
"LinkMink helps SaaS companies grow their revenue by sharing it with the partners who help promote them. Track the leads, referrals, and commissions that come from your partners' promotions. Incentivize high-paying, long-term customers by offering partners a percentage of recurring revenue. 15-minute integration and accurate tracking of commissions to actual income through Stripe.
Partners who advocate for a brand are becoming more involved in the sales process. High-performing ones will nurture the lead before conversion and help them get set up after conversion. This extra effort is made possible because of the recurring nature of SaaS commissions. We're seeing SaaS companies using partners that act like in-house sales people doing webinars, email courses, etc."
Is LinkMink a Good Purchase?
Yes, LinkMink is a good purchase. But, don't worry, after a few weeks, you will receive your money back in the form of commissions or sales since by using this software, you will be able to expand your traffic and make the most of it with almost no effort. First, however, we will like to show you other similar programs to LinkMink:
ClickGum: this software is an excellent alternative to LinkMink since it offers you many similar features and tools that will not let you down, and it has excellent customer service.
LinkTracker Pro: this is a great software that you have to check out too when you have the chance. With this software, you will significantly increase your traffic and, of course, your ROI.
Ahrefs: This tool that many webmasters and SEO professionals use gives you access to tons of important information, including global ranking, backlinks, and much more analytics.
LinkMink FAQ
What is LinkMink?
LinkMink is software that any affiliate marketer should consider using at least once. It has everything they possibly need, and more since tons of features will make your marketing campaigns a lot easier.
What features LinkMink offer?
Among all the features that LinkMink offers, you will find, for example, Integrated payouts, detailed analytics, accurate tracking, and traffic optimization.
What other apps does LinkMink integrate with?
This software works with lots of APIs so, don't worry about that; for more information, feel free to contact the support team.
What would I use LinkMink for?
You can use this software to optimize the traffic conversion of your websites, get detailed reports, and do many more tasks.
Can I use LinkMink on my smartphone?
Yes, you do not have to download anything since you can use LinkMink on any of your mobile devices.
Do I get access to detailed statistics?
Yes, LinkMink will provide you with detailed daily, weekly or monthly reports of all your metrics.
Is LinkMink secure?
Your information is perfectly protected with LinkMink because everything is encrypted with HTTPS technology, so don't worry about safety.