ClickGum Review (2023): Overview, Features, Pros & Cons, Pricing - StatsDrone
Overview
ClickGum is a smooth software that any affiliate marketer, SEO professional, or eCommerce business owner should check out at least once. This software will give you complete control of your traffic, resulting in more profits, sales, and revenues.
This software is perfect for those who want to make money via the internet, including affiliates, advertisers, publishers, developers, writers, website owners, and other similar jobs. Using ClickGum will have a significant advantage over your competitors. Since you will have access to real-time data, short links, metric reports, and much more critical data, that will make you understand what your visitors like and what they don't like.
ClickGum is by far a great tool, and it is on top of much similar software that you can find on the market. This tool will make your life easier when handling all your traffic because you can automate many things, including redirecting traffic to more profit.
Ease of Use and Interface
ClickGum is a user-friendly software that will allow you to use it while playing your favorite video game. Once you access your account, you will see all the most critical data, metrics, graphics, percentages of analytics, and more. In addition, you can fully customize all the data, tabs, tools, basically, everything.
SEO professionals and affiliate marketers designed this tool, so they know what you need, and that is what they offer you, so don't worry about that. However, don't hesitate to contact the support team with any questions or inquiries that you may have.
It would be best if you used the free plan first before purchasing a plan. If you need help, besides contacting the support team, you can also check the resources that ClickGum has available for you, including a learning blog and a knowledge base in which many resources will help you.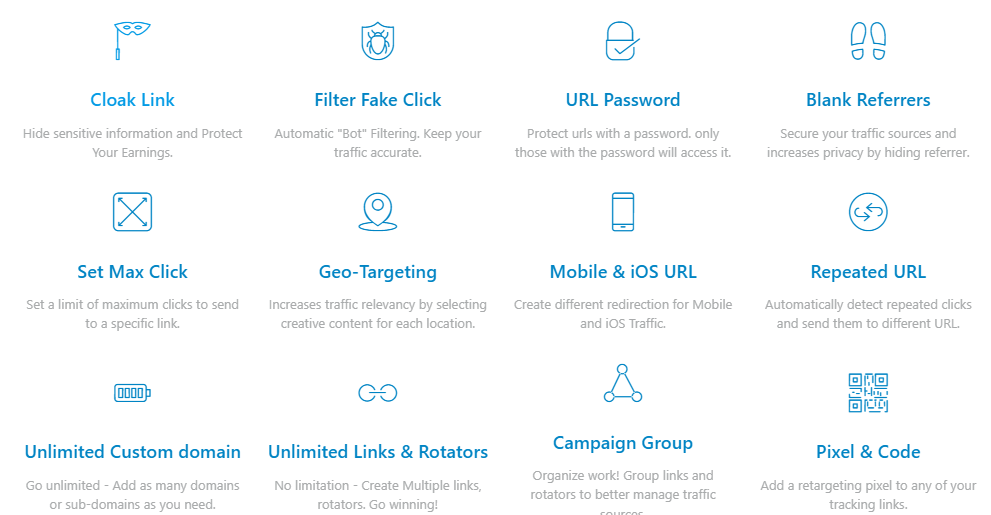 Features Explained in More Details
ClickGum has many essential features that you can use to improve all aspects of your affiliate campaigns or eCommerce business, be sure to check out the learning blog for more information and test the free plan to know more about the features. First, however, we are going to talk a bit about the most important features:
Track everything!: ClickGum allows you to quickly identify the source of your conversion by creating campaigns to track banners, ads, emails, special links, and many more.
ROI & Profitability Reports: you will have access to the best reports that will show you conversion, profitability, ROI, and other important analytics.
Click fraud detection: with this feature, you can monitor and automatically detect fake clicks, bots, spams, and any other scammer activity that can cost you money.
Optimize Marketing: this software will improve all aspects of your affiliate campaigns to the point that you can double or triple your ROI and all thanks to the best A/B split tools, landing pages, unique ads, and more.
Cloak Links: this feature allows you to improve your privacy by hiding sensitive information, which translates into protecting your earnings.
Pros & Cons
As with every software we come across, ClickGum has some good features and some that are inferior, so let's see some pros and cons:
Pros:
Many features that can help affiliate marketers
Compatible with existing Google analytics
You can export reports and other data to Excel
Great custom service
Import affiliate commissions from third-party networks
Nothing to install
Cheap plans
Lots of learning resources
User friendly
Cons:
Few banking options
Cryptocurrencies are not accepted
No live chat support
English only
Pricing Plans
ClickGum has four plans that you can pick, including the free plan.
Free Plan
ClickGum has your back with the free plan, which offers you the basic features:
3k Monthly Clicks
Unlimited Links
Unlimited Rotators
Unlimited Custom domains
12 Months Data Retention
Access to all modules
Manager Plan
The manager plan is only for $9 per month, and it offers you:
20k Monthly Clicks
Unlimited Links
Unlimited Rotators
Unlimited Custom domains
12 Months Data Retention
Access to all modules
Executive Plan
This plan is for $29 per month offers you more advanced features such as:
Unlimited Links
Unlimited Rotators
Unlimited Custom domains
12 Months Data Retention
Access to all modules
Enterprise Plan
This plan is the most effective plan offered by ClickGum, and for $49 per month, it offers you:
1m Monthly Clicks
Unlimited Links
Unlimited Rotators
Unlimited Custom domains
12 Months Data Retention
Access to all modules
What Is the Best Plan Available?
The free plan is quite good, but we recommend you to use the Enterprise plan, which is not that expensive compared to other similar programs. The enterprise will provide you with all the tools, features, and resources you can need to succeed.
User Reviews and Ratings
It is always important to read all the reviews and check all the ratings about all services, products, and software. So we have compiled some reviews about ClickGum that you should find helpful:
From crozdesk.com:
"ClickGum is a free Easy-To-Use Click Tracking Software Allows You to Monitor and Optimize All Your Links In One Place. Start Tracking Clicks, Conversion & Event, No Software to Install - Works everywhere you advertise.
Track Sales, Action & Engagement, Cloak Links, Geo-Redirect Clicks, Track Affiliate Marketing Clicks & Conversions, Track Ads & Display Banners, Optimize Your Marketing with URL rotator & A/B testing."
From accuratereviews.com:
"ClickGum is an online marketing analytics platform that allows you to monitor your traffic, keeping track of clicks, leads, sales, conversion, and ROI. It is a monitoring software aimed primarily at affiliates, advertisers, publishers, and developers who need to improve their marketing strategy to increase profits. With this program, you can monitor, compare and optimize all your marketing links in one place to increase the conversion rate. At your disposal is a series of truly functional analysis and reporting tools. It also features a free version."
From capterra.com:
"What is ClickGum? Click tracking software allows you to monitor and optimize all your links which helps control your traffic and maximize clicks. Best for anyone running any digital marketing to drive visitors to their website, product, or business. Should have a clear insight of what is behind a click, ClickCum helps you focus on what converts."
From saasworthy.com:
"ClickGum software is a platform used to track clicks, conversions, and ROI from all your online marketing. The software offers features like geo-location, rotation between links. Filter fraud clicks. Split your traffic across multiple landing pages. Segment report and Export in CSV file format. Advertisers, Publishers, Developers, Small and Medium companies make use of the software."
Is ClickGum a Good Purchase?
ClickGum is a new tool that is easy to use, plus it offers you detailed training and tons of learning resources, so you will have no problems when using it. The plans of ClickGum are very cheap compared to other similar software, so if you are on a budget, you must consider this one. First, however, we would like to show you other similar programs just as follows:
GeniusLink: this is an excellent alternative to ClickGum since this software allows you to improve your website's traffic by giving you all the features and tools you can need.
Ahrefs: this software is one of the big boys in the market since it provides you with important metrics of any website to check your competition and use that information to be on top of them.
Bitly: This is software that will grant you the opportunity to track all your traffic, create branded links, advanced tracking, short links, and you will have access to tons of essential metrics in real-time.
ClickGum FAQ
What is ClickGum?
ClickGum is a must-use tool for affiliate marketers, SEO professionals, and entrepreneurs looking to earn money online. Because you will need software that can manage, track, redirect, and optimize all your websites' traffic in one place, that is what ClickGum does.
What features ClickGum offer?
ClickGum offers you many features, including real-time reports, spam and clicks detection, link cloaking, advance tracking, and many more.
What other apps does ClickGum integrate?
This software works with many APIs so, don't worry about that; feel free to contact the support team for more information about this topic.
Why would I use ClickGum?
You can make good use of ClickGum for tracking your traffic, redirect traffic for better performance and profit, cloak your links, make marketing campaigns, and many more.
Can I use ClickGum on my smartphone?
Yes, you do not have to download anything since you can use ClickGum on any mobile device, and that, of course, includes your iPhone, smartphone, tablet, or any other mobile device.
Do I get access to detailed statistics?
Yes, ClickGum gives you smooth daily, weekly or monthly reports of all your metrics and real-time data too.
Is ClickGum secure?
Your information is perfectly protected with ClickGum because everything is encrypted with HTTPS technology, so don't worry about that.