LinkTrack Review (2023): Features, Pros & Cons, User Reviews, Pricing - StatsDrone
Overview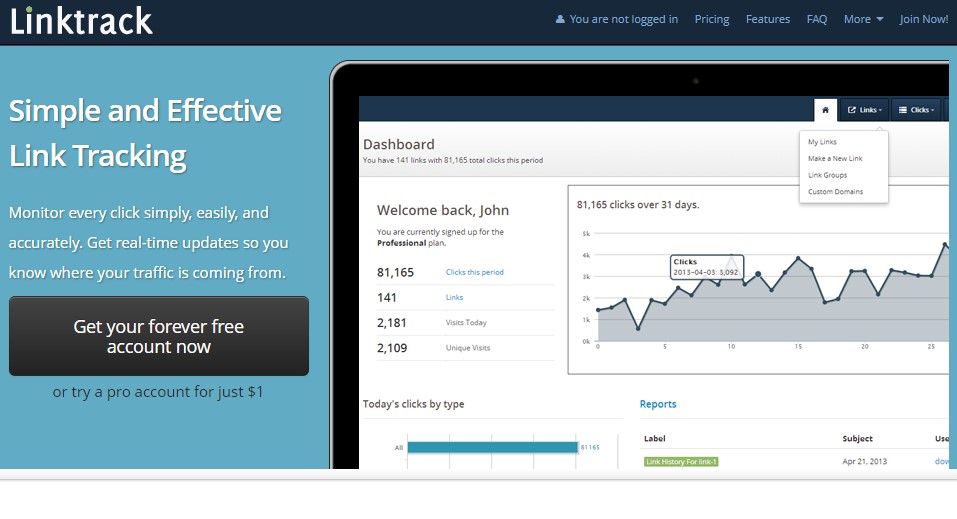 LinkTrack is a great tool that offers you many features, including the possibility for unlimited clicks, unlimited links, brandable domain names, lots of essential graphs, detailed traffic information, and complete control of all your data in one place.
LinkTrack helps you to organize all your essential traffic data by tracking, monitoring, and optimizing all your variables in one platform, which at the same time allows you to increase your conversion rate and increase your revenues.
You will realize that this software is straightforward and minimalistic but still gets the job done. After you access the dashboard, you will have everything at your disposal with just a few clicks away, meaning that you can control everything in just seconds.
Ease of use Interface
LinkTrack is a user-friendly software and easy to use. Thanks to its minimalistic and simple design, you can know your way around quickly and without problems since everything is easy to find.
LinkTrack has an eye-friendly dashboard, and from the moment you log in to your account, you will feel pleased with it and make you want to work and spend a lot of time checking your metrics and data.
LinkTrack also has a FAQ area in which you will find the most common questions plus, you can check the blog area or make your own questions via email, and one of the customer service agents will reply to you as soon as possible.
Features Explained in More Details

LinkTrack is an excellent platform that will help you get on top of your competition by making your life easier since it has lots of handy tools and features just as follows:
Analytics: the platform will give you access to tons of critical real-time data such as clicks, the time the users spend on your website, latency, and other metrics plus, you can get daily, weekly and monthly reports and export them to excel.
Tracking: As with many other tools in the industry, LinkTrack offers you the possibility to track almost any variable that you can think of, including IP, city, mobile detection, browser, conversion, fake clicks, and tons of more data.
Integration: having everything in one place is the most efficient way for affiliates or eCommerce professionals to work. Link track offers precisely that because you can have everything you need in just one platform.
Pros & Cons
LinkTrack has lots of features, and normally between them we'll find the division of pros and cons.
Pros:
Compatible with existing Google analytics
You can export reports and other data to Excel
More than 100 features
Conducive FAQ area
Import affiliate data from third-party networks
Nothing to install
Competitive prices compared to similar software
Free account but limited
Cons:
Few banking options
English only
No live chat support
Few features compared to other similar software
Pricing Plans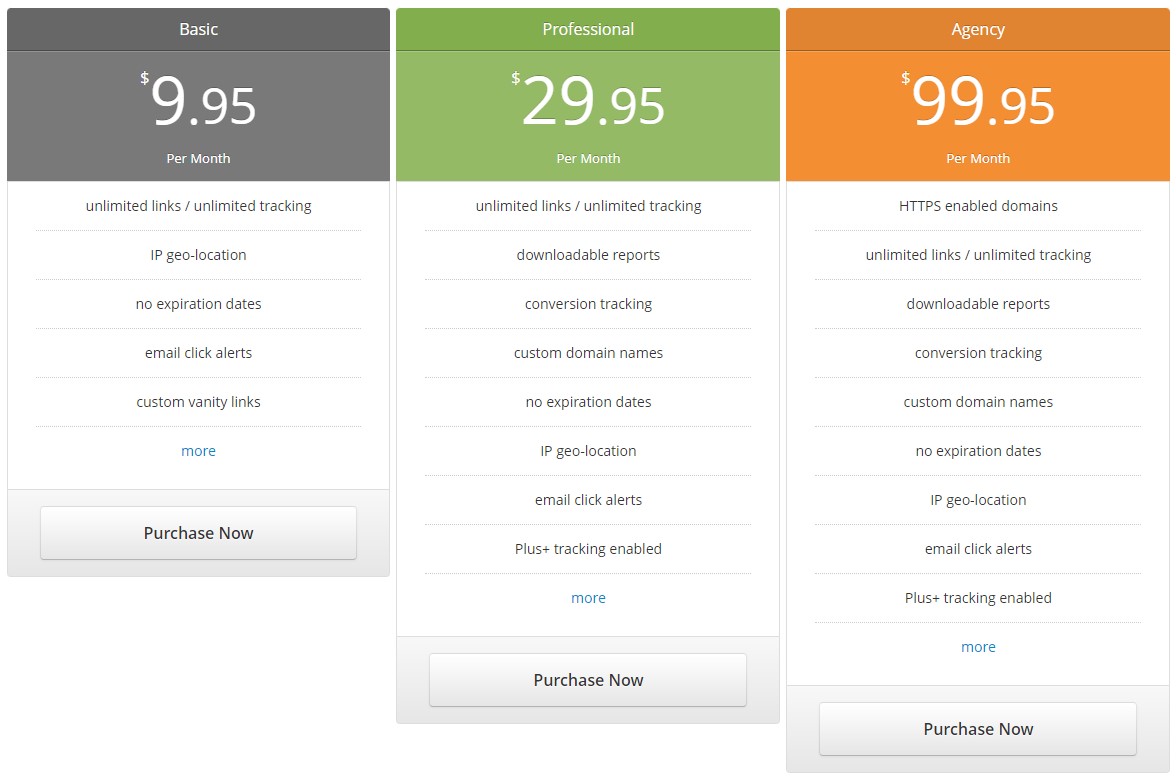 LinkTrack offers you a free version plus 3 plans that you can choose depending on what you need:
Free Version
Unlimited Links
Real-time Reporting
Detailed Charts and Graphs
Re-Target Links Anytime
Basic plan
For only $9.95 per month, you can enjoy the following features:
Unlimited links / unlimited tracking
IP geo-location
No expiration dates
Email click alerts
Custom vanity links
Set expiration dates
Awesome charts and graphs
Free real-time tracking
Password protection
Turn links on and off
Re-target links
Shareable tracking pages
Reset link data
Professional plan
For only $29.95, this plan is the best that you can get, and it gives you:
Unlimited links / unlimited tracking
Downloadable reports
Conversion tracking
Custom domain names
No expiration dates
IP geo-location
Email click alerts
Plus+ tracking enabled
Turn links off automatically
Click ceiling alerts
Custom vanity links
Set expiration dates
Shareable tracking reports
Turn links on and off
Reset link data
Re-target links
Password protection
Unique visitor tracking
Free real-time tracking
Awesome charts and graphs
Re-target links
Agency Plan
This plan is for agencies and big companies, and it is only $99.95 per month, and it offers you:
HTTPS enabled domains
Unlimited links / unlimited tracking
Downloadable reports
Conversion tracking
Custom domain names
No expiration dates
IP geo-location
Email click alerts
Plus+ tracking enabled
Turn links off automatically
Click ceiling alerts
Custom vanity links
Set expiration dates
Shareable tracking reports
Turn links on and off
Reset link data
Re-target links
Password protection
Unique visitor tracking
Free real-time tracking
Awesome charts and graphs
Re-target links
What Is the Best Plan Available?
Check out all the specifications for all 4 plans available, and depending on your needs, you can choose the best plan that suits you. However, we recommend the Agency plan since it has everything you can need for only $99.95 per month, cheaper than other similar software on the market.
User Reviews and Ratings
Reviews for products, services, movies, and anything are always critical, including software for affiliates or SEO professionals; that is why we have gathered here some reviews from other websites just for you.
Review by Danifer, from ebool.com:
"With more and more people stepping into the world of online marketing business, competition amongst them is speedily increasing. So naturally, this makes it more challenging to get the competitive edge to outshine others. However, timely monitoring of online marketing campaigns can help you gain this competitive edge quite effortlessly. This is precisely the situation where LinkTrack seems to prove its effectiveness.
LinkTrack.info was first developed in 2008 by Dallas, Texas-based firm Danifer.com. An Internet marketing professional, Keeton Harrington, developed this tool. He made this tool to effectively track and monitor online marketing efforts for his own business and other clients' outcomes.
Today, LinkTrack is capable of tracking email, pay-per-click, affiliate, and social media campaigns. An online link tracker is designed to monitor almost any marketing source generating traffic to your sites, such as ads, links, and clicks. You get real-time information and updates through reports, due to which you can identify the sources that are generating maximum traffic for your site."
From financesonline.com:
"LinkTrack is a simple yet effective link tracking solution that helps monitor and track clicks accurately. It provides real-time updates, keeping users aware of the source of the traffic. All premium accounts get unlimited links and click tracking, while full-color graphs make it easier to analyze where the best results are coming from.
The solution allows using custom domain names for link tracking and provides complete control over all the data from a single hub. In addition, the detailed tracking information and real-time reporting provide users with the information they need to make more informed decisions.
The reports and tracking details are available on the website and can also be obtained through the API. The solution is also known as a free version that offers unlimited links and real-time tracking, but does not offer downloadable reports and other advanced features."
From softwaresugest.com:
"Linktrack monitors every click simply, easily, and accurately. Get real-time updates, so you know where your traffic is coming from. LinkTrack is built for anyone who wants a simple and effective way to track links online."
Is LinkTrack a Good Purchase?
LinkTrack will be a good acquisition for you; there is no doubt about that, feel free to test the free version to check and try the software first, but we are sure that you will like and would like to buy it since it is effortless, minimalistic, cheap and gets the job done without any hassle.
Regardless if you buy the software or not, we are going to show you next to other similar programs like LinkTrack:
LinkTrackr: This great tool has a similar name but is not related to it; the software offers you tons of features, plus it has lots of experience in the market and has more than 12,000 users, so you can join this big community.
Bitly: This software will make your life easier with all the features that it has, including shortening links, customer conversion, branded links, track all variables and metrics from your websites, and many more. Bitly is a great tool indeed that you must consider.
GeniusLink: This tool allows you to be on top of your competition because it helps you get your stats up by analyzing essential metrics such as tracking, customer management, localization, and more critical analytics.
LinkTrack FAQ
What is LinkTrack?
LinkTrack is a simple but efficient software that allows you to track all the essential metrics of your website and other websites, improve your conversion, detect fake clicks, and you can have tailored reports and many more features.
What features does LinkTrack offer?
LinkTrack offers a free version and 3 payment plans that will get you lots of features, including full tracking of all parameters, detailed reports with stunning graphics, real-time data of your website, and metrics from other websites.
What other apps does LinkTrack integrate with?
This software works with several APIs so, don't worry about that.
What would I use LinkTrack for?
LinkTrack is a great tool to check your competition and see how their traffic is their links, and many more variables plus, it also allows you to check all the metrics of your websites, including real-time data.
Can I use LinkTrack on my smartphone?
Yes, you do not have to download anything since you can use it on any device, and that, of course, includes your smartphone, tablet, or any other mobile device.
Do I get access to detailed statistics?
Yes, LinkTrack gives you access to daily, weekly, and monthly metrics and tons of other variables.
Is LinkTrack secure?
Don't worry, your information is well protected in LinkTrack; everything is protected with HTTPS encryption, so chill, there is no problem with the safety.