Trackier Review (2023): Overview, Ease of Use, Features, Pros & Cons - StatsDrone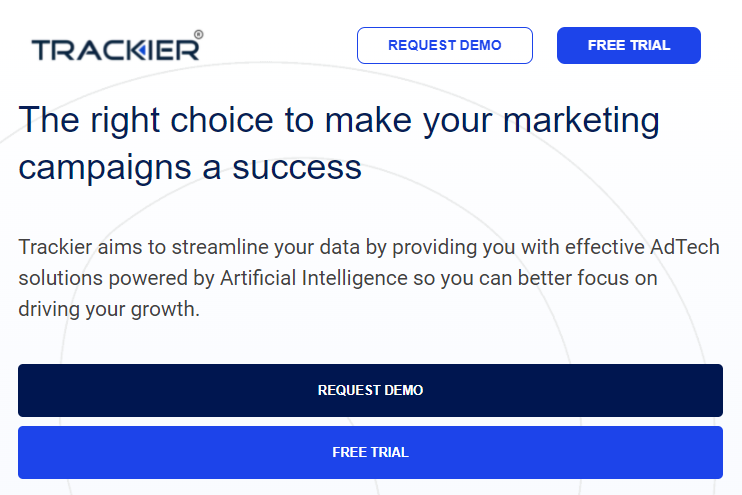 Overview
Trackier is a high-end performance software that all affiliate marketers should consider using because this software has all the solutions to all your problems as an SEO professional. So it is no wonder that they have received several awards, including "Best Value in 2018" and "Expert Choice in 2019".
This software comes with tons of features that will make your life easier when working on your promotional campaigns, including complete optimization, automatization, and advanced tracking, so don't worry. You will have the best tools on the market at your disposal.
Trackier is for professionals and everyone who wants to make money only via affiliate marketing or eCommerce businesses. However, if you are new to the affiliate marketing world, don't worry because Trackier has your back with lots of cases of studies, learning resources, a free trial version, and even detailed customer service to help you in everything you need.
Ease of Use and Interface
Don't worry about the user interface because from the moment you get to use Trackier, you will feel like you are playing an easy game because it is easy to use and fun. Plus, there are lots of learning resources and blog areas where you can check more information of interest.
When interacting with your dashboard, you will realize that everything is where it is supposed to be. All the tabs, graphics, and other essential data are fully customizable and easy to identify, plus it has a set of colors that is good for eyesight.
Feel free to use the free trial version or request a demo to test the software and its features. Don't forget that there are lots of tutorial resources and live chat support that has your back.
Features Explained in More Details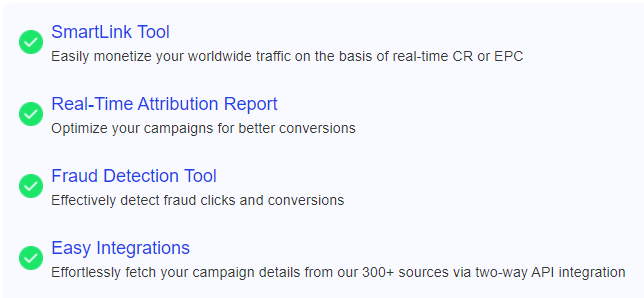 Trackier has all the features that you will ever need for your affiliate marketing campaigns, so let's discuss some of them:
Fraud detection: You will acquire fake clicks and conversion insights right in your metrics reporting with a top-notch and unique artificial detection technology.
Advanced optimization: you can check your KPIs in real-time with the fastest reports system in the iGaming industry. You can compare reports, have detailed headlines, CAP reports, Goal analytics, and many more.
Smart Links: you can monetize all your extra traffic of your websites with the intelligent link system, which you can set up to redirect depending on the traffic location for better performance and more profits.
Tons of Ad Networks Integrations: you have the possibility of adding more than 100 Ad Networks with two-way read and write API to fetch campaigns from your advertisers to Trackier, nice, right?
Pros & Cons
Trackier is a reliable software for any affiliate marketer; however, there are some pros and cons that you should take into account:
Pros:
Compatible with existing Google analytics
You can export reports and other data to Excel
Live chat custom service
Nothing to install
Many Ad Networks integrations
Lots of learning resources
User friendly
Mobile friendly
30-day free trial version
Cons:
Few banking options (only credit cards)
Cryptocurrencies are not accepted
English only
It is not widely known in the affiliate marketing industry
Expensive Plans
Pricing Plans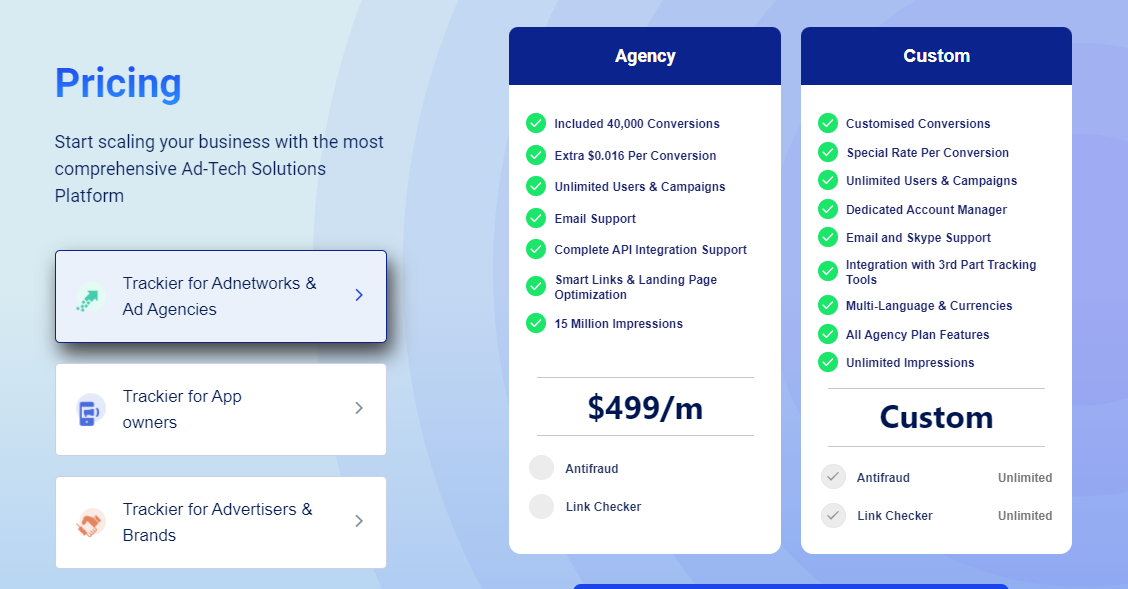 Trackier has only 3 plans that you can test for free for 30 days, but after that, you will have to pay for one of them.
Pro Plan
You can fully test the starter plan for free for 30 days; after that, the Starter plan is for $299 per month, and it offers you:
Included 10,000 Conversions
Extra $0.018 Per Conversion
Unlimited Users & Campaigns
Email Support
Auto Campaign Importer
Publisher/Advertiser Interface
1 Million Impressions
Antifraud + $100/mo
Link Checker + $49/mo
Agency Plan
The Agency plan is only for $499 per month, and it offers you:
Included 40,000 Conversions
Extra $0.016 Per Conversion
Unlimited Users & Campaigns
Email Support
Complete API Integration Support
Smart Links & Landing Page Optimization
15 Million Impressions
Antifraud + $250/mo
Link Checker + $49/mo
Enterprise Plan
This plan is negotiable, but it is for more than $499 per month, and it offers you more advanced features:
Customized Conversions
Special Rate Per Conversion
Unlimited Users & Campaigns
Dedicated Account Manager
Email and Skype Support
Integration with 3rd Party Tracking Tools
Multi-Language & Currencies
All Agency Plan Features
Unlimited Impressions
What Is the Best Plan Available?
Trackier offers only 3 plans to choose from. Still, they are all expensive compared to other similar programs in the market, so if money is not a problem for you, we recommend you pick the Agency plan that has all the tools and features that you will need. And remember to use the 30-day free trial version and make the best of it.
User Reviews and Ratings
Trackier is software that you should consider using depending on your budget, of course. Also, you should know what other people have to say about it, so we have gathered here some reviews that you may want to check.
From getapp.com:
"Trackier, formerly vNative, is a cloud-based performance marketing solution designed to help agencies and marketers manage campaign segments, track affiliate sales, and optimize customer conversions. Key features include white-labeling, click tracking, fraud detection, geotargeting, real-time data, and reporting.
From the Trackier dashboard, enterprises can monitor visitor activity, such as clicks and conversions, in real-time. Users can create custom reports that can be saved as templates and shared with other team members. The solution includes a white-label tool that enables businesses to create branded publications and advertisements and improve tracking security. "
From sourceforge.net:
"About Trackier: The Trackier Performance Marketing Platform (formerly vNative) enables you to create, automate, measure, and optimize all of your marketing Campaigns, Publishers, and advertisers, creatives, and conversions in one place."
From comparecamp.com:
"Trackier is a highly customizable marketing software that can smoothly track the performance of content, campaigns, and conversions. It's ideal for Ad and PR agencies that want top-of-the-line tools to track and monitor projects, ads, and campaigns. It has advanced features that can easily follow the growth, evolution, and even weak spots of marketing materials. Trackier is so advanced that it even offers tools that can filter fraud clicks and fake website engagements.
Trackier mainly offers optimization tools that allow for intelligent linking and ad network integration. Its innovative linking features allow for the easy monetization of global traffic through real-time EPC or CR. Through its dashboard, users can view live KPIs and automated reports tailored to target conversion goals and competitors. It is highly customizable with an API integration that grants its users the chance to fully personalize their marketing experience. Trackier integrates with numerous third-party apps like Shopify, PayPal, and Google Adwords. In addition, it offers three pricing plans based on the number of desired conversions."
Is Trackier a Good Purchase?
Depends on your budget and how much money are you willing to expend, so if money is not a problem for you then, by all means, you should buy this software; however, you should check other similar programs like the following ones:
Link Tracker Pro: This is a top-notch software for all affiliate marketers that want to have the best tools at their disposal. With Link Tracker Pro, you will have a significant advantage over your competitors, plus you will be able to optimize your traffic conversion.
ClickGum: this tool is an excellent alternative to Trackier and is not that expensive. With this software, you can be on top of your competition thanks to the features and integrations it offers.
Ahrefs: Ahrefs is a must-have tool no matter what other SEO software you have. Because this software allows you to check all the backlinks of your competition, have access to the global ranking, and many more important metrics that you need to know as an affiliate marketer.
Vene Dash: this software is made in Germany, so you can bet that the quality of this program will not let you down. Vene Dash is a must-try software since it has many awards and tons of features that will make your marketing campaigns way easier.
Trackier FAQ
What is Trackier?
Trackier is an affiliate marketer software that allows you to optimize your websites' traffic thanks to all the features, including smart links, full automatization, and fake click detention.
What features does Trackier offer?
Among all the features that Trackier offers, you can find many essential features such as fake click detention, smart links, detailed reports, landing pages optimization, and many more.
What other apps does Trackier integrate with?
Trackier works with many APIs, so don't worry about that; for more information, please contact the support team via live chat.
What would I use Trackier for?
As a webmaster or affiliate marketer, you can use this software to optimize your traffic conversion, have detailed reports of your marketing campaigns, and many more.
Can I use Trackier on my smartphone?
Yes, you can use Trackier on your mobile devices, including your iPhones, tablets, and other mobile devices.
Do I get access to detailed statistics?
Of course, Trackier will provide you with detailed reports about all your websites and marketing campaigns.
Is Trackier secure?
Your information is protected when using Trackier because everything is encrypted with HTTPS technology, so don't worry about that.